The Almond Blossom in Mallorca
The almond blossom in Mallorca is a local phenomenon, and an excursion to see the almond trees in bloom on the island is one of the best plans you can make in February. When the almond trees come into blossom, the whole of the Mallorcan countryside turns white, with a hint of pink. From a distance it looks like very pretty fields of snow!
There are estimates of anywhere between 4 million and 7 million almond trees in Mallorca and it is one of the most characteristic trees of the Mallorcan countryside, and it is especially beautiful to see the fields in these months when the almond tree brings out its white and then pink flowers. It gives that particular charm to the landscape of Mallorca, and it is a delight to get out there and discover the almond blossom.
You may not know but this almonds are very important in Mallorca's traditional gastronomy. They have been cultivated on the island for millenia and are used in licors, desserts and even many savoury dishes, such as the famous ajo blanco soup.
About this article
This article has been written by the team of experts in excursions and tours at
Click-Mallorca
. We are a specialized travel agency in Mallorca dedicated to leisure activities; tours and excursions; and other things to do in Mallorca.
We live on the island and we have over 15 years' experience creating and offering excursions. We know the island inside out, and we are dedicated to producing helpful and interesting articles for our holidaymakers coming to Mallorca.
Did you know…?
People come to Mallorca from all over the world especially to see the almond trees in blossom! Especially people from Northern Europe, and especially from Germany.
Our team of local experts has created this article so you can plan your own almond blossom route in Mallorca, and spend a pleasant day with your partner, family or friends. This is a small index of what we are going to tell you:
When can you see the Almond Blossom in Mallorca?
The almond tree is one of the fruit trees that blooms the earliest, but every year, the date of the start and end of the almond blossom varies depending on the weather and other factors. The reason it blossoms earlier than other blossom trees is because it needs few hours of cold ―less than 400― so it soon accumulates them and flowers very early, before the arrival of spring. The problem with this very early flowering is that if frosts follow, it is very likely that part or all of the almond production will be lost. As well as that, in Mallorca the arrival of the almond blossom always seems to coincide perfectly with the arrival of the gale-force winds, so very often the blossom is blowing around the fields rather than sitting on the trees!
Without going into the differences of the climate and each variety, it can be stated that the almond tree usually flowers between the end of January-early February and lasts until mid-March. It flowers, therefore, in the second half of winter and always before the beginning of spring, at least in most climates. Even for the same variety and region, the flowering dates may vary from one year to the next, depending on the weather. A similar thing happens with the famous cherry blossom in Japan, which starts in the south of the country and sweeps up like a pink blanket, reaching the north as the flowers in the south die.
Where can you see the Almond Blossom in Mallorca?
The best places to see almond blossoms in Mallorca are in the Raiguer area and the east of the island. See below in this article: we have made a list of the best places where you can see the spectacle of the almond blossom, to take spectacular photos of the landscape and share on Instagram. In addition, our team of local experts in Mallorca have added suggestions for activities and excursions to combine with it.
Marratxi and Santa Maria
This area between the center of the island and the mountains of the Sierra de Tramuntana is an ideal place to take an excursion to see the almond trees in bloom. In fact, this is one of the main almond production areas of Mallorca, as it has a special microclimate.
You can start in Marratxí and follow secondary roads and country lanes to Santa María del Camí. During the route you will be able to see and enjoy several fields of blossom. If you want to lengthen the route, you can include Sencelles, Inca or Lloseta. And to make it even longer, head to Caimari, Selva or Moscari, where there are many fields of almond trees.
Did you know…?
An interesting detail related to almond trees in Mallorca is that a tradition is preserved in this area of Santa Maria and Marratxí: drinking almond milk at Christmas. This tradition came to Mallorca with friars of the Order of the Minim, who had had a monastery in Santa María. Since their religious order prevented them from drinking milk of animal origin, they drank almond milk. In December in Pla de Na Tesa there is a fair related to it.
Bunyola
A good excursion proposal to see almond trees in blossom is to take the Soller train from Palma, because on the way to the Sierra de Alfabia you will see many fields of almond trees. You have two options on this excursion: you can go to Soller, and then take a walk through the town; or you can get off the train at the Alfabia Gardens, to visit them and then take a walk around. In fact, along the road that goes up to Coll de Soller, you can also see many almond trees in bloom.
Another interesting suggestion in this area is to take a trip from Raixa to Raixeta. It is a very easy and simple walking tour and is also ideal to do with children. From the Raixa car park, follow a forest track uphill, and after about 4 kilometers you will arrive at the old Raixeta possessió. Along the way you will be able to see many almond trees in bloom, and take photos. In Raixeta you can dedicate time to explore the estate, which, although it is very deteriorated, still keeps remains of some of its rooms, kitchen, the coat of arms of the family that owns it and an old well.
Binissalem and its surroundings
This is one of our favorite almond blossom routes, as it is a quiet area, and can be covered on foot, by bike or by car. Depending on how you decide to do it, there are more or less places to visit. Throughout the area from Binissalem to Sencelles there are many narrow and winding country lanes. In them we will find vineyards but also a multitude of fields that are like a village of almond trees and are a visual spectacle.
Our route proposal in this area for maximum almond blossom is to go from Binissalem to the beautiful hamlet of Biniagual. The Biniagual llogaret is made up of just about 14 houses, each one more beautiful than the next and in perfect condition thanks to an incredible restoration programme. The hamlet's origins date back to the time of the Muslim invasion. This hidden gem in Mallorca's countryside does not look more spectacular than where the surrounding fields are full of almond blossom, with a backdrop of the Tramuntana Mountains and blue sky.
Selva, Caimari and Binibona
These picturesque villages make up one of the classic areas of Mallorca for almond blossom viewing. The stretch of road that goes from Selva to Caimari can also be done on foot, in just one hour, and rewards us with amazing views. Right at the exit of Selva, just beyond the bridge, you will see the whole white valley with the almond trees in blossom, the town of Caimari and the mountains of the Sierra de Tramuntana in the background. When the almond trees bloom, it is as if it were a snowy field or a village of almond trees. We can do this route in just one hour on foot, making different stops to take photos, and we can combine it with a walk through the town and a visit to the Caimari Ethnological Park, an open-air museum exhibiting life all the way back to prehistoric times with exhibits related to some of the ancient trades that, for centuries characterized this town and, in general, the entire Sierra de Tramuntana.
If you want to extend your almond blossom route, from here you can continue to the beautiful Binibona hamlet. From Caimari it is only 2.5 kilometers along a secondary road where there is hardly any traffic. Throughout its route there are many fields of almond trees.
Llucmajor to the southern strip of Mallorca.
Take you car and make a road-trip following secondary roads through the towns of Manacor, Sant Llorenç and Son Servera, where you can make endless stops to take photos and enjoy the spectacle of the almond blossoms. Also in this area it is advisable to visit the fields in the Llucmajor area and surroundings, where you can take a quiet route by car.
In the town of Son Servera, the Almond Blossom Fair has been held every first Sunday in February since 2010. There are product tastings, a market with different stalls, exhibitions of machinery used by farmers and more. It is ideal for discovering the almond itself and combining it with a route to see the fields with the trees in bloom.
Panoramic views of Almond trees in bloom
If you want to do a different type of excursion, and see the almond trees in bloom in Mallorca from a panoramic viewpoint, we have several suggestions: the Puig de Randa, the Puig de Bonany in Petra, the Puig de Santa Magdalena or the Santuari de San Salvador in the surroundings of Felanitx. All are great spots from where to take the best photos of sweeping panoramas of almond blossom.
Our excursion: Almond blossoms in Mallorca
At click-mallorca we offer excursions throughout the island, whether for residents of Mallorca or tourists who come on vacation. Below is an example of an excursion to see the almond blossom that we organized for a group of German visitors a few years ago, who were in Mallorca for a few days for a medical congress. They had a morning available, and they asked us to organise a route to see the almond trees in bloom in Mallorca. This is the type of tailor-made activity we can organise for any group, so if you like the idea, send us an email or WhatsApp message.
As the clients were staying in the Arenal area, and wanted to do a half-day excursion, we decided to opt for a route to the Llucmajor area. It is a very pleasant area for a coach drive, with many fields of almond trees, with some good places to stop the coach to take nice photos, and even smell the almond blossom.
During the tour we explained to the clients the history of almond cultivation in Mallorca, with its traditions and its relationship with the economic activity of the island, explained by our guide Juan who still today collects the almonds from his parents' farm in summer. He also had the kind gesture of bringing toasted almonds for everyone on the tour to try.
During the route we took the opportunity to make a stop in the talayotic town of Capcorb Vell. The prehistoric settlement of Capocorb Vell is one of the most important in Mallorca and was one of the largest.
Then we went to the Puig de Randa, taking advantage of the good weather, to see from there an excellent view of the Pla de Mallorca, which was beautiful with that white blanket of almond blossom. It has also been an excellent opportunity to explain to clients who Ramón Llull was and his relationship with Mallorca and the Puig de Randa. So this short excursion combined history, culture, gastronomy and those fabulous vistas of the almond blossom.
And finally, we had a surprise reserved for our clients: if you are going to do a route of almond blossoms in Mallorca, you simply cannot miss the opportunity to try an almond gató cake, so typical of Mallorca, which was also homemade. We enjoyed it in the restaurant bar of Puig de Randa accompanied by a small glass of Hierbas (local liqueuer from the island). Needless to say, it was the best possible ending to this excursion.
Discover More Things to do in Mallorca
There are many great things to do in Mallorca. If you are reading this article, then you are clearly a person that wants to discover more of Mallorca off-the-beaten-track and explore the island's true beauty outside the tourist resorts.
One of our top recommendations of things to do in Mallorca for beach lovers are boat trips which, in summertime, depart from all over the island, taking passengers to little-known coves and beaches and for snorkeling in the clearest blue water imaginable. There are boat trips with many people, with few people; full day trips, half day trips; snorkeling excursions; catamaran tours; and private boat trips. There is also something for all budgets. Click on the banner below for more information.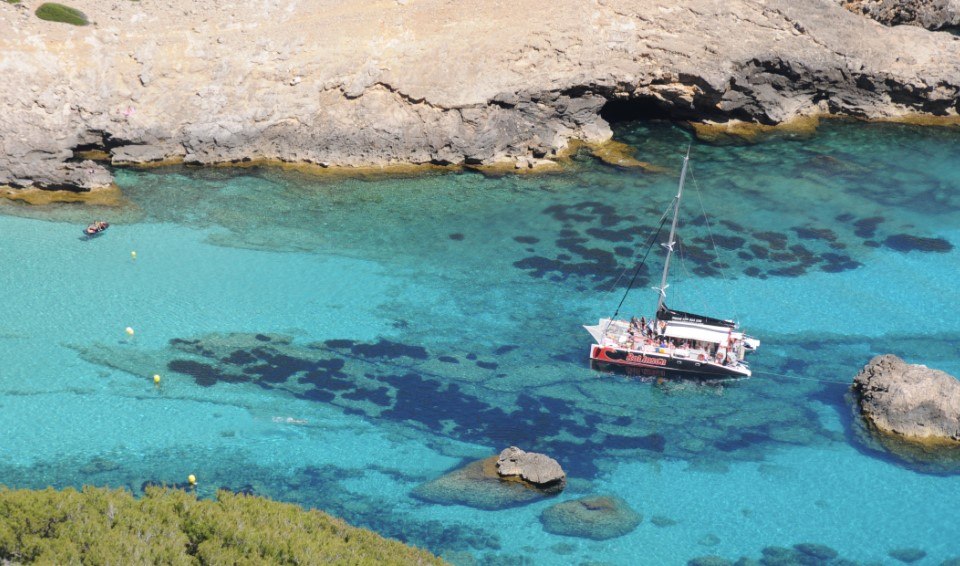 canoeing
The best excursions, tours and boat trips to enjoy the holiday
As well as boat trips, you can also find on that banner above, access to all kinds of activities in Mallorca, such as horse riding activities, organised sightseeing tours, guided walks and trips to visit some of Mallorca's most exciting attractions, such as Mallorca's famous caves, water parks and theme parks. If you need any help or advice about things to do in Mallorca during your visit to the island, you can also send us a whatsapp and we will be happy to help.
---
What do you think of this route to go and see the almond blossoms in Mallorca? Shall we sign you up? If you liked the article, do not forget to share it on your social networks.
---
Plan your holidays in Mallorca