Excursion to Majorica Pearl Factory Mallorca
Imagine immersing yourself in a world where the beauty and elegance of pearls combine with innovation and art. That place exists, and it can be found at the Majorica Pearl Factory store in Porto Cristo.
About this article
This article has been written by the team of experts in excursions and tours at
Click-Mallorca
. We are a specialized travel agency in Mallorca dedicated to leisure activities; tours and excursions; and other things to do in Mallorca. We live on the island and we have over 15 years' experience creating and offering excursions. We know the island inside out, and we are dedicated to producing helpful and interesting articles for our holidaymakers coming to Mallorca.
On this excursion you will discover the magic behind the Majorica pearls, an immersive experience to learn the details and history of Majorica. In addition, you can enjoy exclusive offers on a selection of jewelry and guaranteed factory prices all year round. At the same time you can visit the Cuevas del Drach with their spectacular rock formations and Lake Martel. There you will enjoy a live concert and a wooden boat ride on the lake.
Join us and discover why Majorica is the brand that changed the concept of pearls in the world.
Visit Majorica Pearls in Mallorca
Visiting the Majorica store in Porto Cristo is a unique and unforgettable experience. There, you will find a wide selection of pearl jewellery.
But what really sets this store apart is that you can discover the process of creating Majorica organic pearls. A traditional process that has improved since the company opened its doors more than 100 years ago.
A great variety of jewellery
Various jewels, pieces that you have never seen before in any other store or on the Majorica website itself. On this excursion, jewelry and pearl lovers will discover unique pieces that can only be found in the Porto Cristo Shop.
Majorica pearl jewelery is ideal as a gift for special occasions such as weddings, anniversaries, birthdays or simply to show your loved ones your love and appreciation.
A pearl necklace, earrings or bracelet made with Majorica pearls are symbols of elegance, sophistication and good taste that will be appreciated by those who receive them. In addition, when you visit the Majorica pearl shop in Porto Cristo you will find exclusive offers and guaranteed factory prices all year round.
Tips to get the most out of your visit to the Majorica store
Plan ahead: Find out about opening times and showings so you don't miss a detail.
Dress comfortably: Although the Majorica store offers every comfort, it is important that you feel comfortable during your visit and enjoy the experience to the fullest.
Don't forget your camera: the Majorica store and its surroundings offer landscapes and moments worth photographing. Bring your camera or smartphone to capture the memories of this incredible experience.
Privileged location
The Majorica store in Porto Cristo is more than just a jewellery shop. Nestled in a prime location its café, which offers a relaxing and welcoming atmosphere where visitors can take a break and enjoy some refreshments while taking in the breathtaking views of Porto Cristo.
It is the perfect place to unwind after a busy day exploring the town or visiting the Majorica store.
Don't miss the chance to make time during your visit to the Majorica store for this unforgettable experience. The Majorica store and café are not to be missed.
Discover the charm of the Drach Caves
Porto Cristo is a small coastal town on the island of Mallorca that has a variety of attractions to offer. In addition to enjoying the visit to the Majorica shop, you can combine it with a visit to the Drach Caves. Below you can access an exclusive offer for your excursion to the Majorica Pearls together with the visit to the Caves of Drach. Everything perfectly organised, with pickup near your hotel and tickets for both places.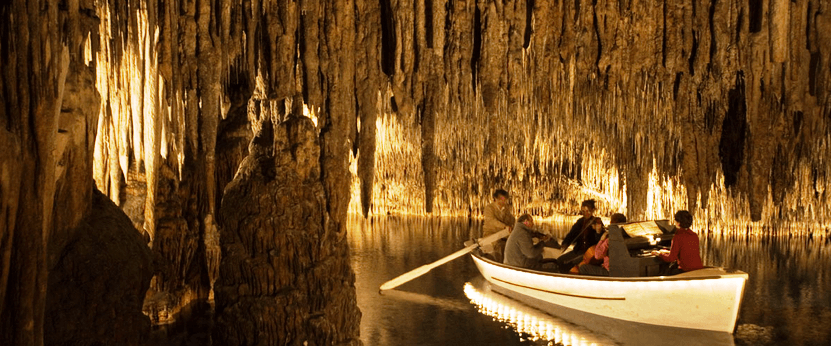 canoeing
Tours and Tickets to the caves in Mallorca at the best prices

The history and evolution of Majorica Pearls
In order to grasp the paramount value of Majorica in pearls, it's pivotal to comprehend its history and development. Eduardo Hugo Heusch started this renowned brand in 1890 on Mallorca Island, Spain. Since then, Majorica has been devoted to crafting superior organic pearls utilizing their distinguished technique that has been enhanced with time.
With a legacy that spans centuries, Majorica is devoted to responding to the industry's changing trends and customer needs. From its ubiquitous presence in more than 100 countries, customers across the globe recognize and admire their on-trend products. The brand thus continues to keep up with fashion movements as it has done throughout its long history, bringing modern luxuriousness worldwide.
Majorica has managed to combine tradition and innovation to change the concept of pearls in the world. With more than 100 years of history, Majorica has established itself as a clear leader in the jewelery industry thanks to its high quality organic pearls and innovative designs.
When you visit the Porto Cristo store, you will discover how Majorica managed to win the hearts of millions of people around the world.
'Classic meets Today'
Majorica's new "Classic Meets Today" campaign reflects the brand's innovative spirit in the world of pearls, combining tradition and modernity in a fresh and contemporary offering.
Majorica, with its rich history and experience in the production of organic pearls, has managed to reinvent itself over the years to stay at the forefront of the jewelry industry. The Classic Meets Today campaign highlights Majorica's ability to adapt to current trends without losing its essence and sophistication.
It highlights Majorica's role in innovating the world of pearls and shows how the brand has managed to combine classic and modern to create unique and timeless pieces that appeal to a diverse and modern audience. "Classic Meets Today" presents a wide selection of jewelry that combines the timeless allure of pearls with innovative and cutting-edge designs, demonstrating Majorica's versatility and ability to meet the needs of the modern consumer.
In summary, the Majorica Pearls excursion in Porto Cristo along with the Drach Caves is a unique experience that will allow you to immerse yourself in the exciting world of pearls and learn about the artisanal process that has made Majorica a benchmark in the jewelry industry and you see one of the best caves in Europe.
Plan your holidays in Mallorca