Cruise in Port Palma de Mallorca: Things to do for Cruise Passengers
Lucky you: you're going on a Mediterranean cruise! We have created a mini guide for cruise passengers that are visiting Palma on a cruise stopover, so that you can make the most of your stop at the port of Palma. Because there are so many things to do in Mallorca that, if you are there for just one day, how do you choose?! Don't worry, our local Mallorca experts are here to help!
In this article we will give you top suggestions for the best way to spend your cruise stopover in Palma de Mallorca with tips about how to get around the city and what to visit, as well as great ideas of shore excursions to discover more of the island.
About this article
This article has been written by the team of experts in excursions and tours at
Click-Mallorca
. We are a specialized travel agency in Mallorca dedicated to leisure activities; tours and excursions; and other things to do in Mallorca.
We live on the island and we have over 15 years' experience creating and offering excursions. We know the island inside out, and we are dedicated to producing helpful and interesting articles for our holidaymakers coming to Mallorca.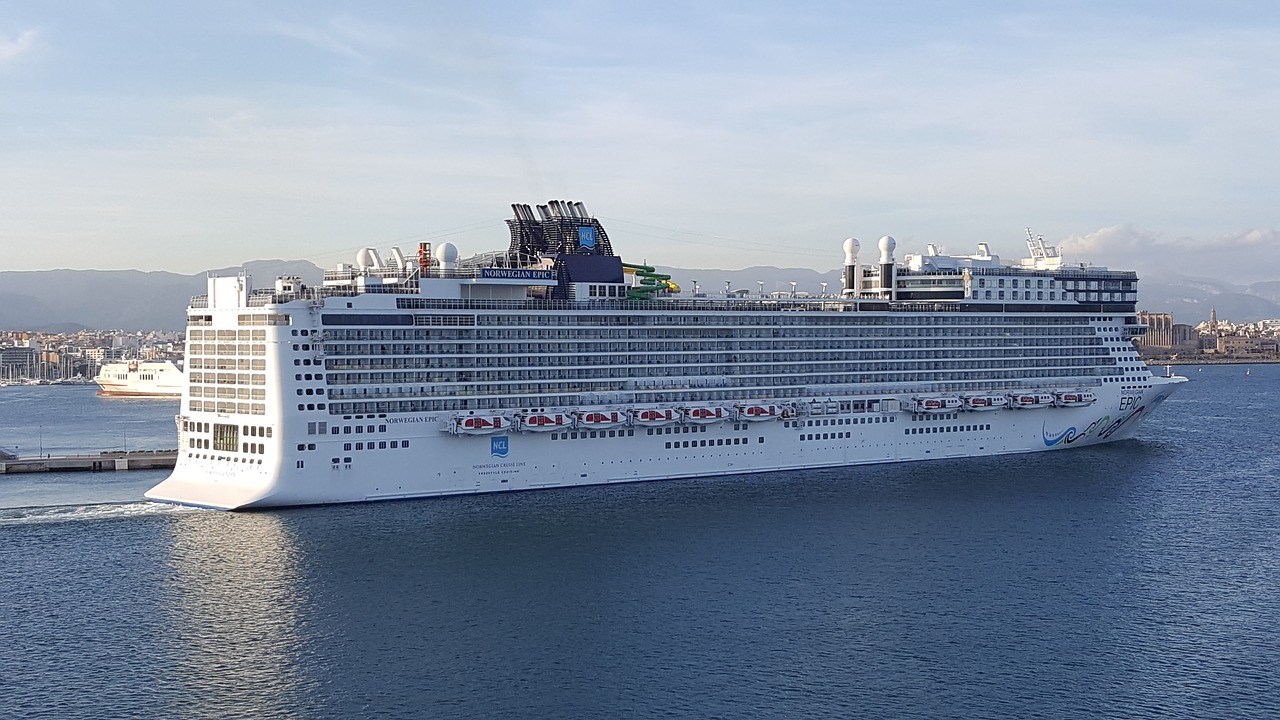 The port of Palma de Mallorca is one of the most important cruise ports in the entire Mediterranean, receiving almost 2 million passengers in 2022.
If you are sailing to Mallorca on a cruise ship, you will most likely arrive at one of Palma's cruise terminals. Below you will find interesting information about the cruise terminals in the port of Palma, so that you can plan your visit to Mallorca.
Palma de Mallorca cruise terminal
In Palma de Mallorca, the cruise terminals are located on the Muelle de Poniente (Poniente Dock) stations 1 to 4 and on the Dique del Oeste (West Dock) at stations 5 and 6.
Muelle de Poniente: at this quay you will find the buildings of docking stations 1,2,3 and 4. Most cruise ships dock at the Muelle de Poniente, a modern terminal that is also a transit area for ferry passengers to the mainland and other Balearic Islands. This cruise terminal is located at the far end of Palma's port and it's around 6 km away from the old town of Palma. In the station 2 building you can find a cash machine, toilets and taxi service. The bus stop is right outside.
Dique del Oeste: cruise ship docking stations 5 and 6 are located in the Dique del Oeste quay. Larger cruise ships have to dock here, and the quay is also used when the Poniente terminal is full. The Dique del Oeste cruise area is even further from the historic centre of Palma and is located near the Porto Pi shopping centre and the San Carlos Castle, around 8 km from the main attractions.
On the map below, you can see the Muelle de Poniente highlighted in blue and, in red, the Dique del Oeste.
On the website https://www.portsdebalears.com/es/buques-en-puerto you can see where your cruise ship will dock when it arrives in the Port of Palma. Keep in mind that it won't appear there until around a week before the cruise ship is due to arrive in Palma.
How to get from the cruise terminal in the port to the centre of Palma?
Although the cruise ships in Palma de Mallorca dock about 6 or 8 kilometers from the city center, it is relatively easy to get into Palma City. To go from the Palma cruise terminal to the center you can go by public bus, taxi, shuttle bus and even walking.
Shuttle bus:
The first option in most cases to get from your ship to the center of Palma is the shuttle bus organized by your cruiseline itself to shuttle passengers from the ship to the center of Palma, normally to the Camino de la Escollera, located in the area of the Cathedral. It is only a 10-15 minute bus ride along the harbour road, and although the shuttle bus was always a courtesy service for the passengers, nowadays cruise companies are charging people using the service – and they are charging A LOT! So check first – you might pay as much as for a taxi.
Public Bus
You can take the public bus from either cruise terminal into the centre of Palma. It's line 1 with EMT bus transport company: línea 1 de la EMT. This bus runs approximately every 15 minutes and stops at the entrance of the Dique del Oeste dock and in front of the exit of the station 2 building. It makes several stops in the center, a good option being to get off at the Plaza de España and from there walk to the Cathedral. Another option is to get off at Sa Feixina, and walk towards the Baluard museum and the Cathedral.
The price of the ticket is €3 in 2023. You can download the map of bus stops to see the route of the line.
Take the Hop-On, Hop-Off Bus Tour:
The hop-on hop-off tourist bus is a great way to see the city of Palma at your own pace. These tour buses are in all major cities, and they are very popular for people visiting on a cruise, as they have stops at the main monuments and places of interest in Palma, and allow you to enjoy a sightseeing tour of the city at the same time. This bus tour is ideal for people who are just in Palma for one day.
The tourist bus in Palma has a stop in front of the cruise zone of the Muelle de Poniente, in front of station 2. For cruise passengers whose cruise docks at the Dique del Oeste, they must walk (about 10 minutes) to Porto Pi, where there's a stop.
The whole route without getting off takes about 90 minutes, and the main stop in the center of Palma is next to the cathedral, on Avenida Antonio Maura. You can book tickets on our website at "Shore Excursion: City Hop-On Hop-Off Tour" and you also get a PDF guide with the purchase that details information about what to see at each stop.
Walking
If you have time and like to walk, you can enjoy the splendid views of the port and over the bay while strolling along the promenade and admiring the impressive yachts and small fishing boats. It is a 30-40 minute walk to the center of Palma, and we do not recommend it in very hot seasons as there is no shade. Perhaps a good tip is (whenever time permits) take the bus into Palma and walk back later to the cruise terminal.
Taxi
If you're in a hurry or don't mind spending a few extra euros, a taxi might also be convenient. Tip: ALWAYS ask for a receipt.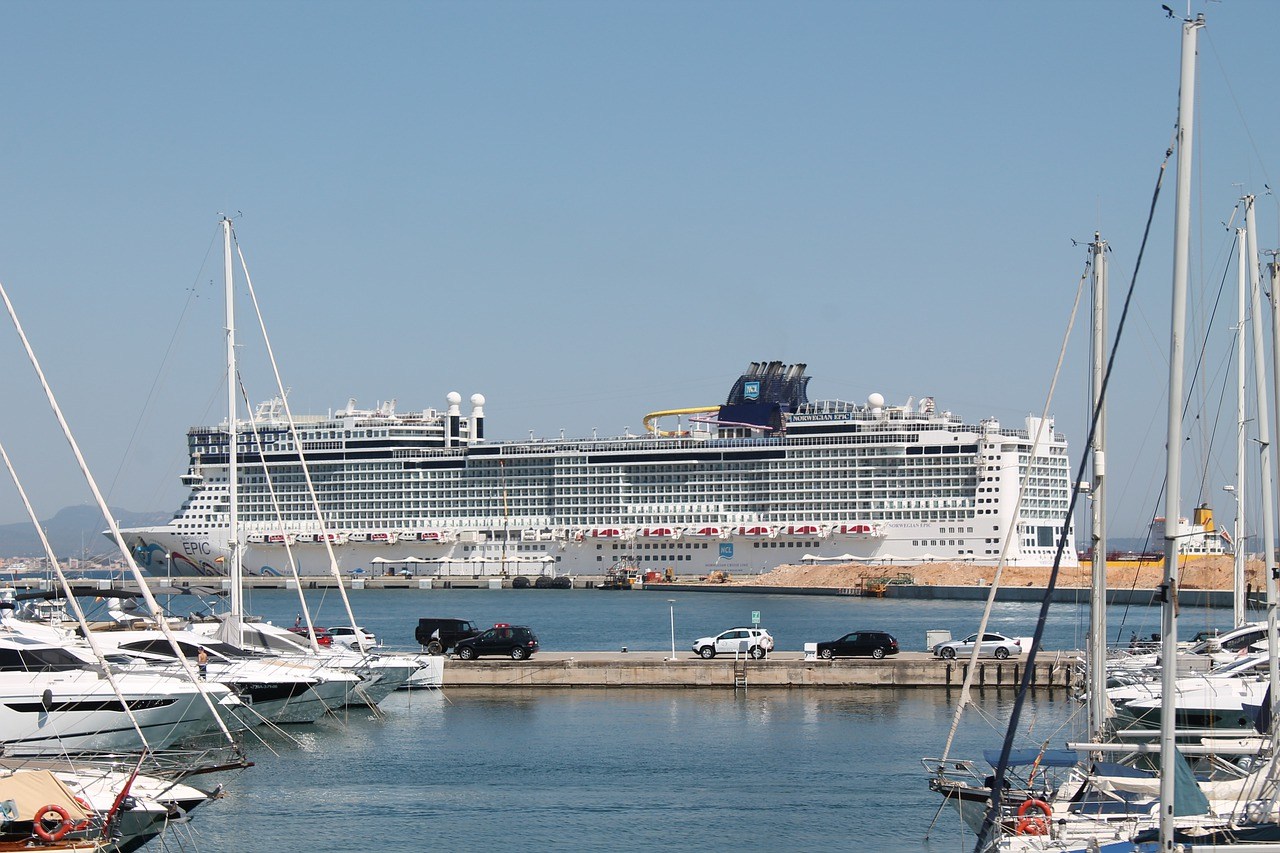 what to do in Palma de Mallorca cruise port?
If you're visiting Palma on a cruise, then that usually means that you are on the island for just one day. Here are some suggestions of things to do for those who don't feel like straying too far from the port.
Visit Palma de Mallorca Old Town:
The historic old town of Palma de Mallorca is one of the gems of the Mediterranean. There is so much atmosphere in its old streets, and so many things to see…
canoeing
Free walking tour in Palma
Palma Cathedral: The most majestic and important building in the city is a mandatory stop for anyone visiting Palma. The imposing Gothic cathedral was built by King James I in 1229 and completely dominates the old town. With different architectural styles by renowned masters such as Antoni Gaudí and Miquel Barceló, Palma Cathedral will be one of the highlights of your visit to the old town. You can buy tickets with us that will get you past the queues saving you valuable time: Palma Cathedral Skip-the-line Ticket.
Old town streets: Strolling through the old town of Palma down its narrow streets is a pleasure in itself. Soak up the atmosphere as you explore Palma's pretty squares, characteristic courtyards (of which the old town has over 200) and other hidden corners.
Old walls: Palma de Mallorca is steeped in history from its creation in 902 AD by the Romans, to the Moorish era and the Christian conquest, to the present day. For much of its time, Palma was a walled city and there are still well-preserved sections from all eras, many of which are accessible today for visitors who want to enjoy the most impressive panoramas of the city and port.
Mercado del Olivar: if you like a good local market, you'll love the Mercado del Olivar, the heart of local life in Palma de Mallorca, where time seems to stand still, making you feel a million miles from the modern metropolis. Marvel at the brightly colored produce, watch the locals barter and banter over their fresh fish, and stop at one of the typical bars for a tapa and wine.
La Lonja: La Lonja area is traditionally where fish auctions were held as the day's catch was brought into the fishing port opposite. Today, the beautifully preserved area of La Lonja is where Palma's best tapas bars and typical restaurants are located. Join the locals to partake in typical food and drink in some of the most traditional bars in the city.
Tip: To make the most of your limited time in Palma and see the best parts of the old town, take a guided walk with a guide who knows the city well and can provide information on the different places you visit, customizing the walk to your preferences. More about it here: Private guided walking tour of Palma.
Visit Bellver Castle:
Bellver Castle is the second most visited monument in Palma after the cathedral. This emblematic construction is unique among Spanish castles in that it is completely rounded. Due to its location on top of a hill to the west of the city, it has the best panoramic view of the city of Palma.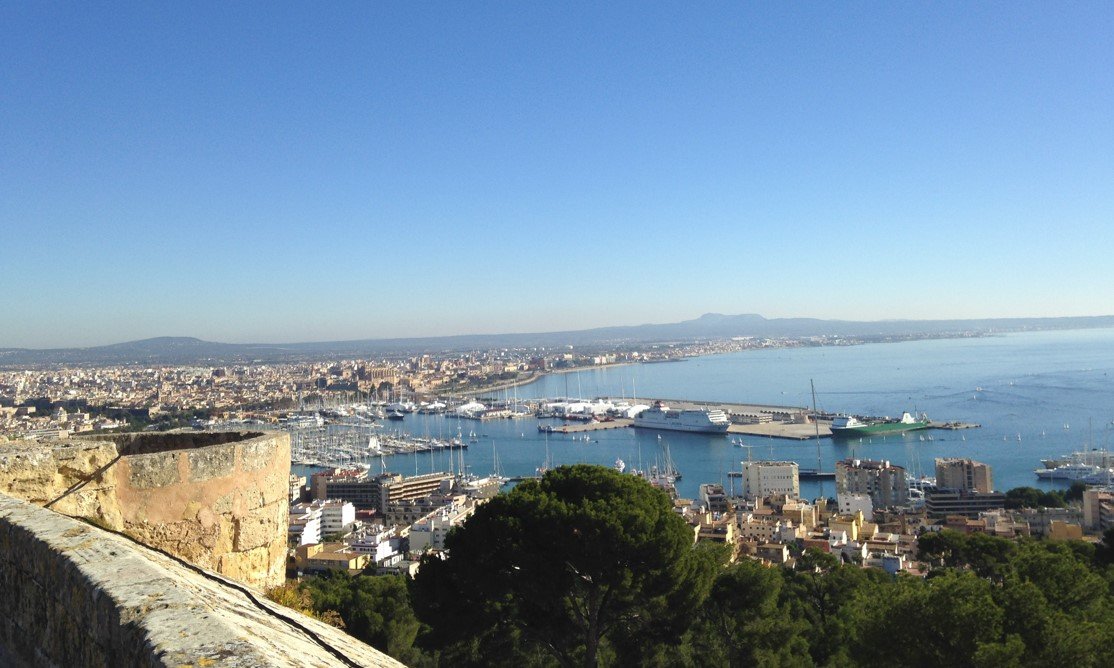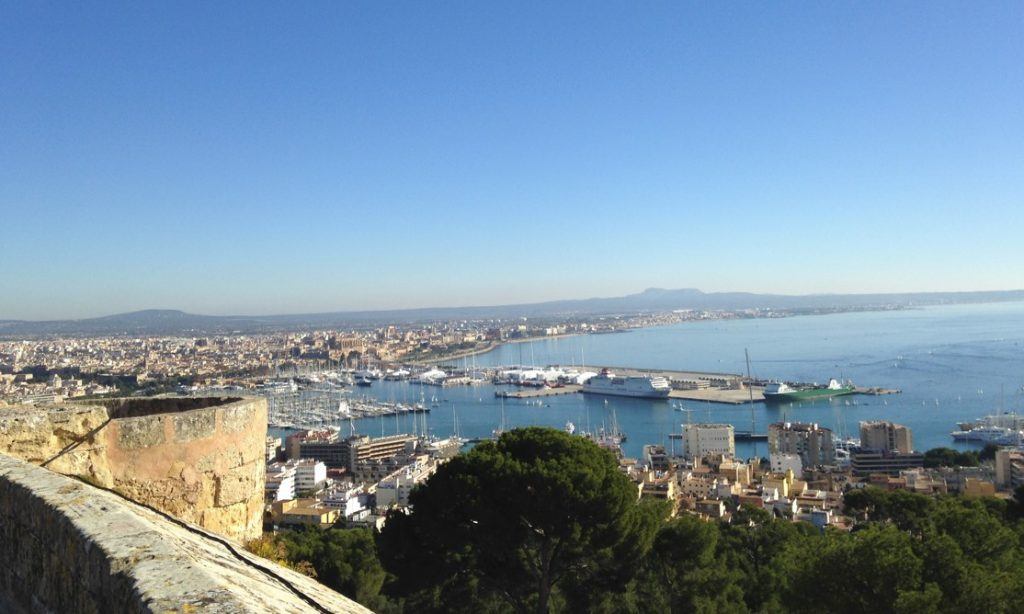 In the dungeons is a large museum dedicated to the intriguing history of the castle. This, together with the incredible view, makes it one of the highlights of Palma. As the Bellver Castle is not in the center of the city, the most convenient way to visit it is to take the hop-on hop-off bus that we mentioned.
Boat trips:
Palma Bay is Mallorca's largest bay and there are many water activities available. Why not discover Mallorca from the sea on a relaxing catamaran tour or boat trip where you can enjoy beautiful views, swim and relax?
For those visiting Palma de Mallorca on a cruise holiday we recommend:
Catamaran Cruise in Palma de Mallorca: set sail on a 5-hour excursion on a sailing catamaran from the port of Palma with lunch and drinks included and visits to some beautiful coves where you can swim or snorkel.
Boat Trip in Palma de Mallorca: If you want a completely unique way to see the city of Palma and its port, we recommend this one-hour boat trip around the Bay of Palma where you can see the port, the cathedral and other important places from a unique perspective: from the sea. It is excellent to combine with a walking tour of the old town, since it leaves every hour and lasts only one hour, giving you plenty of time to do other things.
Beaches close to the cruise port:
There is nothing wrong with spending a day of your cruise at a beautiful beach where you can throw down your towel and soak up the Mediterranean sun. In the city of Palma there are some nice beaches with soft sand and good swimming conditions.
Our recommendation in the Palma area is the Can Pere Antoni Beach, which is located a short distance from the city center and has a magnificent view of the port and the cathedral: the best of both worlds! Due to its proximity to the city center, this beach is popular with locals, but you're sure to find a good spot along its 750-meter length. Also, there are restaurants and facilities on the beach, which means you don't even have to walk far for lunch.
Another good option is Illetes Beach. This is further out of the city, but it is the nicest beach close to the capital. You can find more information about this beach and many more in our extensive beach guide.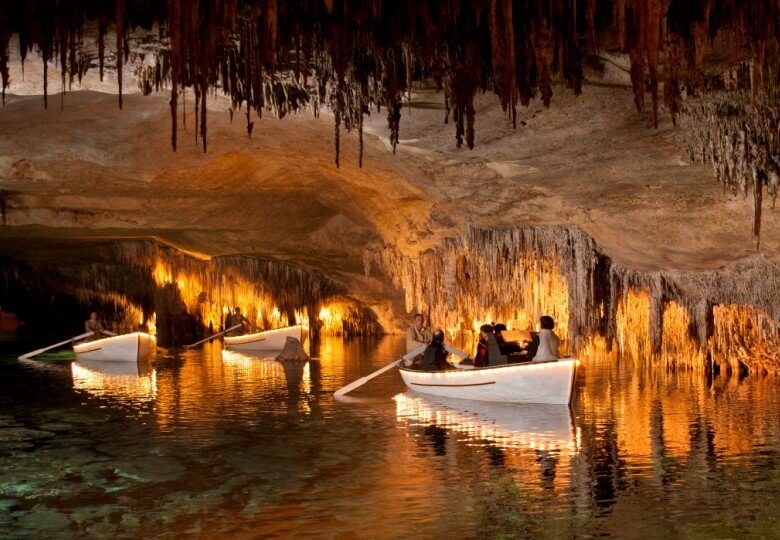 Shore Excursions from the Port of Palma
There are many excursion options from the port of Palma de Mallorca, including private excursions, group excursions or boat trips. This means that you have many options and it is a difficult decision to make, but it also means that you have the opportunity to do many things during your port of call in Palma de Mallorca..
SHARED TOURS: Join a shared coach tour with a set itinerary and with pickup/drop-off near the port area. You can visit many of Mallorca's top attractions by selecting this budget option. There will be a guide on the coach who will organize everything during the day so you can sit back and enjoy.
PRIVATE TOURS: Reserve a guide and transportation just for you, to take you to the places you want to go and your options are endless. Take your time in the different places you visit, making the most of your visit to Mallorca. We have many suggested routes for you to choose from and we can adapt to anything you want to do.
BOAT TRIPS: many parts of Mallorca are best seen from the calm of the Mediterranean Sea, and being an island, you are never far from its turquoise waters. Enjoy a relaxing boat or catamaran tour where you can swim, sail and relax in different secluded coves and beaches.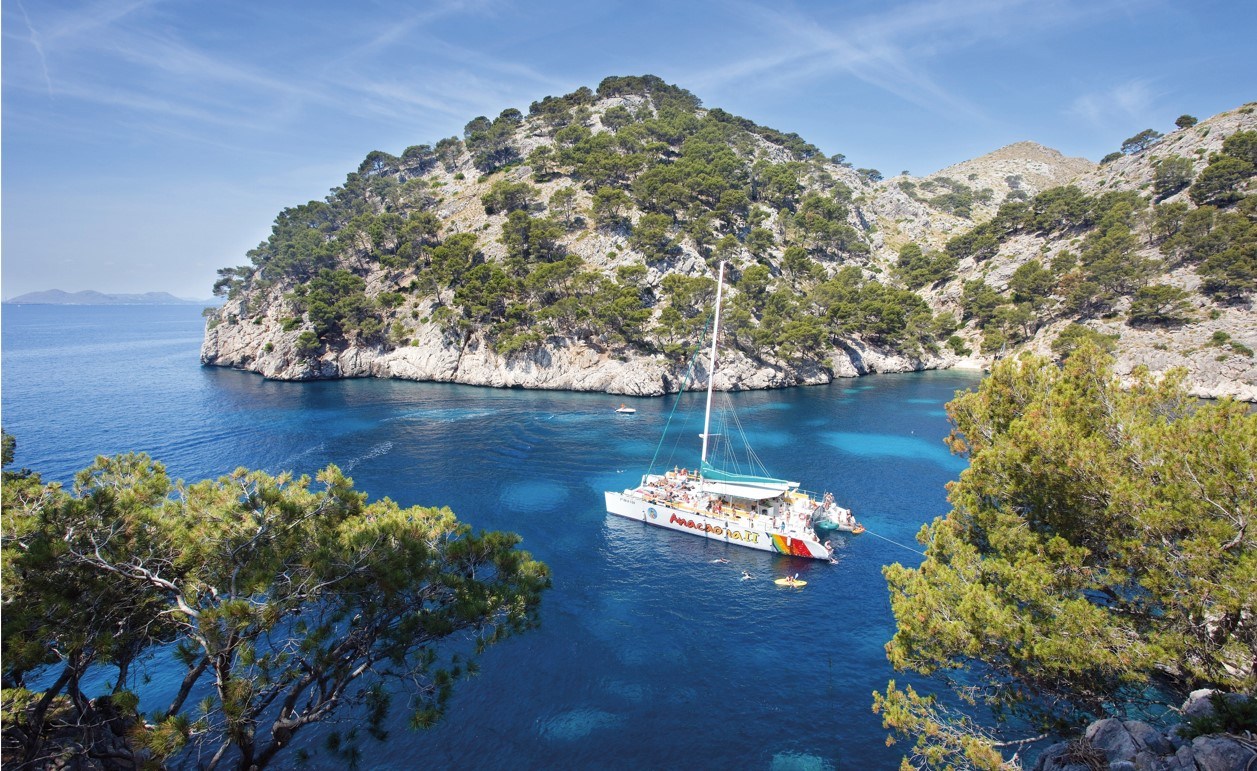 canoeing
Catamaran tours, glass bottom boats, boats and much more
Advantages for cruise passengers of booking a tour with us:
Convenience: Pick up and drop off from the cruise terminal. You will receive clear information about your pick-up point before the day of the tour. We will also be contactable as soon as you dock.
Price: our prices are 20% cheaper than excursions offered by cruise companies and we, being a local company with staff from the island, offer service and knowledge that are 100% better.
Guarantee: get back to the cruise ship at the appropriate time, without stress or nerves. We will take care of all the timings. Full money refund if your cruise ship cannot dock due to circumstances beyond your control.
At Click-Mallorca we offer a wide range of excursions and we only work with trusted local providers with experience in excursions for cruise passengers. On top of this, we have a good reputation for customer service, responding to enquiries quickly, and providing clear and concise information about pickup, times, and what's included. Price is always important, so our excursions tend to cost approximately 20% less than those offered with your cruise line.
We hope you have enjoyed this post with suggestions and tips for people visiting Palma on a cruise. Have you booked your cruise yet? If not, what are you waiting for?! Let us know how your experience was and, if you have friends that willing be visiting Palma on a cruise, please remember to share this article with them.
Plan your holidays in Mallorca