38 Best Beaches of Mallorca
Welcome to our definitive Mallorca Beach Guide. Our team of local experts at click-mallorca.com have put together the ultimate beach guide of Mallorca's best beaches. Regardless of whether you want a quiet and secluded beach, the best beach for swimming and snorkelling, a beach ideal for families or the best sandy beach, we have everything you need to know and more.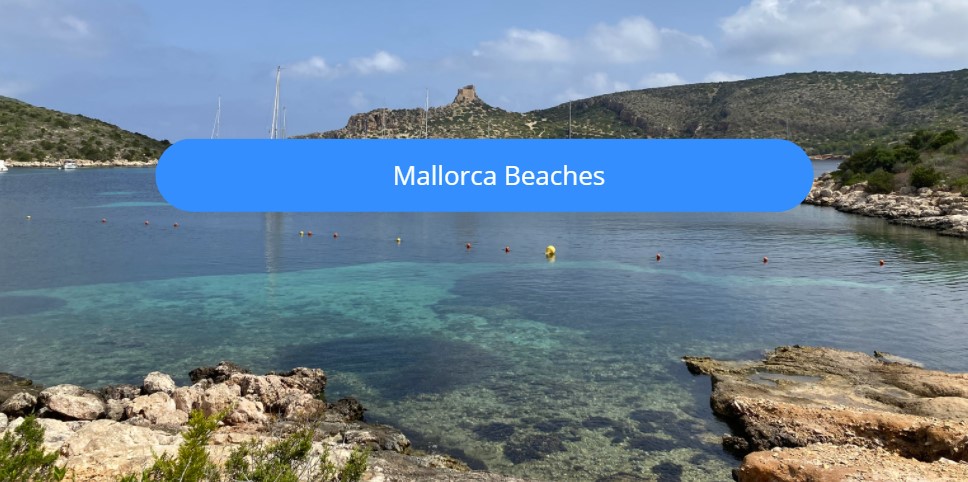 Use the index table below to find exactly what you are looking for and to skip to the information about the best beach for you. Or continue reading to be inspired about the best beaches of Mallorca and to find something different. At the end of this article you will find a map with all the beaches of Mallorca that we mention. Thus, you will be able to see its location on a map of Mallorca, to plan your beach route.
About Our Guide to Mallorca's Best Beaches
Many people wonder which part of Mallorca has the best beaches? To make it easier to read this beach guide of Mallorca's best beaches and to find what you are looking for, we have divided the island into geographical areas and, in each area, we have selected different beaches based on different criteria. In each area we will show you:
The most beautiful beach,
A charming and hidden beach,
The most popular beach
And much more.
As this beach guide has been written by local experts from click-mallorca.com, for each beach, we add a recommendation with activities that you can do in its surroundings. And below the geographically-organised sections, we have also made a list of beaches in Mallorca according to the most searched interests in Google, such as the best beaches in Mallorca for dogs or nudist beaches.
Everyone is different, and we all have our ideal beach in mind. That's why we have made such a complete guide. But if there is any beach in Mallorca that you think should be on this list and isn't, don't hesitate to leave your comment at the end.
The Best Beaches in the North of Mallorca
In the north of Mallorca we find the bay of Pollensa and the bay of Alcudia, popular holiday destinations. Being popular tourist destinations, there are well-known beaches that have services and facilities such as lifeguard, beach bars, shower, sunbeds and beach umbrellas. The big beaches on these two bays of Mallorca are not "oases of calm" because in summer few places in Mallorca are. But we assure you that they are pretty beaches.
As well as these large beaches popular with huge amounts of tourists, there are also virgin beaches of fine sand that have been saved from the development of tourism.
We are going to define this area of the North of Mallorca between the beaches from Cap de Formentor to Cap Farrutx.
Formentor Beach in Mallorca
Who has not heard of Formentor Beach? It is considered one of the most beautiful and best beaches in Mallorca. And rightly so.
Formentor is really special, with its unspoilt landscape, its fine sandy beach, its crystal clear waters, the pine trees fringing beach with their gentle shade…
And there's a wonderful story behind Formentor, about how Alan Diehl found it, and in 1931 he decided to build the Formentor Hotel. It is true that Formentor Beach is a very crowded beach, but it is for good reason, and you cannot leave Mallorca without having visited it.
OUR RECOMMENDATION: Go to Formentor Beach by boat
You can get there by car (beware that parking is expensive) or by bus, but we recommend something different. For stunning views of Formentor and the coastline from the sea, visit it by boat from Puerto Pollensa, where a daily ferry leaves from April to October. The price is only €16 round trip, and you will enjoy a 25-minute boat ride, with views of coves, an old sea quarry, Sa Fortaleza (the place where Rafa Nadal got married) and the spectacular arrival in Formentor. With several departures per day, you can decide whether to spend more or less time on the beach.
Sant Joan: our selection for "most beautiful beach" in the north
We love this beach: it is small and beautiful, ideal for couples. It is a romantic beach! For extra romance and to enjoy it at its quietest moment, go in the evening for a sunset swim.
Crescent-shaped, with about 120 metres of sand and just 20 metres wide, Sant Joan Beach gets crowded easily (avoid weekends). Its sandy seabed is spectacular, and you can perfectly walk more than 50 metres out before the water starts to get deep. Sant Joan Beach has lifeguard services, sunbeds, umbrellas and a beach bar. With views of the Bay of Pollensa, Formentor and the La Victoria mountains, it is a real beauty, and that is why it must be on our list of the best beaches in Mallorca.
OUR RECOMMENDATION: Take a coastal walk.
If you visit this beach, our suggestion is to take a walk from the car park at the top following the path that goes around the coast to Es More Vermell Beach. You will be able to see the views of the area, an old sandstone quarry and an old bunker. The walk takes around half an hour each way. Es More Vermell Beach is another perfect place for a refreshing dip.
Alcudia Beach: Top Beach in North Mallorca for Families
We are talking about one of the best beaches in Mallorca, with an uninterrupted 5km of sand. Alcudia Beach is perfectly equipped with showers, toilets, beach bars, sunbed and umbrella services, water sports and boat rides.
The area at the beginning of the beach, near the port is not the most recommended part, as the quality of the water is not that good. The area from the Viva Golf Hotel to the Paraíso de Alcudia Hotel is quite popular among tourists who stay in the hotels in the area. From there until the beginning of Playa de Muro it is less crowded. Bear in mind that we are in one of the most important tourist areas of the island. For Instagram lovers, surely you have seen a photo like the one below. It is one of the wooden jetties on Alcudia beach.
OUR RECOMMENDATION: Go dolphin-watching from this beach.
There is a fantastic early morning boat trip that departs from the port and from the jetties to go out to sea and spot wild dolphins in their natural habitat. It is a truly unique and magical experience for anyone interested in wildlife and nature.
Playa de Muro Beach
Playa de Muro is the continuation of Alcudia beach within the municipality of Muro. There are 5,320 metres of sandy coastline, with a stretch of almost two kilometres that is completely unspoilt, something unusual for the beaches of Mallorca. This last area is our favourite, because it is much quieter, although without services of any kind or beach bars. In return you find an area with fine sand protected by dunes, and beautiful views of the bay of Alcudia. The ideal place to park your car is near the Iberostar Albufera Playa Hotel. Once on the beach, to the right you have this area, and if you go to the left you have an equally beautiful area, but with more facilities and hotels.
OUR RECOMMENDATION: Ideal for children.
Playa de Muro is an ideal beach to go to with children, due to its wide sand and because the water is shallow for more than 50 metres until it covers you, plus its entire seabed is made of sand, without any rocks.
With its 1,700 metres of sand, and declared a natural area of special interest, this is one of those secret corners of the north. It is a totally virgin area, which in fact years ago was planned to be urbanized, and fortunately it never took place, and now we can enjoy its beach in all its splendor. You can only get there on foot, walking either from Estanyol or from Son Serra de Marina.
OUR RECOMMENDATION: visit Colonia de Sant Pere.
It is so nice to combine Sa Canova Beach with a walk through Colonia de Sant Pere. And is even nicer at sunset, when you can take the opportunity to dine at one of Colonia de Sant Pere's pretty seafront restaurants or relax on one of its chill-out terraces. If you are a wine lover, you will find the Conde de Suyrot winery nearby, which organizes visits with tastings and tapas.
Aucanada: Most popular beach with local people
The beach at Aucanada is barely 200 metres long, but it is a very special and unique beach (this is no secret among the locals and gets truly packed at the weekend in summer, though it is a relatively quiet beach during the week). Aucanada Beach is not a sandy beach; it is covered with pebbles and Poseidon (a very special seaweed unique to the Balearic Islands and very important to the local ecosystem) with a sandy seabed and a rocky coastline. Its waters are always clean, and clear and have beautiful colours, with shades of blue, turquoise and green. There is a pine forest that runs along this stretch of coast, separating the beach from Aucanada Golf Course. The views from Aucanada Beach are second to none, with panoramas of Alcudia Bay and the Aucanada Lighthouse on its own island.
OUR RECOMMENDATION: Walk to Aucanada Lighthouse from the beach.
That's right! The sea is so shallow between Aucanada Beach and its lighthouse situated opposite, in the centre of an islet, that you can walk through the water to get there! The water is never above your waist so you can walk carefully and even carry a towel or a bag so you can sunbathe on the islet for a while too. Make sure you wear shoes suitable for walking on a sometimes rocky seabed.
The Best Beaches in the Northeast Area
Continuing along Mallorca's coastline, we are going to define the northeast area of Mallorca from Cap Farrutx to Porto Cristo. It is a large area, which unlike the previous one does not have big bays. We will find some wide sandy areas in the area of Cala Millor, Sa Coma or S'Illot, but above all we will find small beaches and some coves that are worth visiting.
Cala Mesquida Beach
In a unique natural environment we find this sandy area with fine sand and turquoise waters, surrounded by pine trees and a dune system that goes inland. Cala Mesquida Beach has plenty of space to lay out your towel, and all the services you can expect on a beach, such as lifeguard service, sunbeds and umbrellas, pedalos, bars and restaurants. On its left side there are 4 hotels.
OUR RECOMMENDATION: Take a hike.
There is a great opportunity from Cala Mesquida Beach for lovers of hiking. You can trek on foot, following the coast, to Atalaya de Son Jaumell, starting from Cala Mesquida. It is an easy route and takes just a few hours. From the watchtower you can enjoy a spectacular view of the north of Mallorca.
Porto Cristo Beach: Top Beach in the Northeast for Families
Porto Cristo Beach is the most "touristy" option of the beaches that we have selected in this area. It is a beautiful sandy beach 300 metres long and 25 metres wide, with a slight slope. It has all kinds of services, and a beautiful promenade with a wide range of bars and restaurants. On its left side we see high cliffs, with houses on top, and in its lower part we find the Coves Blanques where the first fishermen of Porto Cristo lived.
OUR RECOMMENDATION: Visit the famous Mallorca caves.
Speaking of caves, without a doubt, the recommendation is to combine a visit to this beach with a visit to the famous Cuevas del Drach or take the opportunity to take a boat trip along the coast of this area of Mallorca.
These are the best virgin coves in this area of Mallorca, with spectacular beaches. In the natural park of Llevant we find not one, but four virgin beaches. We've listed them below in order of ease of getting there. We start at the foot of the beach, and little by little you have to walk further to reach the following:
Cala Torta: the most "urbanized" because it has a beach bar.
Cala Mitjana: 100% natural, without any facilities and very close to the previous cove. You can even park right by the beach.
Cala Matzoc: You have to walk to get there, but it's well worth it. A beautiful and small cove, with a defensive tower on one side, which you can climb.
Playa de Sa Font Celada: from the previous one it is 5 kilometres on foot, to reach a cove of fine sand where you can breathe absolute tranquility.
Arenalet des Verger: You can get to this fine sand beach from the previous beach or from the information centre of the Llevant Nature Park, and there is even a hostel and camping area.
In this option of beaches in Mallorca, our recommendation is easy: put on your boots and walk, and try to visit them all. You will not regret it. Of course, take enough water and food, because you will not see a single supermarket on the entire route.
You can visit this beautiful area by boat from Alcudia, where you will swim at some of the coves mentioned and enter sea caves with the boat. More information here: Alcudia Boat Trip to Llevant Nature Park.
Cala Agulla: our selection for "most beautiful beach" in the northeast
Located near the tourist centre of Cala Ratjada, Cala Agulla is not your typical small cove, as this sandy beach is more than 600 metres long, but it is one of the most beautiful in the area. It is comfortable, with easy access, crystal clear water, incredible sand and there is paid parking, 5 euros.
Its sand is white and fine, ideal for sunbathing and relaxing. Its clear and turquoise waters are perfect for diving. For those looking for shade, on the left side there is a shaded area with pine trees. The beach has a beach bar and an area to rent sun loungers. It is an ideal cove for children as the water is very shallow until well into the sea.
OUR RECOMMENDATION: Visit Capdepera Lighthouse.
If you have time and want to combine your visit to Cala Agulla with something a bit different, visit the Capdepera Lighthouse. It is the easternmost point of the island of Mallorca. Located on an imposing cliff, the views it offers are unbeatable. Menorca can be seen on a clear day from here. Access is very easy along a small road from Cala Ratjada.
The Best Beaches in the Southeast of Mallorca
From Porto Cristo to the famous beach of Es Trenc, some spectacular coves await us, those of postcard quality, or in current times, of Instagram quality. We already warned you that it is difficult to choose the best beaches of Mallorca and that is never more true than in this area of southeast Mallorca. So in this section, sometimes we recommend two beaches together that you can visit in the same day.
Cala Varques: One of Mallorca's most beautiful beaches
Cala Varques is one of the most popular beaches in Mallorca, and a true paradise. It has it all: virgin beach, fine white sand, and crystal clear waters in which it is a pleasure to swim.
Access is not easy, because until some time ago it was through private property, and with very little parking on a rural road. Perhaps the best way to visit it is from Cala Romántica, on a one-hour walk. In fact, in that same area there are 3 highly recommended beaches: Estany den Mas, Cala Mendia and Cala Anguila. These are small beaches of between 100-150 metres, with fine golden sand and clear waters with a multitude of Mediterranean colours. At all of them it is easy to park and they have all kinds of services. You can find complete the information in our article about Cala Varques Beach.
OUR RECOMMENDATION: Discover Porto Cristo on the same day.
Combine a visit to this beach with a walk through Porto Cristo and a visit to one of the famous caves in the area, either the Cuevas dels Hams or the Cuevas del Drach. Porto Cristo is a pretty town with a very nice harbour and a rustic charm mixed with the modern life.
Calo des Moro Cove: Most popular beach in Mallorca?
A few years ago, hardly anyone had even heard of the cove of Calo des Moro, which has a very small beach. Now, it is one of the most popular beaches in Mallorca and on Instagram, and it appears in all the lists of top beaches in Mallorca.
Worth visiting? Yes, definitely. But do not expect a quiet cove. In fact, quite the opposite. The Calo des Moro beach is 40 metres long, and wide at most, 10 metres or not at all, depending on the state of the sea. You will have to find your place on the rocks, but the best thing about this beach is the water. A sandy seabed with crystal clear water, it's like walking in a huge pool.
OUR RECOMMENDATION: Visit Calo des Moro from the sea.
From Cala Figuera you have the option of taking a 3-hour boat trip that takes you to see this cove and others nearby, including a swim in Cala Marmols. Cala Marmols is another spectacular beach, but due to the difficulty of getting there on foot, it is not as famous as Calo des Moro. But the entire boat trip is very beautiful and if you are visiting Mallorca in the busy summer months, then it is a great way of enjoying Calo des Moro without having to fight your way through the crowds.
Cala Mitjana is located near Cala Dor, on a private estate where a path has been constructed so that you can reach the beach. This difficulty, not only in reaching it but in finding it, has allowed it to retain all its charm. The cove is a curious inlet of the sea with three branches, and in one of them we find a small beach. It is one of the best beaches of Mallorca if what you are looking for is to disconnect in nature and tranquility. It is quite isolated and protected from the wind. Its waters are crystal clear and are very good for snorkelling.
Other options of great beaches in the surroundings are Cala Sa Nau or, in a more urbanized area, the beaches of Cala Serena, Cala Ferrera or Cala Esmeralda.
OUR RECOMMENDATION: Check out the Puig de Sant Salvador near Felanitx.
There are exceptional views of the area from the Puig de Sant Salvador and it is not far from this beach if you have a car and want to check out a little more of the area.
The Beaches of Cala Mondrago: S'Amarador Beach
In the natural park of Cala Mondrago we find two beaches of fine white sand in a spectacular place with incredible waters. The beach has a car park, and from there, in just 5 minutes on foot, we reach Ses Fonts de N' Alis Beach. It is a paradisiacal beach with crystal clear and clean waters, with good sand, wide and with different services. It is true that it has a lot of tourist atmosphere, but even so it keeps all its essence of being a natural place.
From the previous beach, by following a path that borders the sea, you reach S'Amarador Beach. This beach is less exploited and less crowded than the previous one. Both are incredibly beautiful.
OUR RECOMMENDATION: Visit the Mondrago Nature Park.
If you visit these beaches, our recommendation is to take a walk through the natural park itself. At the information centre, near the car park, they have brochures with various walking routes. Our favorite itinerary is the "La Guardia den Garrot" tour, which also takes you to see another highly recommended beach, in es Calo den Borgit.
Cala Santanyi: Great for kids
In our guide of the best beaches in Mallorca, we try to provide some variety, and include some beaches that may be somewhat more touristy, but still worth visiting in Mallorca. In this case, it is Cala Santanyi. It is true that the buildings and the hotel that stand around the beach take away some of the charm of this beach. It is an ideal beach with children or for families, greenish blue water, clear and clean, with hardly any waves, very secluded as it is between quite closed cliffs. In addition, it has areas to jump into the water from the rocks, ideal for the most daring. There is free parking areas in the surroundings.
OUR RECOMMENDATION: Trek around the coast for amazing views.
Two recommendations for those who visit Cala Santanyi beach. Near the cove there is a wonder of nature, it is Es Pontas, which is a stone arch in the sea. You can get there from Cala Santanyi, and there is a railing and benches to contemplate it. The other recommendation is to go to the beautiful fishing port of Cala Figuera, which keeps all its charm of a fishing village.
Playa de Es Caragol
If you want to visit Es Caragol Beach, then you are going to have to walk. But it will be worth it. You can choose your route: either 1.5 kilometres from the Ses Salines Lighthouse or 8 kilometres from Colonia de Sant Jordi. But a totally wild beach awaits us, with fine white sand, dunes behind the beach and crystal clear water with turquoise colours, a natural wonder. It is one of Mallorca's last quiet beaches, and is supposedly a nudist beach, but clothes are acceptable too!
OUR RECOMMENDATION: Treat yourself!
Very close to Es Caragol Beach you will find the Fontsanta Thermal Spa, which has the only thermal waters in the Balearic Islands. They have different options and packages to spend a pleasant afternoon. A great plan for a romantic treat.
Es Trenc Beach
Sometimes known as "the Caribbean of Mallorca", Es Trenc Beach is one of the best and most famous on the island. In its 3 kilometres of extension, this sandy beach offers crystal clear waters, fine sand and a natural environment. Along Es Trenc beach there are a couple of beach bars to have a drink, although they are not exactly cheap. We recommend you bring a beach umbrella and sunscreen, because there are no shaded areas, and when the sun is hot, you will surely need it.
Check out our guide to Es Trenc Beach for more complete information and top tips about your visit.
OUR RECOMMENDATION: Explore other little-known beaches in the area in the same day.
You can walk to Es Trenc Beach from Colonia de Sant Jordi, following along the seashore. En route you will find other spectacular beaches such as Es Marques or Es Peregons.
The Best Beaches in the South of Mallorca
People always want to know: Are there nice beaches in Palma? In the south of Mallorca you find some of the most famous and infamous tourist resorts on the island, such as Playa de Palma or Magaluf, among others. Each of them has its own beach. In the southwestern area we find many small coves, which are well worth a visit. However, in Palma City itself, most of the seafront is dedicated to its vast port. But we will help you to find a nice beach in Palma. Here are some of the best beaches in Mallorca in this area:
In the area between Cabo Blanco and Cap Rocat, high cliffs abound, and it is difficult to imagine that there could be any beaches there. But if you know where to look, you will find them, and they are very charming and well hidden beaches. They are also quite tiny.
Go to the Mhares Sea Club, and from there go down to the shore. If you walk to the right, you will find a sandy cove and, further on, the beautiful Cala Vella Cove with its fine sandy beach. In between, you will find natural pools that form between the rocks, because years ago there was a stone quarry in this area, and many of these rocks were carved.
OUR RECOMMENDATION: Visit by catamaran.
A good recommendation for those who want to visit this beach, and who like to enjoy the sea, is to take a sailing catamaran excursion. You combine two things in the same activity, since the catamaran leaves Palma to navigate the bay and anchor in this area. Among all the choices, the favourite is this catamaran excursion for small groups with everything included.
canoeing
Boat trips, horse riding, bus tours, attractions tickets and much more
Illetas Beach: nicest beach close to Palma de Mallorca
Unfortunately in Palma City itself, we only find one beach, that of Can Pere Antoni. So those staying in Palma often find themselves looking for a good beach in the surroundings. Our recommendation is Illetes Beach, 8 kilometres from the city, and easily accessible by public transport. It is not a very big beach, and therefore it fills up quickly. Around it there are numerous bars and restaurants and, if you want to treat yourself, even a beach bar with all luxury of comforts.
OUR RECOMMENDATION: Discover Palma.
It is surely already in all travel plans to Mallorca, to take the opportunity to discover Palma. We never tire of saying that it is a city with much to see and discover. If it is your first time, the area of the Cathedral and the old town is a must. If you are a resident, there are always hidden corners to discover in Palma. Do you know the gardens of the Episcopal Palace? Or the Temple Church?
Playa de El Mago
El Mago Beach is one of the most famous nudist beaches on the island, and therefore often gets crowded. It doesn't take a great volume of people to crowd the beach, since it is barely 30 metres long with its sun loungers, umbrellas and even a beach bar. Is it worth a visit? Yes, but set off early to choose your spot for your towel.
OUR RECOMMENDATION: Combine your day at El Mago with another beach.
You can share your visit to El Mago Beach with the surrounding beaches in Cala Portals Vells. You have the Rei Beach, the Portals Vells Beach and the Cala Portals Vells Beach. Small coves of fine sand, beautiful waters and a very pretty setting surrounded by pine trees.
Camp de Mar Beach
This is another beach in Mallorca that is touristy, but retains its charm. Camp de Mar is a small tourist resort near the Andratx area. With a sandy beach of about 150 metres in length, rock and sand seabed, it stands out for the small islet just off its shore, which is reached by a footbridge. There, you find a bar-restaurant. As a curiosity, to say that it has appeared in movies and series, the last one being in Netflix's White Lines.
Another option very close to Camp de Mar that we really like is Sant Elm Beach. Located in a small resort, it has all the necessary services and a sandy beach of more than 100 metres. Explore the inland area and discover beautiful villages in the foothills of the Tramuntana mountains. We recommend Capdella and Galilea.
OUR RECOMMENDATION: Visit Dragonera Island.
From the area of Camp de Mar, you can get to Dragonera Island on an organized excursion or with the ferry from Sant Elm. Dragonera is one of the most beautiful natural areas in the Balearics with some of the most stunning beaches and is an excellent place for snorkelling.
The Best Beaches of Mallorca in the Sierra de Tramuntana
We finish our selection of beaches in Mallorca by region in the most rugged and wild area of the island. The Sierra de Tramuntana runs from Andratx to the municipality of Pollensa, and along its 90 kilometres we will hardly find any sandy areas, with the exception of the sandy beaches of Puerto Sóller. Instead, we will find numerous coves with their small stone or pebble beaches. All these coves have a special charm, and here we bring you our selection.
Sa Calobra: The most popular beach on the island
Sa Calobra is one of the most visited places in Mallorca, with incomparable beauty, but also with a lot of people in summer. In this place we find two beaches, one in the port of Sa Calobra, next to the boat pier. The other, the most spectacular, at the mouth of the Torrent de Pareis Gorge. The beach is made of pebbles, and is very small, framed by the high cliff walls that form the mouth of the Torrent de Pareis. In Sa Calobra there is paid parking and numerous bars and restaurants where you can eat. However, they are not exactly cheap, so a picnic is recommendable.
OUR RECOMMENDATION: Arrive in style!
Our suggestion for Sa Calobra Beach is to arrive by boat from Puerto Soller. With daily departures, the ferry ride is wonderful because it allows you to see the Sierra de Tramuntana from the sea. Cliffs, sea caves, some of the highest mountains on the island, defensive towers… and all without the worry of having to stress yourself driving down the road to Sa Calobra by car.
Cala Tuent
Very close to Sa Calobra we find this other magnificent beach: Cala Tuent. Just as pretty, but less known than Sa Calobra. It is a virgin beach of about 170 metres in length, with pebbles and gravel, with clean waters and green and blue colours. It rarely gets crowded. The beach is surrounded by a magnificent landscape with pine trees, olive trees, rocks, mountains, and absolute tranquility. On the left side there is the Es Vergeret Restaurant, a very short distance from the beach, with incredible views of the entire cove. There are huts dotted around the beach, which are used by fishermen.
OUR RECOMMENDATION: Hike in the area.
Our suggestion is to combine the beach day with a walking route. On the way to Cala Tuent you will pass a small chapel from the 13th century. You can park your car there, and we suggest two short routes. The easiest goes down to the town of Sa Calobra (not to be confused with the port of Sa Calobra, which we mention above). It is a small village with some typical houses of the island's mountain architecture, which you will surely love. And the best part is that hardly anyone knows about it. The most difficult route takes us uphill to a defensive tower, from which a fantastic view of the coast can be seen.
Cala Deia: a beach with charm
In all areas of the island we have chosen a charming beach. In the Sierra de Tramuntana area there are many, but we have opted for Cala Deia because we recommend combining your visit with the town of Deia, which has even more charm than the beach. The cove can get somewhat crowded, and there is no sand, but rocks, so you will see people sitting on them, and it seems that they are in a cinema watching people who are in the water. Its blue waters are ideal for a spectacular swim with rocks, fauna and many fish.
OUR RECOMMENDATION: Visit Deia
In Deia, you can take a walk through its streets, pamper yourself with a drink at the luxurious La Residencia Hotel and climb to the top of the town where you will find the church and the cemetery.
It is not easy to get to the Port des Canonge; there is only one road with many curves. But is it worth it. It is an old fishing port with a small cove from where you can swim. Its dimensions are about 70 metres long by 15 wide. The cove is made up of coarse gravel and Poseidon remains (what many call algae). With perfectly clear water and a pleasant sea temperature, it is ideal for people who like places that are not too crowded.
OUR RECOMMENDATION: Take a road trip.
If you are going to visit this beach, take a route by car through this part of the Sierra de Tramuntana. Normally tourists opt for the route from Valldemossa to Soller and forget about visiting this area. Start your route in Andratx and continue towards Estellencs and Banyalbufar. You are going to explore a beautiful area, with small towns and landscapes that will surprise you.
Nudist Beaches in Mallorca
Nudism is allowed in Mallorca, and in fact there are quite a few nudist beaches. There are for all tastes: more isolated beaches, small coves, beaches that you have to get to by taking a good walk… These are some of the nudist beaches that we recommend in Mallorca:
Sa Canova and Son Real: both in the sandy beaches of Sa Canova and of Son Real you can enjoy two excellent nudist beaches, and very quiet.
El Mago: one of the most famous nudist beaches in Mallorca, although it is a small and rather busy beach.
Es Trenc: although it is one of the most popular beaches in Mallorca, it has quiet areas for those who like to sunbathe nude.
Es Cargol: included in our selection of beaches in Mallorca, it was originally a nudist beach, although as it is highly visited today, not all of its visitors practice nudism.
Calo Den Rafalino: a small jewel of a cove, with a beach barely 20 metres long. Located near Porto Cristo, and with parking 200 meters away.
Cala Mesquida: on the right side (facing the sea) there is a nudist area, ideal for enjoying one of the best beaches on the island.
Cala Moltó: very close to the beautiful beach of Cala Agulla, we find this completely virgin cove where practicing nudism becomes a unique experience.
Llucalcari: located in the Sierra de Tramuntana, we find this quiet cove. Next to a fig tree, there is a source of fresh water that flows all year round keeping the clay soil moist, something that can be used to take a mud bath.
Cala Matzoc: among the beaches of the Llevant Natural Park, Cala Matzoc beach is one of the most popular for practicing nudism.
Caló des Grells: in the area of the Dique del Oeste we find this discreet and secluded beach, much appreciated by nudists who live near Palma.
Nudist Beaches in Alcudia: in the Alcudia area we find two nudist beaches: Es Coll Baix Beach and Es Secs Beach, which is located near Aucanada.
Best Beaches in Mallorca with Dogs
Many of us have pets, and especially dogs. Who does not like to go to the beach with their dog? To watch him running with pure joy into the sea and jumping over the waves, to watch him roll in the sand or chase after pebbles? It is true that there are not that many beaches in Mallorca that you can take your dog to, but a few are better than none. Here is a short list of our suggestions for beaches to enjoy in Mallorca with your dog:
At the beginning of Puerto Pollensa we find the Llenaire Beach. It is a beach of rocks and pebbles, where there is not much sand, and with a pine forest that provides very good shade. The area for dogs is well signposted next to the road and although it is not very large, it has easy parking and a picnic area.
In the Alcudia area, at the end of Aucanada Beach, in the area called Punta des Far, we have an authorized beach area for dogs. It is not an excessively large space, but it is perfectly suited to enjoy a day at sea with your dog.
Na Patana Beach at the edge of Can Picafort is one of our favourite beaches in Mallorca for dogs. There is often a lot of seaweed on the beach (this is usually a plus for dogs, who like rolling around in it). To access the beach you have to cross Son Bauló, a fairly crowded sandy beach that has a blue flag.
Near Palma we find the beach of Es Carnatge, one of the first beaches for dogs, since 2013 when the city council of Palma enabled it as a pilot project. It is located between Coll den Rabassa and Can Pastilla, and is a rocky area with small coves and ideal for walking.
When you take your dog to the beach, please know that there are many rules to follow. Make sure you read the boards at the entrance to the beach, to ensure that you aren't fined for doing something you didn't realise was permitted.
Map of the Best Beaches Mallorca
Below you can see a map of the beaches in Mallorca that we have mentioned in this guide. It can be very useful when planning a route in Mallorca, as you will see where each one is located. Although in Mallorca, the distances are very short, keep in mind that in the Sierra de Tramuntana area it will take longer, as they are narrow, windy roads. Also, keep in mind that to get to some of the more isolated beaches, you will have to invest more time for trekking to them.
A Book About Beaches in Mallorca
In the current times of the digital world, everything is in ebook format, posts and photos on Instagram. But some of us are still classics, and prefer a good guide or paper book. If you are one of them, and you are looking for a book about the beaches of Mallorca, this is our recommendation:
This book by Miguel Ángel Álvarez Alperi explores more than 284 beaches in Mallorca in detail. Each beach has its own page with information about the area, a description of the beach, where to anchor, what kind of beach it is, who it suitable for… For us, it is by far the best book about beaches in Mallorca, and we use it often.
Please note: our edition in the photo is in Spanish but the book is available in different languages, including English.
Best Boat Trips in Mallorca to Beaches and Coves
Another excellent way to visit some of the beaches of Mallorca, especially in summer, is on a boat or catamaran cruise along the coast of Mallorca. Being an island with a lot of tourism, there are more than 60 companies that offer organized boat trips to different beaches. You can choose to go by boat, catamaran, or sailboat among other types of boats. You can choose to opt for shared outings or to rent a boat just for your group. The possibilities are many and varied, as are the prices.
If you are interested in doing a boat trip, click on the photo below, and you will be able to see the wide variety of options that we recommend as local experts in Mallorca: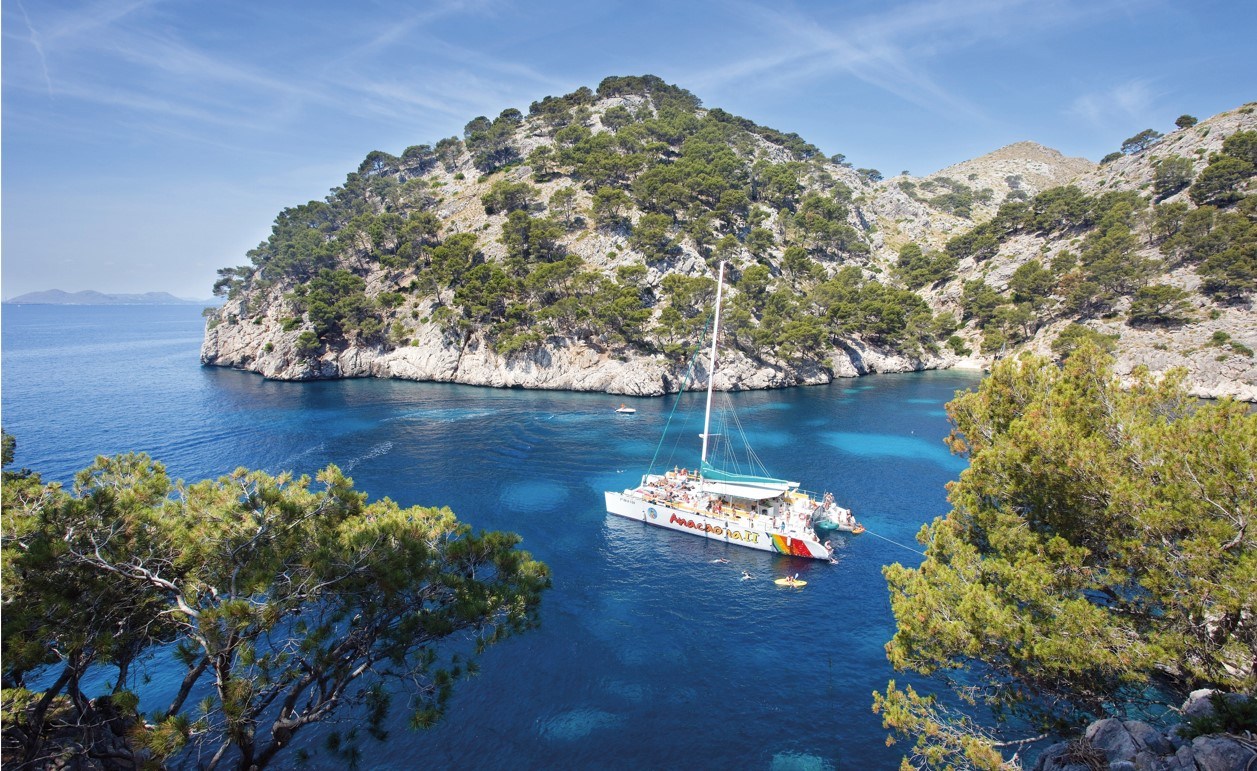 canoeing
Catamaran tours, glass bottom boats, boats and much more
Which is your favourite beach in Mallorca?
As we mentioned at the beginning of our beach guide, each person is different, and has their own preferences. Also, each year, depending on the circumstances, the beaches change: some become more crowded than ever, some lose their sand or the quality of their waters… For this reason, and to share how wonderful our island is, we encourage you to leave us your comment, and tell us which is your favuorite beach in Mallorca.