Cala Varques: How to get there and all its secrets
Years ago, Cala Varques was known as the ideal beach if you wanted to visit a virgin beach away from all the hustle and bustle, the overcrowding and the stress of everyday life.
Things have changed since then, although Cala Varques is still a virgin beach. But as it gained popularity, it went from being that cove where there were only a few people, to a crowded cove, with all that that entails. Is Cala Varques worth visiting? Sure, but you won't be alone, and there's a hike to get there.
In today's article we explain how to get to Cala Varques and give you relevant information about this Mediterranean paradise. Keep reading!
How to get to Cala Varques?
The way to get to Cala Varques is the route from Cala Romántica, on a pretty trek of approximately one hour. Access from the Porto Cristo-Calas de Mallorca road is not possible because you cannot park on the road and you must go through private property, which does not allow access.
From Estany den Mas beach, on the right hand side there is a small path that goes up that side, and then goes almost parallel to the coast. It's easy to follow, and there are a few stone markers along the way.
Recommendations to anyone who wants to get to Cala Varques:
Do not attempt the excursion in flip-flops or sandals. Covered sports shoes are necessary, since you will have to walk along a rocky track.
We also recommend that you bring plenty of drinking water as there is no bar or beach bar in Cala Varques. If you have read in other articles that there is a beach bar, beware that these articles are old and not updated. In 2020, the Cala Varques beach bar was demolished.
Don't go too loaded. The weight could make it difficult for you to get to the beach! Travel light.
Once the path ends, you arrive at Cala Varques, and you will be on the beach with turquoise, clear and calm waters where you can relax and spend a day of total disconnection.
They say that sometimes a picture is worth a thousand words. For this reason, here we share with you a video by a Uruguayan blogger who made a video of Cala Varques Beach, so you can get an idea of what it is like. Keep in mind:
the video was filmed in 2018
the beach bar doesnt exist anymore
it is filmed in summer

To get to Cala Varques you go along the path that used to be there, which is now closed and access to the property is not allowed.
Discover Cala Varques by boat
An interesting way to discover Cala Varques for those who want to avoid the long walk is on a boat trip. From Porto Cristo we offer an excursion that takes you through this area of the coast of Mallorca, and you will be able to see virgin coves that are difficult to access, such as Cala Varques or Cala Virgili, among others.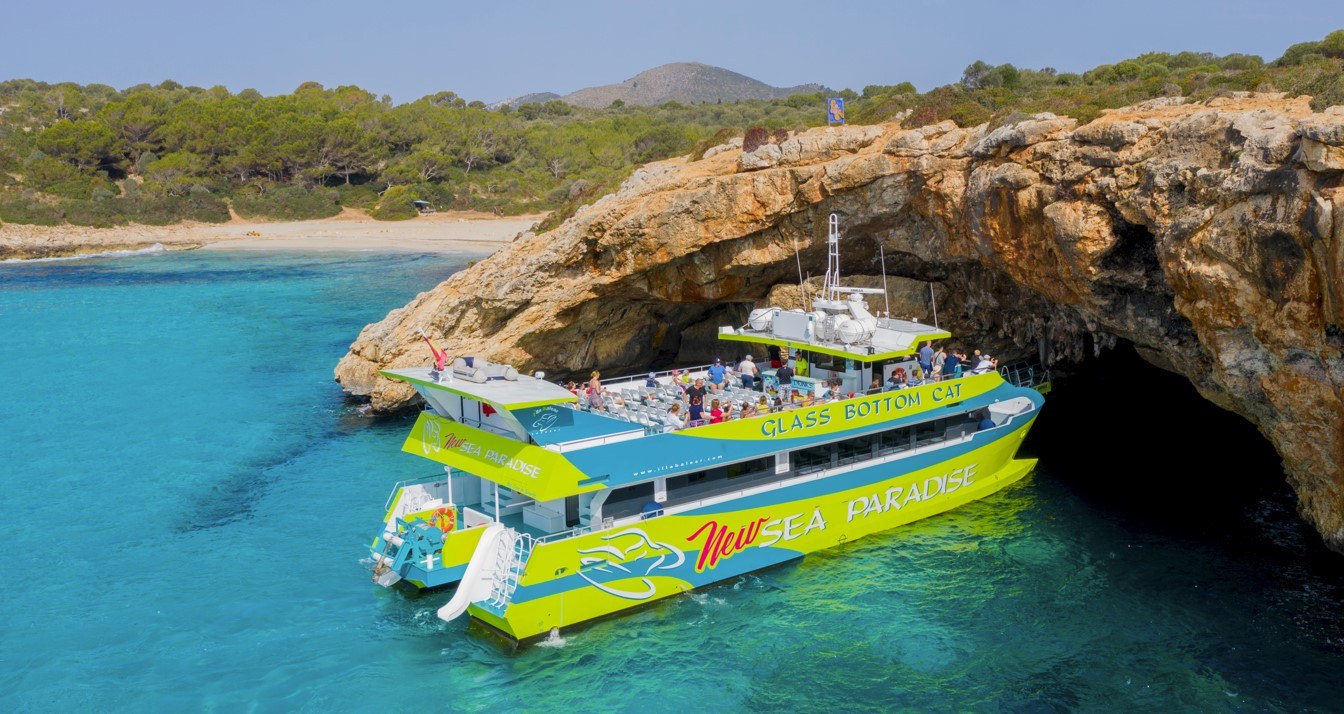 canoeing
Boat trip to Cala Varques
Discover some of the best coves in Mallorca from the sea
We also have a stop to snorkel and enjoy the pleasure of bathing in these crystal clear waters of Mallorca.
Cala Varques Beach
Cala Varques is one of the natural and virgin coves on the island of Mallorca with a length of approximately 70 metres and a width of 50 metres. It is true that in recent years with the rise of social networks and the susequent rise in popularity of this cove, Cala Varques has lost a certain amount of its desert-island-like charm. We believe that the demolition of the beach bar was to try to reduce its popularity and discourage such a large amount of visitors.
One of the attractions of Cala Varques apart from its remote location is the landscape that surrounds it. This beach is a small sea inlet surrounded by a lush pine forest and rocks. It is a beach of fine white sand. As many virgin beaches are, it is popular with nudist bathers.
The water of Cala Varques Beach is completely transparent and crystal clear. It remains shallow until very far out and you can walk, touching the bottom for a long time. This makes it ideal for less confident swimmers.
What to do in Cala Varques?
Since Cala Varques is a virgin beach, you will not find shower services, bar, toilet, car park or anything like that. We recommend that you take with you what you need to spend the day. Think that once there you will not be able to buy anything. But it is precisely that, what makes it unique and a place worth visiting.
Nor will you find the possibility of doing water sports, as is the case on many beaches in Mallorca. So forget about jet skiing, prasail, banana boat and all that. But let us tell you what you can do in Cala Varques, apart from relaxing and sunbathing.
Enjoy its crystal clear waters snorkelling
Snorkelling in Cala Varques in its transparent and crystalline waters is one of the best suggestions. Surrounded by cliffs and rocks, you will find many fish and marine fauna both in the sand area and on the rocks. So do not forget to take your snorkelling equipment with you to enjoy the beach to the fullest.
Explore the Caves near Cala Varques
The caves of Cala Varques are another option to take advantage of the visit to this cove, both the terrestrial caves and the marine ones. Often lovers of speleology and diving visit these caves and galleries.
Among the land caves we find the "Cuevas del Pirata" or the "Cueva del Pont". In them we find the typical stalactites and stalagmites of sea caves.
Among the surrounding sea caves, the most spectacular is the Cova des Coloms, which is accessed by sea or by abseiling about 20 metres. It is an impressive cave, although it is best to visit it with a guide specialized in active tourism.
Things you should NOT do
There are two things that used to be done in Cala Varques and that are now prohibited by the Manacor town hall: cliff jumping and psicobloc.
Cliff jumping consists of jumping into the water from cliffs. This activity became quite popular years ago in Cala Varques, and before you even think about practicing it, let us tell you that there have been people who had to be evacuated when they suffered serious spinal injuries with the possibility of paralysis from jumping from these rocks into the water.
Psicobloc is a type of climbing without ropes, using the hands to grip and that is done on the cliffs next to the sea. The psicobloc was born in Mallorca, and the water is used to cushion the fall. Due to accidents that have occurred in the past by people without experience, this activity has been prohibited in the area. In the bill currently on public display, it is planned to regulate it throughout the east coast of the island of Mallorca, and not only in Cala Varques.
Hiking to other coves or a bridge over the water
If we walk towards Porto Cristo following the coast, we will find a natural rock bridge over the sea that is quite spectacular. It is located between Cala Falco and Calo Blanc.
In all this area of the coast there are many caves, and in fact there was one of them here. Due to an internal landslide in the central part, the roof fell, leaving only the opening, which is this rock bridge that we can see. As we have said, it is a spectacular site, very close to Cala Varques and worth visiting. The bridge is safe, wide and ideal for taking photos.
Excursions in the surroundings:
If you visit Cala Varques, since you are traveling to the east of Mallorca, you can take the opportunity to do other activities. Here are some ideas for other activities you can do in the area:
Visit some of the tourist caves in the area. This point is key in tourist visits to Mallorca, since here are two of the most famous caves on the island: the Cuevas del Drach and the Cuevas del Hams. Both caves organize guided tours in which you can discover the interior of these underground treasures.
Stroll through the Porto Cristo area. Porto Cristo was a small fishing port, which gradually opened up to tourism, and still retains its charm.
If you like isolated and virgin coves, very close you can walk to Cala Magraner, Cala Pilota, Cala Bota and Cala Virgili.
Another place of interest in Porto Cristo, near Cala Varques, is the Torre dels Falcons. It is a watchtower built in the 16th century in order to protect the island from enemy attacks. From this place you will have spectacular views of the Bay, the lighthouse and the entire east coast of Mallorca.
In Manacor you can visit the Rafa Nadal Xperience museum. An interactive space for sports and tennis lovers where apart from having a great time you will have the opportunity to see the most important trophies of the best ambassador of Mallorca, Rafa Nadal.
Finally, we recommend taking a boat trip, such as the Porto Cristo boat trip with free time.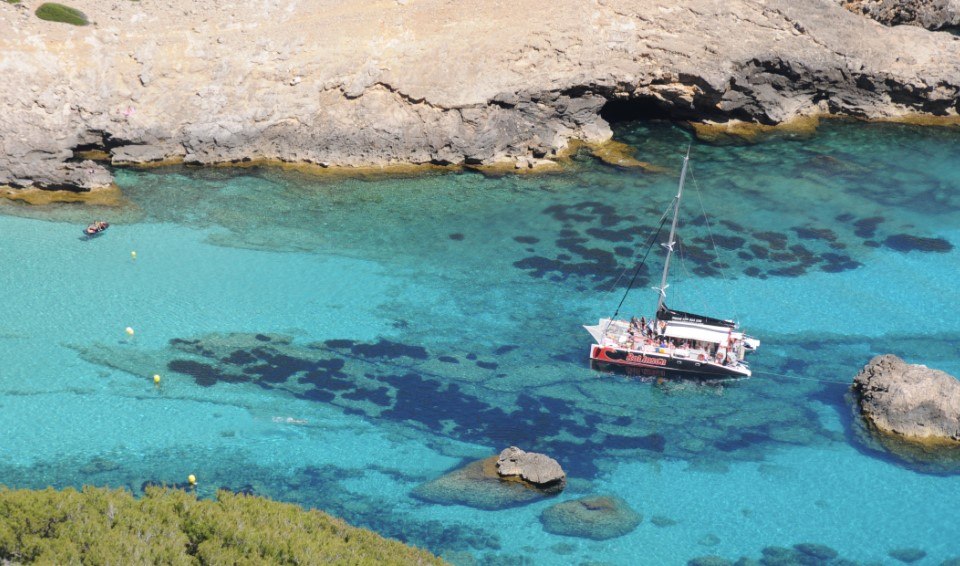 canoeing
The best excursions, tours and boat trips to enjoy the holiday
---
We hope this article has helped you to plan your visit to Cala Varques. If you have already visited it, did you like it? do you have any recommendations? Leave us your comment. If you liked the post, share it on your social networks…
---
Plan your holiday to Mallorca