Es Coll Baix Beach: Visit a Unique Cove in Mallorca
Es Coll Baix Beach is the hidden corner that everyone wants to visit on their holidays. But which no one knows how to get to! It is the perfect example of the beautiful coves and beaches that we have in Mallorca. Es Coll Baix is a virgin beach, protected by high cliffs and a pine forest. It is not easy at all to get to Es Coll Baix, which probably saves it from overcrowding, but in return for your effort, you will find a little paradise.
We have created this guide to Es Coll Baix Beach so that you can plan your visit with all the information about the different ways to get to it; beautiful photos so you can see what awaits you; and some expert advice that you will not find in other places.
About this article
This article has been written by the team of experts in excursions and tours at
Click-Mallorca
. We are a specialized travel agency in Mallorca dedicated to leisure activities; tours and excursions; and other things to do in Mallorca.
We live on the island and we have over 15 years' experience creating and offering excursions. We know the island inside out, and we are dedicated to producing helpful and interesting articles for our holidaymakers coming to Mallorca.
How to get to Es Coll Baix?
How to get to Es Coll Baix Beach? That is a very popular question in summer. There are a few options, so you can choose the best one for you:
To get to the beach itself, you will have to do the last part on foot since the last stretch of the path to Es Coll Baix is a narrow dirt path, only accessible on foot. We are talking about the very last section of the path that goes from the Es Coll Baix Refuge down to the beach. The refuge is located in the Es Coll Baix recreational area, which has a toilet, picnic tables and little else. There are no shops or places to get refreshments, neither here nor at the beach itself, so go prepared!
The route to Es Coll Baix Beach from the refuge is very easy to find, as there is a sign indicating the way to go. And after a short time you can already see the beach, then you just need to continue climbing down to it. The path zigzags through a pine wood, and about 10 minutes later you reach a rocky area on the side of the beach. This is the last section of the route, and the most complicated, since there is no defined path anymore due to errosion and you must climb over the rocks to reach the beach. You have to take a great deal of care on this last stretch, and you must have good footwear – no sandals or flip flops please! The climb down to the beach will take about 25 minutes and you will descend approximately 160 meters. For this part of the walk, you will need to use your hands as you scramble over the rocks, so we recommend that you bring a backpack to carry your things. Remember: everything you bring, you will have to carry and it is not easy with beach umbrellas, cool boxes or deck chairs!
To get to the Es Coll Baix Refuge, where the picnic area is, and where you will start the descent mentioned above, there are different options. Below, we detail the different ways to get to the refuge, and also a lesser-known way to get to Es Coll Baix Beach.
By car
You can almost get by car to the Es Coll Baix Refuge, but the road is every time in worse condition and you have to park further away.
Drive to Alcudia and from there follow the indications to the Ben Jakober Foundation, which is on the way to Es Coll Baix (worth a visit, by the way). If you are using GPS or Google Maps, just a piece of advice: possibly it will give you two routes to get to the road to Es Coll Baix. If this is the case, follow the indications to Bonaire, and not the indications for the Cami de S'Alou, since the latter is a very narrow road with curves.
The road to Es Coll Baix is a pot-holed dirt road that, in some sections is patchy with cement and not properly paved. The road is actually much better than it was years ago. Drive slowly and carefully. At the end of the road, after a very closed curve on an ascent, you will see an esplanade where we recommend you park, because you will barely be able to climb any further, as there is a chain on the path that prevents cars from passing. From here, in about 3 minutes you can walk to the refuge, from where you will be able to walk down to the Es Coll Baix Beach as described above.
By boat
Without a doubt, the easiest way to get to Es Coll Baix is by boat. For us it is the best option, especially in summer, and it is undoubtedly an original way to visit the beach. This way you avoid the treacherous climb down the hillside from the refuge. If you are one of those with a large budget, you can rent a boat or a llaut just for your group. If you have a lower budget, you can opt for a shared boat excursion:
From 26€ you have a 2-hour boat trip from Puerto Alcudia.
From 45€ you have a tour to Formentor Beach with a swimming stop at Es Coll Baix.
Check our website from more options.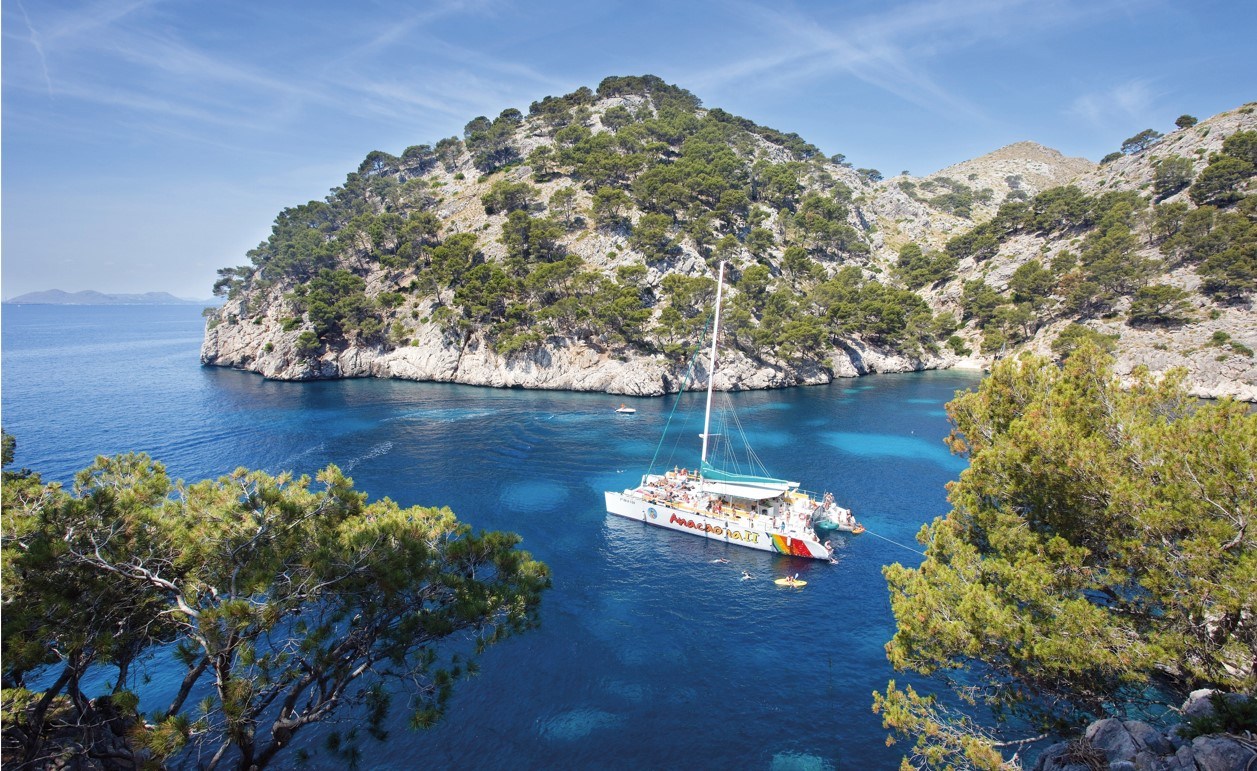 canoeing
Catamaran tours, glass bottom boats, boats and much more
On foot or by bicycle
You can actually hike to Es Coll Baix Beach from Alcudia Old Town and also from Alcanada. It's a long walk – plus you have to walk back again, but many people do it. From Alcudia you can also cycle and lock your bike up at the picnic area before you hike down the cliff to the beach. If you want to go on a hiking excursion to visit Es Coll Baix, there are different routes on foot, which we tell you about a little further down.
Why Visit Es Coll Baix Beach?
Now that you know how to get to Es Coll Baix, we are going to tell you why you would want to visit, together with a series of tips to enjoy this beautiful cove to the fullest – although if you are on this page then it is probably because you have already heard of its beauty.
Many people expect Es Coll Baix Beach to be small, as is the case with many of these secluded, half-hidden, unspoiled coves. But it is actually around 300m long by 80m wide in some areas. It is nestled in the lower part of a mountainside, which adds spectacularity to the beach.
Our first tip is to remind you that there are no services or amenities at all at Es Coll Baix Beach: no beach bar, no sun beds, no lifeguard, no parasols, no showers, no toilets… You get it – there's nothing; Es Coll Baix is a 100% virgin beach. Therefore, you must take food and drink with you. BUT remember the climb down the cliffside: we do not recommend going with a cooler or picnic tables – everything you take should fit in that backpack we talked about. You wouldn't want to take too much food anyway, because sometimes the wild goats go down to the beach and, given half a chance, they will steal it!
Our second tip is that we want to tell you that Es Coll Baix Beach is not sandy, but pebbly. Not large pebbles: the beach is made up of tiny pebbles. It is like a mixture of pebbles and gravel. This makes it comfortable to lie on the beach, unlike many pebble beaches. Of course, keep in mind that there is no shaded area, so if you think you can manage to carry a beach umbrella down, and then back up the hill, you will appreciate it when you are on the beach.
Our third tip is in regard to swimming: we must tell you that Es Coll Baix is a beach where the water immediately covers you. There is a big difference in level, and just a few metres after entering the water, it completely covers you. In case of going with children, it is something important to consider. That depth makes it a beach where there are many boats anchoring near the shore. This is unusual in Mallorca, as there are many beaches where you can walk out for what seems like miles and the water never even reaches your waist – take Alcanada Beach, for example where you can even walk on the seabed all the way to the islet where the lighthouse is.
Our final tip is for lovers of surface diving or snorkeling: the best area to practice it is on the right side of the beach. There is not much variety of fish, but it is still quite fun to see the seabed.
We already know that in Mallorca it is difficult to find beaches that are not very crowded, but this one is rarely frequented, only on weekends and during the months of July and August when there are more tourists and vacationers, and also with locals and residents who come to Es Coll Baix with their boats. It is important to keep in mind that you cannot camp at Es Coll Baix.
Hikes to Es Coll Baix
For hiking lovers, and as an ideal activity in winter, autumn or spring to visit Es Coll Baix, we are going to recommend three different hiking routes. Es Coll Baix is located on the La Victoria peninsula, near the Talaia de Alcudia (an old defensive watchtower). This means that there are different combinations to visit the beach.
We can't give a step by step guide for all three walks here, but we hope to give you some inspiration:
Ermita de La Victoria – Talaia de Alcudia – Es Coll Baix
This is the best known and most popular route that includes Es Coll Baix Beach. It is a route of about 14 kilometers, which starts in S'Illot, to go up to the hermitage of La Victoria, and from there to the Talaia de Alcudia. Next, we begin the beautiful descent to the Coll Baix Refuge to visit the beach. To return to S'Illot, you follow a forest track and a pretty path. It is a very beautiful route, with spectacular views of the bays of Alcudia and Pollensa and the cove of Es Coll Baix.
The route is easy to follow and is well signposted with wooden posts indicating the route.
Alcanada – Es Coll Baix
A lesser known hiking route to get to Es Coll Baix, in which there are fewer mountains and climbs, is this one that will take you largely near the coast. From Alcanada Beach, follow a path that runs along the coast, and then ascends through a pine forest. Afterwards, the descent begins to the Es Coll Baix Refuge along a path that is very easy to follow. It is a very comfortable route, since we barely climbed more than 100 meters high. Of course, it is a long route; about 13 kilometers in total. The views are smashing though.
Sa Cova Tancada – Es Coll Baix
Another option to combine your visit to Es Coll Baix is to visit Sa Cova Tancada on the same day. Now we are talking about an excursion for the truly intrepid, as the experience inside the cave is complicated, as is part of the last climb down to the cave, whose entrance is through a hole on the cliff face, and inside is absolutely pitch black. If you do visit Sa Cova Tancada, then please make sure you go prepared with good torches and breadcrumbs to show yourself the way out. That said, Sa Cova Tancada is a once in a lifetime type of visit and, if you are gutsy enough to give it a go, you will find that it is truly magical inside.
After your adventures at the Cova Tancada, you can take yourself the short distance on to Es Coll Baix beach for a well-deserved rest and swim on one of Mallorca's most beautiul beaches.
---
We hope you liked this article to one of Mallorca's most iconic beaches, and if so, we encourage you to share it or leave your comment.
Don't forget: our team of experts have the hard life of trying out all of Mallorca's best beaches and coves and we have a great selection of articles about the best beaches and hidden coves in Mallorca. We leave you with this article about the best beaches in Mallorca.
---
Plan your holidays in Mallorca