12 Best Things To Do in Palma de Mallorca
Palma de Mallorca is an amazing city. It is a jewel in the Mediterranean with many activities, excursions and things to do. Palma has a rich history, amazing gastronomy, great nightlife, fabulous shops and stunning architecture. It has the sea and it has the sun. It's a pretty city and it makes a great base for visiting other attractions on the island. As well as all this, it has a large, international airport with daily arrivals from cities all over Europe and beyond. So what are you waiting for? Get those flights booked!
It can be overwhelming trying to decide what to see and which things to do in Palma de Mallorca, especially for those with limited time, so our local experts at click-mallorca.com have compiled their best 12 things to do in Palma.
1. Discover the Best Beaches in and Around Palma
In Palma City itself, we only find one beach, that of Can Pere Antoni. But one of the most popular things to do on holiday in Mallorca is to spend time at the beach. So those staying in Palma often find themselves looking for a good beach in the surroundings. Here are a few nice suggestions close to the city:
Can Pere Antoni Beach
The golden beach of Can Pere Antoni is 75m long and 15m wide and is right by the city. It is definitely not Mallorca's nicest beach and the sea is not the cleanest, being close to the port. But its proximity to Palma City makes it one of the island's most popular beaches.
Illetes Beach
Our recommendation for a beach close to Palma City is Illetes Beach, 8 kilometres from the city centre, and easily accessible by public transport. It is not a very big beach, approx 100m long, and fills up quickly. Around it there are numerous bars and restaurants and, if you want to treat yourself, even a beach bar with all luxury of comforts. The sea is a lot clearer here and it's a pleasant beach for a swim and even a spot of snorkelling.
Cala Blava
Cala Blava is located further around Palma Bay going towards Arenal and the airport. It is a natural inlet between cliffs with crystal clear waters and a sandy seabed. This is a beach without facilities like sunbeds, beach umbrellas, lifeguard or showers, so go prepared with everything you will need on your day excursion from Palma.
Playas Delta de Mallorca
Just a little further round still, between Cabo Blanco and Cap Rocat, high cliffs abound, and it is difficult to imagine that there could be any beaches there. But if you know where to look, you will find them, and they are very charming and well hidden beaches. They are also quite tiny. The beautiful Cala Vella Cove with its fine sandy beach is the one that truly stands out. You will find natural rock pools containing crabs and sealife.
2. Dine Out in Style at Palma's Best Restaurants
One of the best things to do in Palma de Mallorca is to discover the local gastronomy and enjoy a delicious meal in a nice environment. There is a huge selection of great restaurants in Palma de Mallorca. Sometimes choosing the best one depends on what you want to eat, the atmosphere you are looking for and your budget.
So here our local experts have organised their selection of restaurants according to three categories:
The best restaurants for fine dining
Trendy/casual restaurants ideal for sharing tapas
International cuisine
Fine Dining in Palma
Let yourself be seduced by the fresh, Mediterranean flavours at Palma's best restaurants, where there's a calm and serene atmosphere, gentle background music, excellent service and fantastic wine menus.
Marc Fosh Restaurant
Marc Fosh is one of Mallorca's most renowned chefs and has a long history on the island, having gained his first Michelin Star at Reads Hotel in Santa Maria before opening his own restaurants in Palma City centre itself.
The current Marc Fosh Restaurant is in a beautiful 17th century Hotel Convent de la Missió (originally built for educating missionaries). The space is decorated in an elegant, contemporary style to create a relaxed and modern atmosphere.
There are three tasting menus available: a lunch menu, a lunch gastronomy menu and the "Marc" menu served in the evenings. All menus are created using the highest quality Balearic ingredients available and could include such dishes as:
Chilled almond and olive soup with marinated mackerel, green apple and sherry jelly.
Local langoustine with bouillabaisse, broad beans, clementine and bergamot.
Sheep's milk yoghurt sorbet with yuzu, mandarin consomme and honey crisp.
Zaranda Restaurant
Fernando Arellano gained his second Michelin Star for his relocated Zaranda Restaurant last year. The new Zaranda Restaurant, which relocated from Castell de Son Claret in Es Capdella, is now located in the centre of Palma at Hotel Es Princep. The decor is straight out of a magazine, with a gorgeous entrance/bar with plush sofas and appetisers to die for. After the appetisers, diners are invited to the kitchen for a dish presented and served by Arellano himself, followed by a long tasting menu in the dining room.
Some dishes you could expect to be served at Zaranda are:
Amphora. Slightly spicy rock octopus "ollipebre".
Iberico Steak. Moorish spices and honey aubergine.
Ensaimada Leather. Caramelized custard and orange.
Adrian Quetglas Restaurant
Chef Adrian Quetglas is originally from Buenos Aires, with Mallorcan grandparents. He came to Mallorca as a teenager to work, and then spent time in other European countries before returning to Palma to open his own restaurant, Adrian Quetglas.
This restaurant differs from other Michelin Star restaurants in Palma for its amazing value for money and excellently priced lunch menu. There are other longer, more gastronomic tasting menus available at the restaurant, but the lunch menu is well worth a try. They call it a 5-step "urban menu" and (at the time of writing) the price per person is 40€. The menu is changed often and is based on local, seasonal products found in Palma's markets. Some dishes you could expect are:
Pumpkin with oxtail Cannelloni and cheese with truffle sawdust.
Veal with chestnuts, foie gras royale and currant mousse.
Mallorcan cake with banana Amazonas rhum style and almonds.
canoeing
Discover Mallorca's Gastronomy
Guided walks, wine tasting and traditional cuisine
Trendy Restaurants in Palma
Places with exciting dishes, a cool and funky decor and the perfect places for groups of friends or an impromtu city lunch. The pace is fast and the atmosphere buzzing. Dishes are often shared, tapas-style, at least at the first two restaurants on this list.
Vandal
Vandal is a very cool and fast-paced restaurant in Palma's hip Santa Catalina area. It's a fantastic place for wine, cocktails and a meal. The exciting dishes combine local and international ingredients in a very successful take on fusion cooking. It's better to get dishes to share, as that way you can try more things from the menu. Kick off with the Pisco Bloody Mary Oyster and choose another five or so dishes between two people.
Andana
Macarena de Castro is one of the island's top chefs and her signature restaurant, Maca in her hometown Port Alcudia has boasted a Michelin star for many years. De Castro opened Andana in Palma right after Spain lifted its lockdown during the pandemic.
The name "Andana" means "platform" and is a nod to the restaurant's orginal ties to Palma's main train station in the Plaza de España. In fact, the restaurant is all but connected to the station and, from the terrace, you can hear the trains pulling in below. The restaurant is very old, but has been given a gorgeous modern facelift with the opening of Andana.
The menu is trendy, with modern and unqiue dishes designed for sharing or for eating alone. Maca De Castro's philosophy is local products, so most dishes are based on locally sourced meat, fish and vegetables. The restaurant is busy and fast-paced with a city atmosphere perfectly fitting for Palma.
DINS Santi Taura
DINS is a trendy restaurant and it is modern and casual, but it could certainly fit in our fine dining section too, as Santi Taura's tasting menu is exquisitely crafted and served. The DINS Restaurant originally opened in Santi's home town of Lloseta, and was located in a secret dining room at his popular Santi Taura Restaurant, which was accessed through the kitchen. They moved to Palma just before the pandemic.
Santi Taura's philosophy and passion is in recovering old Mallorcan recipes and breathing new life into them. For example, his own version of his mother's empanada of rock fish is completely unique nowadays, as is his aged sobrassada and his suckling pig.
International Cuisine
There are many Italian restaurants and South American-style grills in and around Palma, but there is a wide offering of Asian restaurants too. Our favourite international restaurants in Palma are two Japanese and one Indian.
Arume Japanese Restaurant
Arume, located in the centre of Palma on San Miguel Street, has gained local fame for chef Tomeu Marti's interesting take on Japanese-inspired dishes using fresh, local ingredients. The must-try dishes are his signature tuna tartar and Mallorcan truffle nigiri, but everything on the menu is mouthwatering. If you can't decide what to have, you can book the tasting menu named Omakase which, in Japanese, refers to the act of "putting oneself in the hands of the chef". This fun and exciting Omakase menu is tailor-made to your liking, and you can specify certain dishes that you want to try or ingredients that you prefer to avoid.
Hanaita Japanese Restaurant
Hanaita Restaurant is located in Santa Catalina and much of the fresh produce comes from the fantastic Santa Catalina Market. Sushi is the choice at this restaurant, created by a chef of Japanese origin using traditional recipes with some local flare added. The service is warm and friendly and, considering the quality of the sushi, the prices are very reasonable.
Basmati Indian Restaurant
Prepare yourself for a warm welcome at this stylish and elegant Indian restaurant in Palma de Mallorca's Santa Catalina. There is a set menu at lunch time which is excellent value for money, and you can also order a la carte if you prefer. There Indian dishes served here are regional dishes, which are the chef's speciality and are loaded with flavour. The concept here is balance and flavour, not super-spicy dishes to blow your head off.
3. Take a Free Walking Tour in Palma de Mallorca
A great way to explore and learn about the city of Palma is to join one of the free walking tours, which takes you around the old town with a local guide. The tours last around 2-3 hours and you can take a general tour of the old town or you can join a more specialised tour based on a certain theme, such as the Jewish Quarter, mysteries of the night, or a gastronomic-based walk.
There is a lot to discover in Palma on a free walking tour and most tours meet in the old town either by the cathedral or in Plaza Cort, the City Hall Square. The guide will normally tell you about the history of the city of Palma, about the Arab epoch and the Christian conquest in 1229 with the arrival of Catalan King Jaume I. As you stroll around the city you will be encouraged to look up at the city's architecture and learn about statues and emblems embeded in the stone buildings. You will stroll through the king's gardens and you will see the patios, Palma's famous courtyards belonging to townhouses in the city.
How does the free tour in Palma work?
You might have taken a free walking tour in other cities in Europe and already know how it works, but if this is your first free tour, don't worry, it's quite simple. The tour must be booked in advance because, even though you don't pay, you still need to reserve your places, as there is a maximum capacity allowed on the tour. You can make your reservation here: Free walking tour Palma de Mallorca.
How do I pay?
The guide will give an introduction at the beginning of the tour, explaining the itinerary and duration of the tour and explaining how a free tour works. He or she will explain that, while you don't pay a set fee, you give a tip at the end of the tour based on how much you think the tour is worth and how much you have enjoyed it.
How much should I tip?
The amount you give is up to you. You should consider that the person conducting this tour is someone who has invested their time on the actual day of the tour, has taken the trouble learn a great deal about Palma de Mallorca, and who is self-employed and therefore has to pay their tax contributions and insurances out of their earnings. We normally consider 5€ per hour per person as a starting fee, so if you are a couple and have done a tour of 2 hours then you should give at least 20€ between you. Based on that, the more you've enjoyed the tour, the more you will want to add.
canoeing
Free walking tour in Palma
4. Sail Around Palma Bay on a Boat Trip
It makes perfect sense to join at least one boat trip from the port of Palma during your holidays, as boat trips are probably the most popular things to do in Mallorca. The port of Palma is huge and there are daily boat trips to suit everyone: feel the warm breeze on your face as you leave the city behind and help hoist the sails of a catamaran, or kick back with a cocktail as you lounge on the deck of a sunset bay cruise. There are Palma boat trips for families, for couples, private tours, glass bottom boats, snorkelling tours… the list is endless.
The big question is: how do you choose the best boat trip in Palma? Beloe are a few suggestions. But have in mind that this is by no means a complete list of boat tours in Palma de Mallorca. If you want to see all the options available, where you can filter by price, date and type of tour, click on the banner below, otherwise, keep reading for our top seven boat trips.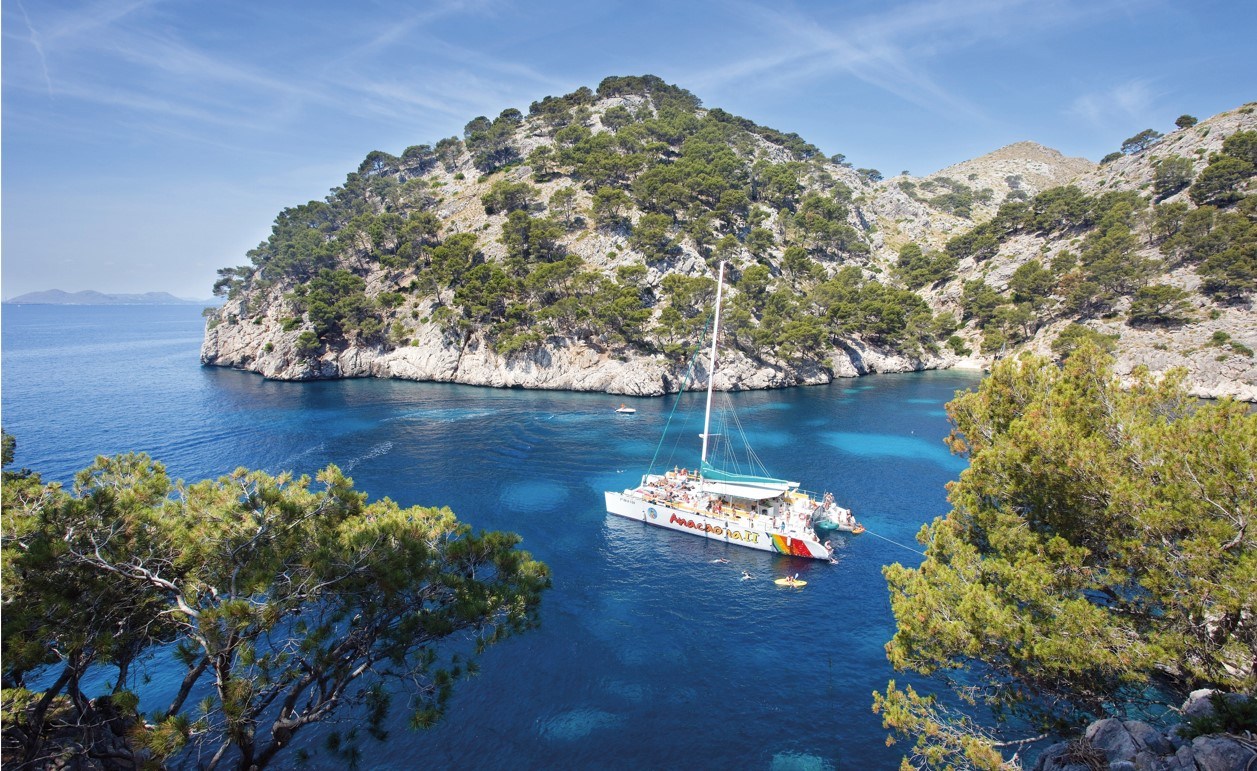 canoeing
Catamaran tours, glass bottom boats, boats and much more
7 Best Boat Trips in Palma de Mallorca
1. Day Boat Trip with Lunch in Palma
Cruise the bay of Palma on a sightseeing boat tour with panoramic views of the south area of Mallorca, on a six-hour family-friendly boat tour complete with guitarrist. Swim at the secluded cove of Cala Figuera and visit the beach of Portals Vells.
Included in the price:
Six-hour boat trip from Palma de Mallorca
Lunch onboard (paella and ensaimada) with soft drinks
Swim stop at Cala Figuera
Swim stop at Portals Vells
For more information and booking, follow this link: Boat Excursion in Mallorca with Lunch.
2. Tour of Palma Port by Boat
This is a one-hour boat trip which takes you from the port of Palma by boat around the harbour, among the cruise ships and around the fishing port. It is a sightseeing tour of the city… from the sea. You will have fantastic views of the cathedral, the Bellver Castle, San Carlos Castle and the whole city and port. Plus, you can fit it in on a shopping day, as it's just a one-hour tour and sails various times throughout the day.
Included in the price:
One-hour boat trip around Palma Port
For more information and booking, follow this link: Boat Trip in Palma de Mallorca.
3. Special sailboat tour for 8 pax max.
For something special, book onto the Mallorcan llaut that departs from Palma to take you around the bay in style. Or for an extra special occasion, book the whole boat so you don't have to share with other passengers. The maximum capacity on this boat is 8 persons. It is a typical wooden Mallorcan boat with a sail. Your expert captain will take you to discover little-known coves in the area where you can swim, snorkel and make use of other equipment on board.
Included in the price:
Four-hour boat tour
Use of snorkel and paddle surf equipment
Drinks: water and soft drinks
Swimming and snorkelling stops: locations to be decided on the day depending on passengers' preferences and wind conditions.
For more information and booking, follow this link: Palma de Mallorca Boat Tour.
4. Tour to Cabrera Island from Palma
Did you know that you can visit Cabrera Island from Palma? Once upon a time you had to drive to Colonia de Sant Jordi and depart by boat from there to Cabrera. Now there is a full day excursion from Palma Port that takes you by boat to Cabrera Island with a visit to the Blue Cave and other swim stops along the way, including a one hour visit to Ses Covetes Beach at the end of the day before returning to Palma.
Cabrera Island is a National Park and Nature Reserve and is a carefully protected area. It is home to unspoilt landscape, the best beaches in the Balearics and the most amazing views in the Mediterranean. The island is inhabited by black lizards native to Cabrera. It is an unspoilt paradise and a visit is one of the best things to do during your holiday in Mallorca.
Included in the price:
Boat tour from the Port of Palma to Cabrera, and return boat to Colonia de Sant Jordi.
Return by bus to Palma from Colonia de Sant Jordi.
Almost 3 hours of free time in Cabrera.
Swim in the Blue Cave.
1 hour at the spectacular Ses Covetes Beach.
For more information and booking, follow this link: Tour to Cabrera Island from Palma.
5. Palma de Mallorca Catamaran Tour with lunch
Explore Palma's coastline on one of the most popular activities in Palma de Mallorca: a catamaran tour. You can relax on the nets sunbathing, help hoist the sail, or have a drink at the bar. You will sail close to the coastline, enjoying Mallorca's spectacular views and you will be able to swim from the catamaran at various coves. The tour lasts around five hours.
Included in the price:
Five-hour catamaran tour from Palma
lunch buffet
Swimming stop at Cala Blava
For more information and booking, follow this link: Palma de Mallorca Catamaran Tour.
6. Boat Cruise with food and snorkel from Santa Ponsa
This boat tour departs from Santa Ponsa, Camp de Mar and Peguera but we have included it here because it is such great value for money and isn't that far from Palma de Mallorca. You can drive to Santa Ponsa, take a taxi or take the public bus.
The boat trip is 3.5 hours and includes lunch, which is served onboard. On the boat excursion you will discover the beautiful coastal strip between Santa Ponsa and Port Andratx. You will be able to swim at a cove near Port Andratx and also see the Malgrats Islands marine reserve and Cala Egos.
Included in the price:
3.5 hour boat tour
Lunch (pasta bolognese and salad)
Swim stop at Malgrats Islands
Swim stop at Cala Egos
For more information and booking, follow this link: Boat cruise in Mallorca with food and snorkel.
7. Mallorca Party Boat Tour
A party boat that's not a party boat! It's a boat that sails in the evening with a live DJ and fun-loving people onboard. There are often groups of stags and hens and a great atmosphere. The boat departs from Palma Port and stays in the bay. Dinner is served onboard and then, afterwards, the dance floor is throbbing and the drinks are flowing. It's not a party boat because these are currently not allowed in the Balearic Islands, but it is currently as close to a party boat as you will find in Mallorca at the moment.
Included in the price:
Four-hour boat excursion
Two drinks (beer, sangria, soft drink)
buffet dinner
DJ on board
Entertainment
5. Discover Palma Old Town
The old quarter of Palma de Mallorca is a wonderful place to visit and, if you can stay there, then even better. We mentioned above about joining a Palma Free Tour, but if you can book a private walking tour of the old town then you will get much a more complete visit.
However, if a guided tour of Palma's old town is not on the cards for you then don't worry: you can stroll around on your own and explore the highlights:
Parc de la Mar
Start your visit to the old town of Palma at the Parc de la Mar, the name given to the artificial lake created in the 70s, which shimmers below the walls around the cathedral. It's a glorious starting-point for a city tour, as you have the rest of the old town nearby and can appreciate the old walls and a great view of Palma Bay. From here you can understand how different the city was when the sea came right up to the cathedral walls before this section was reclaimed and the main road that now runs along the seafront was built.
Arab Baths
The Arab Baths date back to the Arab epoch of Medina Mayurca, the Moorish name for the city of Palma before the Christians invaded in 1229. The stone baths are where the people of this era would visit to clean themselves, to have a massage, to clean their clothes and, above all, to meet friends and enjoy socialising. Today you can still visit this interesting monument in Palma with its hand-carved stone columns and star-shaped holes in the ceiling, that has stood in the central part of the old town for a millennium.
Wander around Palma's "Patios"
Palma's famous Patios are the courtyards that belong to town houses in the old town of Palma. These houses were built mostly in the 16th century as houses of the wealthy nobility. They had three floors: the highest for the servants, the first floor for the family, and the ground floor was a dramatic entranceway showing off the wealth of the family. This entranceway or courtyard was a place where visitors were received, horses were tied and given water, and also a place where ordinary townsfolk might meet and exchange news or chat.
Today you can walk around Palma's old streets and see that many of these patios are either open for you to step inside, or closed only with the metal gate, not the wooden doors, meaning that you can still see inside and appreciate the beauty of the courtyard with its stone cobbles, its well in the centre and other adornments.
Visit the Town Hall Square
Plaça Cort is the name of the Town Hall Square in Palma. The Town Hall is the building that dominates the square, but there is other interesting architecture around. It is a lively and bustling square and is a well-known meeting place among locals who often sit and chat awhile on the stone bench that forms part of the façade of the Town Hall. At the centre of the square is the oldest, most gnarled and yet beautiful olive tree, which is said to be 400 years old.
Almudaina Palace
Almudaina Palace, right by the cathedral, is the official residence of the Spanish Royal Family when they are in Mallorca. The palace was built on the site of the residence of the Arab governor, hence the Moorish name. The palace is visitable and it is possible to walk around many fully-furnished rooms and also the interior patio, which is especially beautiful.
6. Explore Palma Cathedral: A Gothic Gem in the Mediterranean
If you only visit one thing in the old town of Palma, then let it be Palma Cathedral.
The work on Palma Cathedral began in 1230, right after Jaime I of Catalunya conquered Mallorca from the Moors. He commissioned the building of the cathedral as a thanksgiving to God for his victory. However, the cathedral took many centuries to finally be finished and, as a result, there are different architectural styles, both in the construction, and in the vast interior.
The cathedral is located in the old town of Palma in between the Almudaina Palace and the Epsicopal Palace, with a great view out over the bay. Its stained-glass rose window is the largest in diameter in Europe, even bigger than that of Notre Dame. The length of the cathedral is 121 metres. In the interior of the cathedral, down each of the long side flanks, are chapels dedicated to different Catholic Saints. One of the chapels, dedicated to the miracle of the fishes and the loaves, is to the right of the stunning main alter and was design by local architect Miquel Barcelo in a contemporary and abstract style. There are other surprising architectural details at Palma Cathedral, such as the incredible modernist-style crown above the main alter, which was designed by Antoni Guadí of Barcelona.
Another interesting part of the cathedral, that people often miss, is the bell tower. If you look closely you can see that the alignment of the bell tower of Palma Cathedral is not quite flush with the wall of the church itself. And the architectural styles differ slightly too. This is because the current bell tower was orignially built as a minaret for the main mosque where the Moors of Medina Mayurca would worship. When the conquerer Jaime I levelled the mosque to make way for his cathedral, he purposely left the minaret standing.
7. Get the Adrenaline Pumping on a Jet Ski Activity
Bounce over the waves in Palma Bay on a jet ski on a fabulous and unique 30-minute experience between Cala Gamba and the Port of Palma close to the cathedral.
It's not every day we get to go for a ride on a jet ski, so relax and release your energy after a long day in the busy city. This is one of the most popular water activities in Mallorca for people visiting on holiday, so throw caution to the wind and join in! The jet ski activities in Mallorca take place in groups, with an experienced monitor, so you will be with other likeminded people and will also be in safe hands.
There is a longer tour of one-hour available if you prefer. That one departs from Cala Vella. Get more information about jet ski and water activities in Palma.
8. Choose Palma's Best Museums to Visit
There are many musuems in Palma and it would be great to be able to visit them all, but if you are short on time, we can recommend you our top three:
Museu Diocesa de Mallorca
The Museu Diocesa belongs to Palma Cathedral and your entrance to the musuem is included in the ticket price of the cathedral. This often overlooked museum has just been reopened after restoration and, as a result, there are a lot more works on display than before. All the art from throughout the centuries that belongs to the cathedral and which isn't currently on display in the cathedral is held here. You can see amazing paintings, statues and scultpures.
The Museu Diocesa is housed in the beautiful Episcopal Palace of Palma, which dates from 1238.
Pueblo Español
The Pueblo Español, or the Spanish Village is a large group of buildings designed just like a "village"! Each part of the "village" is dedicated to a part of Spain and, just by visiting Palma's Pueblo Español, you can discover some of the most important architecture of all Spain! There are 18 buildings, 15 streets, and 12 squares at a 1:2 scale. Some of the main attractions include:
The Golden Tower of Seville
The Court of the Myrtles from Granada's Alhambra
The Christ of the Lanterns from Cordoba
If you are looking for things to do in Mallorca with children and want to visit a museum, then this is a very good choice.
Es Baluard Museum
Es Baluard Museum is Palma's contemporary art museum, which first opened to the public in 2004. It is joined on to one of the bastions of the old walls of Palma City, giving the museum an original and emblematic link to the city and its history.
There are permanent exhibitions and temporary exhibitions (which you can check here: Es Baluard Museum current exhibitions). The space is vast and the visit will easily take a few hours. Be sure to give yourself time to appreciate all the works and to stop at the museum's restaurant for a spot of lunch.
9. Get Dressed up for Palma's Nightlife
Palma's nightlife is among the best in Spain: being a capital city and a Mediterranean holiday destination, there is a good mix of beach-vibe bars and sophisticated nightclubs.
We love the Spanish way of life, where a good night out starts with dinner or tapas and drinks followed by bars and maybe more tapas, followed by pubs and dancing and then… let's see where the night takes us.
In Palma City itself, if you are looking for a relaxed atmosphere with maybe some food to get your evening started, head to La Lonja or Santa Catalina for tapas and wine. From there you can choose whether you stick to the same relaxed vibe and enjoy some live music at one of the late-night pubs, or if you want something more serious and sophisticated at Palma's big nightclubs along the seafront.
Just outside the city centre itself, there are two major tourist party resorts, one to the east and one to the west.
Magaluf: Magaluf needs no introductions. It is the party capital of the Mediterranean. Where good people go to behave badly. There are countless and endless bars, clubs and party places in Magaluf. The most famous being BCM Nightclub.
Arenal: Arenal in Playa de Palma is just as lively and naughty as Magaluf but with a totally different vibe, being traditionally a German party destination. Arenal is full of fun biergartens and German-style clubs.The famous party area in Arenal is Ballermann 6, where most of the big clubs are located. This is the place to be in October for Oktoberfest.
10. Visit Palma's Castles
Did you know that Palma has several important castles? One of the best things to do on your holidays in Mallorca is to visit them! Or at least one of them. There are a few to choose from but you can't spend your holidays in Mallorca just visiting castles, regardless of how interesting that is. So we are going to tell you about two of the castles that are actually found right in the city and you can choose which, if not both, you prefer. The great thing about these two castles, if you do decide to visit both, is that they are completely different to each other.
Castell de Bellver
The Castell de Bellver (or Bellver Castle) is one of the top places to visit in Palma de Mallorca. One of the best things about this castle is its fantastic location atop a hill just at the edge of the city, from where the views of the port, the city, the cathedral and the surroundings are vast.
The castle itself is architecturally interesting and unique in that it is entirely circular. The castle was built in the Gothic style in the 14th century by King Jaime II and was intended as a residence for the kings of the Kingdom of Mallorca. After Mallorca was reincorporated into the Kingdom of Aragon, the Castell de Bellver was put to other uses. Thanks to its isolated location and fortress-like construction, it has mostly been used as a prison over the centuries. And indeed housed some famous characters, which you can learn about during your visit, for there is a very interesting museum housed in the castle dungeons, giving the history of the castle and the city.
San Carlos Castle
San Carlos Castle is located on the seafront of Palma at the Dique del Oeste end of the port by Porto Pi and overlooks the entire port, giving any visitor one of the best views they can have of Palma. The purpose of such a great location and view was because, when the castle was built by King Felipe III in 1610, it was built as a defensive fortress to protect Palma from the growing number of pirates that were attacking, not only the boats at sea, but also boats moored in the port.
The castle is free to visit and nowadays houses Palma's extensive Military Museum. This is a fascinating museum, documenting the history of Mallorca's military and displaying some very unusual weapons and fantastic old uniforms. The information around the museum is only in Spanish.
11. Explore Mallorca's Caves
To visit Mallorca's caves you are either going to have to drive or book an excursion. There are over 200 caves and marine caves on the island! The five big ones are open to the public and they offer guided visits with explanations about the formation and the history of the caves.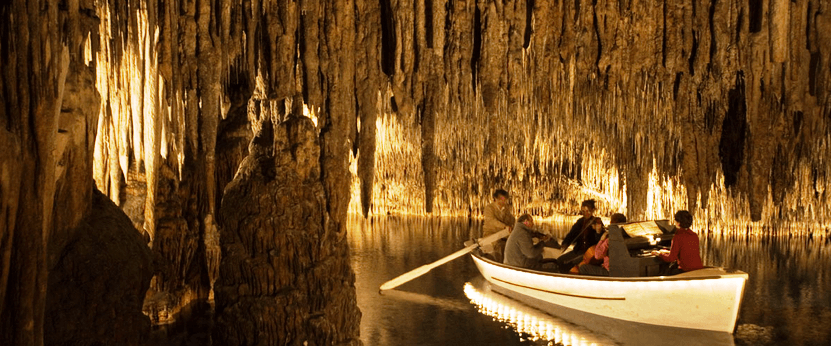 canoeing
Tours and Tickets to the caves in Mallorca at the best prices

Walking through these caves in Mallorca is one of the ideal things to do on the island and is a unique activity compared to other holiday destinations. For those who don't want to have to drive and then queue for tickets, these are our top four caves activities (some are on dry land and some are sea caves). Click on the titles for more info:
1. Half day tour to the Caves of Drach
The Caves of Drach are the biggest and most famous caves in Mallorca. Inside, the visit takes you through endless magical chambers where you will see stalactites and stalagmites. The lighting is spooky and the echoes eerie. Lake Martel, Europe's largest subterranean lake is the highlight of the visit and you have the unique experience of a live orchestral music concert by the lake.
2. Visit the Caves of Campanet
The Caves of Campanet are located at the outskirts of the town of the same name in the north of Mallorca. They were discovered in 1945 when a farmer who was searching for a fresh water source stumbled across the cave when he enlarged a small hole from which he could feel a draught of air. The caves are not as well known as other caves on the island and the visit, therefore has a more personal feel, yet they are just as spectacular as any of the other caves in Mallorca. There is an excellent restaurant specialising in aged BBQ meat attached to the caves and, as well as an amazing meal, the view from the restaurant's terrace of the foot of the Tramuntana Mountains is postcard perfect.
3. Adventure in the Cova des Coloms
Join a unique experience with this adventure excursion. You'll go by speed boat to a spectacular marine cave, located semi-hidden surrounded by cliffs, in the vicinity of Cala Varques, where the only way to access it is by swimming through a tunnel (not underwater). Inside the Cova des Coloms, you'll follow a circular route of speleology through its interior, through underground galleries full of stalactites and stalacmites, you'll cross small lakes, will crawl through tunnels… And you will even be able to swim in one of the lakes inside the cave.
4. Jet Ski Tour to the Cave of Jack Sparrow
Another way to explore Mallorca's caves is to combine it with another exciting activity: in this case, a jet ski tour. Jet ski is a great fun activity in Mallorca and there is an excellent excursion from Alcudia that takes you to explore the Jack Sparrow Cave, where you can swim and snorkel inside. It's too small to visit by boat and you can't get there by land, so this is the only way.
12. Go Shopping in Palma de Mallorca
You can't go to Palma without going shopping. You can try, but you won't succeed! So embrace the amazing shops that Palma has to offer and get out there and give your credit card its own excursion!
There are several shopping areas in Palma and, once there, everything is close by. Here are our favourites:
El Corte Ingles
El Corte Ingles is a department store that could be compared to Harrods in London or La Fayette in Paris. The store on the Avenidas in Palma is one of the biggest and best in the country. There are seven floors of shopping heaven from wedding dresses to designer jeans to kitchenware and bedding. Books, hand bags, jewellery, cosmetics… And there's a supermarket in the basement too. If you are looking for a nice gift for a food-loving friend, head to the Club del Gourmet for the most delectable wines, cheeses, licors, jars, teas and much more. At Christmas, this is where to get your designer panetonne.
Jaime III Street
Jaime III Street is the street where the rent for the shops is the highest in the whole city. This is where you will find all the designer stores and high-end boutiques. It's a beautiful street, lined with 17th century nobility houses and palaces.
If you exhaust Jaime III Street, at the bottom end you will find C&A and H&M and, from there, you can connect to Es Born for more designer stores, such as Luis Vuitton and Massimo Dutti.
Porto Pi
Porto Pi is one of the biggest indoor commercial centres in Mallorca and it really is huge. There are floors and floors of shops and restaurants. Every international highstreet name is there. There is also a casino, a cinema and a nightclub. Porto Pi is located at the end of the Port of Palma near Dique del Oeste and so is just a stone's throw from Palma City Centre.
FAN Centre
All the highstreet stores in one commercial centre, with a large H&M and a large Mango, plus the only place in Mallorca to find Primark. There's a Rituals, a Decathlon a C&A and much more. There are plenty of cafes and restaurants and the commercial centre is home to Mallorca's biggest Carrefour supermarket if you want to get your groceries in while you're there. The FAN Centre is close to the airport, so you'll need transport.
---
We hope that all these suggestions have been helpful to you in planning things to do in Palma de Mallorca. Have you already been to Palma? Tell us what you liked the most, your favourite place and leave us your comment if you want to add information.
---
Plan your holidays in Mallorca