Cala Romántica
Cala Romantica, located on the beautiful island of Mallorca, is a hidden treasure that combines the natural beauty of its beaches with a calm and romantic atmosphere. Unlike other busier tourist areas on the island, this cove has managed to preserve its natural charm and authenticity. Here, you can enjoy the serenity and intimacy that you are looking for on your romantic vacation, enjoying one of the coves of Mallorca.
Cala Romántica in Mallorca is a truly special destination that combines natural beauty with a romantic and tranquil atmosphere. From its stunning beaches to the exciting activities it offers, this place will give you an unforgettable experience. Whether you are looking to relax on the beach, explore nature or enjoy delicious local cuisine, Cala Romántica has something for everyone.
About this article
This article has been written by the team of experts in excursions and tours at
Click-Mallorca
. We are a specialized travel agency in Mallorca dedicated to leisure activities; tours and excursions; and other things to do in Mallorca.
We live on the island and we have over 15 years' experience creating and offering excursions. We know the island inside out, and we are dedicated to producing helpful and interesting articles for our holidaymakers coming to Mallorca.
In this article, our team of experts on excursions, have prepared a series of recommendations and activities to do in Cala Romantica, where to eat and how to get there!
How to get to Cala Romantica:
To get to Cala Romántica, you have several options. If you are flying to Mallorca, from Palma airport you can rent a car or use public transport to reach your destination. The distance between the airport and Cala Romántica is approximately 60 kilometers, which means that the car journey usually takes around an hour. Nowadays we all use Google maps, and by entering the destination, we will see the route that takes us towards Manacor, Porto Cristo and Cala Romantica.
If you prefer to use public transport, we have different options from Palma. You can take bus line 401 or take train line T3 to the city of Manacor. From there, you must take the local bus line 427 that goes to Porto Cristo, and then it will take you to Cala Romántica. Although it may take a little longer, this option is convenient if you don't want to drive or don't have a rental car.
In Cala Romantica you can park in the free parking lot right on the beach, with capacity for about 35 cars, or alternatively in one of the surrounding streets before reaching the beach.
What to do in Cala Romantica:
Cala Romántica offers a wide variety of activities to enjoy during your visit. If you are a lover of the sun and the sea, simply relaxing on its fabulous beach is an excellent option. You can sunbathe, swim in its crystal-clear waters or snorkel along the shore.
Cala Romántica is special for several reasons. Firstly, its idyllic location on the east coast of Mallorca allows you to enjoy a stunning natural environment. Its white sand beaches and turquoise waters create a paradisiacal atmosphere that invites you to relax and unwind. In addition, this cove is surrounded by cliffs and lush vegetation, which makes it a perfect setting for lovers of photography and nature.
If you like boat trips, from Cala Romántica you can take a boat trip along the coast. Near Cala Romántica we find some spectacular coves such as Cala Varques, Cala Magraner or Cala Pilota.
If you are a hiking enthusiast, Cala Romántica has natural trails that allow you to explore the surroundings and enjoy panoramic views. A walk along the cliffs will give you stunning views and the opportunity to connect with nature. From Cala Romántica there is a path that gradually approaches the coastal cliffs and from there takes you to the beach of Cala Varques, passing the famous stone arch.
For the most adventurous, our recommendation is to do a caving activity and visit the Cova des Coloms. It is a sea cave that is accessed by swimming. With the help of an expert guide, you will be able to tour and discover small lakes and see spectacular formations of stalactites and stalagmites.
You cannot miss visiting some of the caves in Mallorca. For example, The Cuevas del Drach, which are located near Cala Romántica. These caves are a natural wonder with impressive rock formations and an underground lake, Lake Martel. Attending the classical music concert at Lake Martel, which is considered one of the most impressive underground concerts in the world, is a unique experience that you cannot miss. If you prefer more intimate caves with a guided tour, we recommend the Hams Caves.
Where to eat in Cala Romántica:
The range of restaurants where you can eat in Cala Romántica is not very wide, and is limited to some restaurants next to the beach on Passeig Voramar. It is recommended to reserve, especially in high season. Have in mind if you want a table with good views of the cove, which is one of the attractions of that restaurant it is also a good idea to book beforehand. The price-quality ratio is good, and it can cost you about €35 per person. Yes, the drink prices are somewhat high, but in some ways it is predictable considering the location and views.
If we head to Porto Cristo, about 15 minutes by car, there we have a greater choice of places to eat. From restaurants specializing in fresh seafood and Mediterranean dishes to cozy tapas bars, where you'll find a wide selection of restaurants to enjoy a delicious meal.
It doesn't matter if you are traveling as a couple or alone, this cove will make you fall in love with its charm and authenticity. So don't hesitate to include Cala Romántica in your travel itinerary to Mallorca and discover for yourself why it is such a recommended destination. Get ready to live unforgettable moments in this Mediterranean paradise!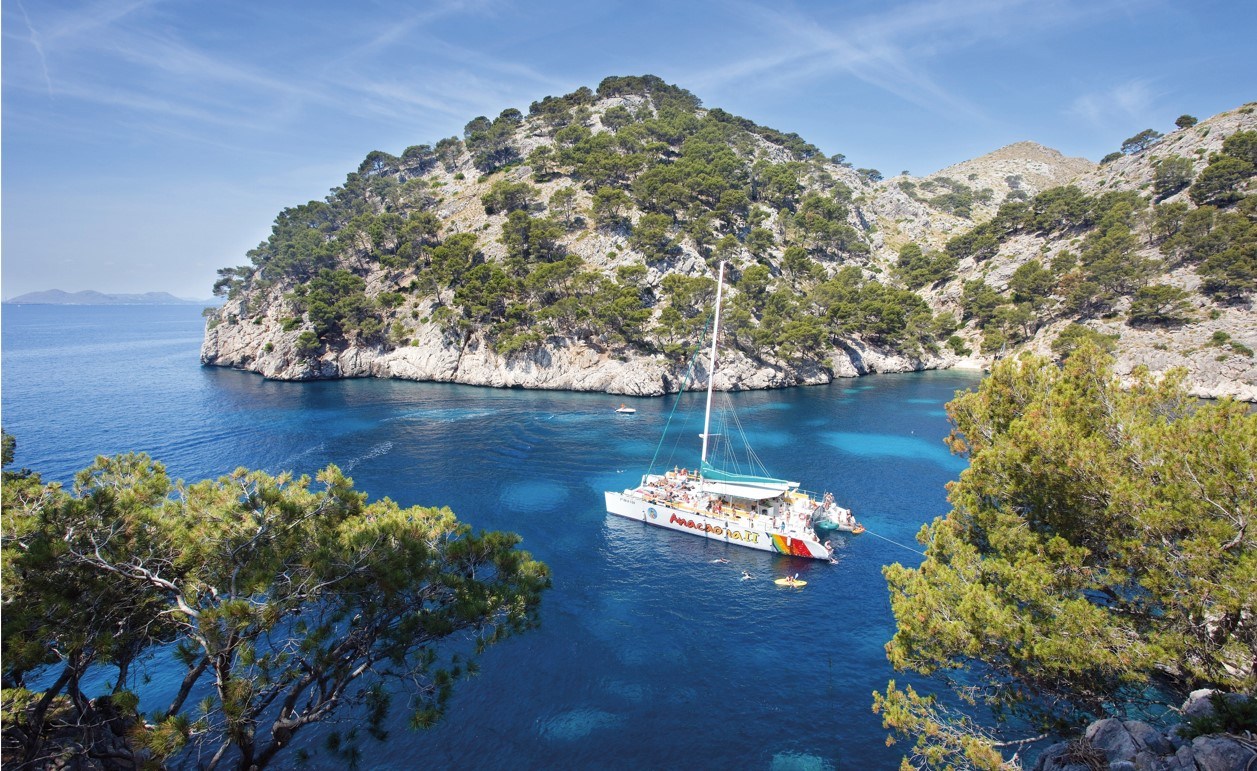 canoeing
Catamaran tours, glass bottom boats, boats and much more
---
Plan your holidays in Mallorca