Most Instagrammable Rock in Mallorca: Es Pontas
Es Pontas is a natural bridge or stone arch found between Cala Santanyi and Cala Llombards. It is one of those corners that nature gives us, and a top place to visit in Mallorca if you like photogenic nature spots. If you are in the area of Cala Santanyi or Cala Llombards, it is a must. Don't worry; in this article we will explain all about Es Pontas, how to get there and tips for you to spend an amazing day in Mallorca.
About this article
This article has been written by the team of experts in excursions and tours at
Click-Mallorca
. We are a specialized travel agency in Mallorca dedicated to leisure activities; tours and excursions; and other things to do in Mallorca.
We live on the island and we have over 15 years' experience creating and offering excursions. We know the island inside out, and we are dedicated to producing helpful and interesting articles for our holidaymakers coming to Mallorca.
How to get to Es Pontas?
You can get to Es Pontas from Cala Santanyi on a 50-minute walk. It is a simple route to follow along a well-marked path. You will not need to be an adventurer, walk on the edge of cliffs or anything like that. In fact, it is an ideal excursion to do with children in Mallorca.
To get to Es Pontas, we suggest parking your car in Cala Santanyi on sa Cova des Vell Mari Street. You can leave your car here in the free car park, which is just a 3-minute walk from the beach of Cala Santanyi, and it is also easily found on Google Maps. In fact, even in the same car park you can already see a sign with the direction to follow to get to Es Pontas.
From the car park you will reach a junction (in the photo) where there is a sign indicating the direction to take. Follow this road to its end, where a dirt track begins that a few meters later leads you to a fork. There, you will see a sign that tells you to go to the left to reach the Es Pontas Viewpoint. If you follow this path it will take you to Es Pontas.
On the way to the Es Pontas Viewpoint you will find the sculpture in the photo above, made up of different stones. It is the Equilibrio Sur project developed between 1995 and 2009, by the sculptor Rolf Schaffner. The Equilibrio Sur project tries to demonstrate how a responsible attitude towards nature is related to peace. Rolf Shaffner built his limestone columns in five places in Europe: Santanyi, Trondheim, Cologne, Volgrad and Cork.
An important tip for the walk to Es Pontas: please no flip flops or sandals! The terrain is irregular, with stones and rocks, so make sure you are prepared with closed and comfortable shoes, like trainers. In this way, you will avoid your feet hurting or unnecessary falls, which will spoil your visit to Es Pontas and perhaps even your holiday.
Do you want a different suggestion about how to get to Es Pontas? Well, keep reading, and at the end of it all, we offer you something very different, and exclusive in click-mallorca.
Mirador de Es Pontas
The Es Pontas rock is in the middle of the sea, although it's a short distance from the coast, and the best place to enjoy the view of this rock bridge in Mallorca is the Es Pontas Viewpoint. From the viewpoint you can perfectly see the hole in the rock, formed by the erosion of the sea in the calcareous stone that gives rise to this natural bridge. The waters that surround Es Pontas are crystalline, and the effect of the sun's rays adds light. It is undoubtedly a wonder that nature gives us, beauty in its purest form.
Any guesses as to the height of this natural arch? The height of Es Pontas is about 25 meters.
The Mirador de Es Pontas is a small fenced viewpoint, with a wooden bench where you can sit and enjoy, not only the views, but also the tranquility of this beautiful place. Not to mention the spectacular photos that you will be able to take, to later share on social networks. Despite being close to the beaches of Cala Santanyi and Cala Llombards, it is not usually very busy.
We want to give you some tips for if you are at the Es Pontas Viewpoint. First of all: a piece of advice for the most daring. If you go along the cliff, and you do not have vertigo, you will be able to enjoy other excellent views. Secondly, it is worth taking a walk around and seeing this natural rock from different places. Thirdly, at sunset this stone arch looks spectacular.
Es Pontas with Chris Sharma + Psicobloc
Perhaps these 3 words will sound like "Chinese" to you, and you are wondering what they have to do with Es Pontas. so watch this video:
And now the explanation:
Chris Sharma is a rock climber from California who came to Mallorca in 2006 to climb the rock of Es Pontas in the psicobloc modality (also known as "deep-water soloing"). Chris Sharma had to come to Mallorca 4 times to be able to chain all the different movements that allowed him to climb this rock. If you search Google for "Chris Sharma Es Pontas climb" there are a multitude of articles where they talk about it.
Psicobloc is a climbing specialty without ropes or any type of harness that is practiced on coastal cliffs. The reason the activity always takes place on the coast is because when the climber is tired, cannot hang on any more or sees no way to continue, he/she just lets go and freefalls into the sea. Mallorca is one of the best places in the world to practice Psicobloc. And the rock climbing of Es Pontas is considered one of the most difficult. When you visit, you might even see people attempting it.
What to see around Es Pontas?
The visit to Es Pontas will take you just two hours, therefore, surely you will want to do some activity afterwards. Here are some suggestions for other places of interest in the surrounding area:
In summer you can relax at the beach after your excursion to Es Pontas. Either in Cala Santanyi or in Cala Llombards, both very close to Es Pontas. If you want to go a little further, you can opt for the famous Es Calo des Moro Beach.
For those who like to explore and discover places, a good activity is to go to the beautiful port of Cala Figuera and take a walk.
There are very interesting hiking routes in the area, leaving from both Cala Santanyi and Cala Llombards.
How about something different? Go to see Es Pontas by renting a kayak in Cala Figuera, to paddle out to it and see it close up. If you have time, you can even reach Es Calo des Macs.
Our last suggestion is to take a boat excursion. From Cala Figuera there is a super boat trip that takes you around Es Pontas, Cala llombards, Calo des Moro and Cala Marmols.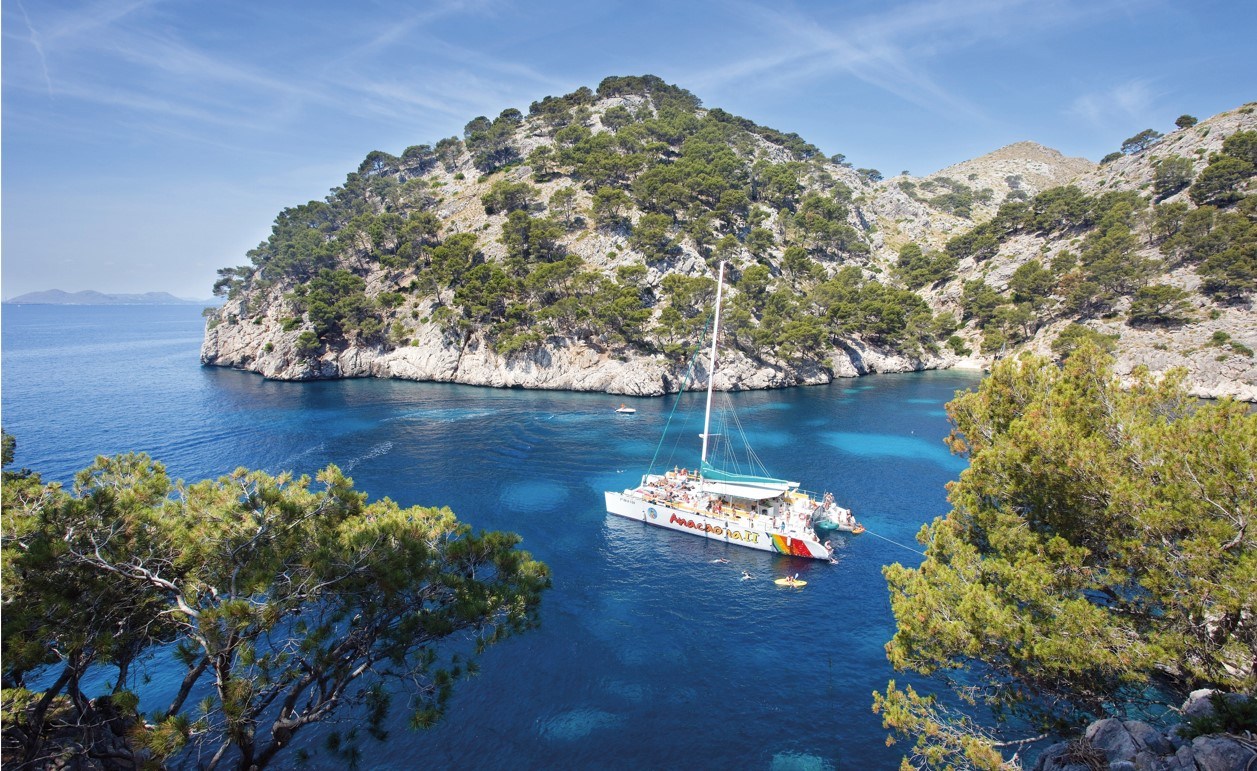 canoeing
Catamaran tours, glass bottom boats, boats and much more
---
We hope you liked this article, and if so, we encourage you to share it or leave your comment..
---
Plan your holidays in Mallorca