Cala Torta: A Hidden Paradise in a Nature Reserve
Cala Torta is a one of the few true paradise beaches left in Mallorca. Located in a protected nature reserve, its fine white sand, its crystalline waters and its preserved natural landscapes all make it a unique and special place.
The tranquility of the beach of Cala Torta is ideal for those who want to relax and enjoy a day of sun and sand, surrounded by nature. In addition, its virgin beauty and its privileged location make it a perfect place to go on day trips. Disconnect from the world and enjoy a day of peace and tranquility!
About this article
This article has been written by the team of experts in excursions and tours at
Click-Mallorca
. We are a specialized travel agency in Mallorca dedicated to leisure activities; tours and excursions; and other things to do in Mallorca.
We live on the island and we have over 15 years' experience creating and offering excursions. We know the island inside out, and we are dedicated to producing helpful and interesting articles for our holidaymakers coming to Mallorca.
Discover with us why Cala Torta is one of the most precious treasures in the northeast of Mallorca. At click-mallorca we are experts in excursions on the island, and our team has prepared an index with the most important things you should know before visiting this beach, which is essential to include in the list of the best beaches in Mallorca.
About Cala Torta Beach in Mallorca:
Cala Torta Beach is a wonderful place for sunbathing and swimming and which is located in the natural reserve of the Llevant Peninsula, in the Northeast of Mallorca. It is approximately 150 meters long and 100 meters wide, and is flanked by rock cliffs that form dunes in the center. The sand is soft and clear, and the sea water is crystal clear and perfect for swimming.
The poor state of the road makes it a beach with difficult access and, therefore, it is not a very crowded beach, which is unusual in Mallorca.
In the vicinity of Cala Torta there are other coves and beaches of great beauty such as Cala Mitjana, Cala Mesquida and Cala Ratjada.
What to do in Cala Torta?
Cala Torta is a virgin beach that is located in a place of natural beauty and which is prodected as park of the Natural Park of Llevant.
What is a Virgin Beach?
A cove or a beach is referred to as a virgin beach (as is the case of Cala Torta) if it is not accessible by car. This means that to get to the beach in question you have to either arrive by sea and drop your anchor off the shore and swim to the beach, or you have to walk to the beach from the closest access point. Many virgin coves and virgin beaches have little or no facilities, as they are not usually as popular as more accessible beaches (which is quite often the draw for those looking to sunbathe away from the crowds).
Due to its condition as a virgin beach, Cala Torta no longer has the beach bar that existed in the past. Nor does it offer any kind of services or facilities. Therefore, if you plan to visit it, we recommend that you bring your own food and drink so that you can enjoy your stay comfortably and without depending on external services. In addition, since there are no trash cans on the beach, we ask that you be responsible and do not leave waste on the site to maintain its natural beauty.
In Cala Torta you can sunbathe, snorkel and enjoy a quiet day at the beach, avoiding the crowds you would find on the more easily accessible beaches. You can walk along its trails and enjoy the beauty of its rugged landscape that, due to the wind, has little vegetation.
If you wish to reach Cala Torta by sea, you can book the excursion with the Mallorca Dreams boat that runs along the northeast coast of Mallorca. It is a boat for 40 people that takes a tour of the paradisiacal coves in the area, including Cala Torta.
There is also a Catamaran Tour in Cala Ratjada with lunch along the coast, which leaves from the Port of Cala Ratjada and stops at various coves in the area, exploring the surroundings of Cala Torta too.
We also suggest a fantastic four-hour hiking route along the coast that is really enjoyable during in the non-summer season. It is a route from Cala Torta to s'Arenalet d'Aubarca. From Cala Torta you have to take the path to the left of the cove and walk for two hours to s'Arenalet d'Aubarca. On this excursion you will discover some other coves in the area such as Cala Déntol, Cala Estreta, Cala Mitjana and Cala des Matzoc. During the route, you will be able to admire the Albarca tower, an 11-meter tower that is 68 meters above sea level and dates from the mid-18th century.
How to get to Cala Torta?
Cala Torta is located 10 kilometers from the beautiful historic town of Artà and 16km from Capdepera. To get to Cala Torta from Artà, you must follow the road towards Cala Ratjada. About 400 meters after leaving Arta, you will see a gas station on the left, and that is where you turn left. By the football field there is a small roundabout, and you turn right. Now you just have to follow this road that goes into the Llevant Natural Park until you reach a fork where the road to the cove of Cala Torta is indicated.
Almost at the end of the road you come to a crossroads where, to the right is Cala Torta and to the left is Cala Mitjana. At this point, the road is in poor condition, and more than asphalt it is a dirt road. You can continue for 1 kilometer, and you will find several areas where you can park your car. Then you must continue on foot to the beach.
Just above, you can see the route on the map from the gas station in Arta to Cala Torta. For the final stretch to get to the cove, switch to satellite vision or street view to get an idea of the road.
Where to Stay Near Cala Torta?
If you want to stay in the vicinity of Cala Torta, the tourist areas of Cala Mesquida or Cala Ratjada are two good options given the easy access to Cala Torta by sea. Here are some recommendations for places to stay:
Discover More Things to do in Mallorca
There are many great things to do in Mallorca. If you are reading this article, then you are clearly a person that wants to discover more of Mallorca off-the-beaten-track and explore the island's true beauty outside the tourist resorts.
One of our top recommendations of things to do in Mallorca for beach lovers are boat trips which, in summertime, depart from all over the island, taking passengers to little-known coves and beaches and for snorkeling in the clearest blue water imaginable. There are boat trips with many people, with few people; full day trips, half day trips; snorkeling excursions; catamaran tours; and private boat trips. There is also something for all budgets. Click on the banner below for more information.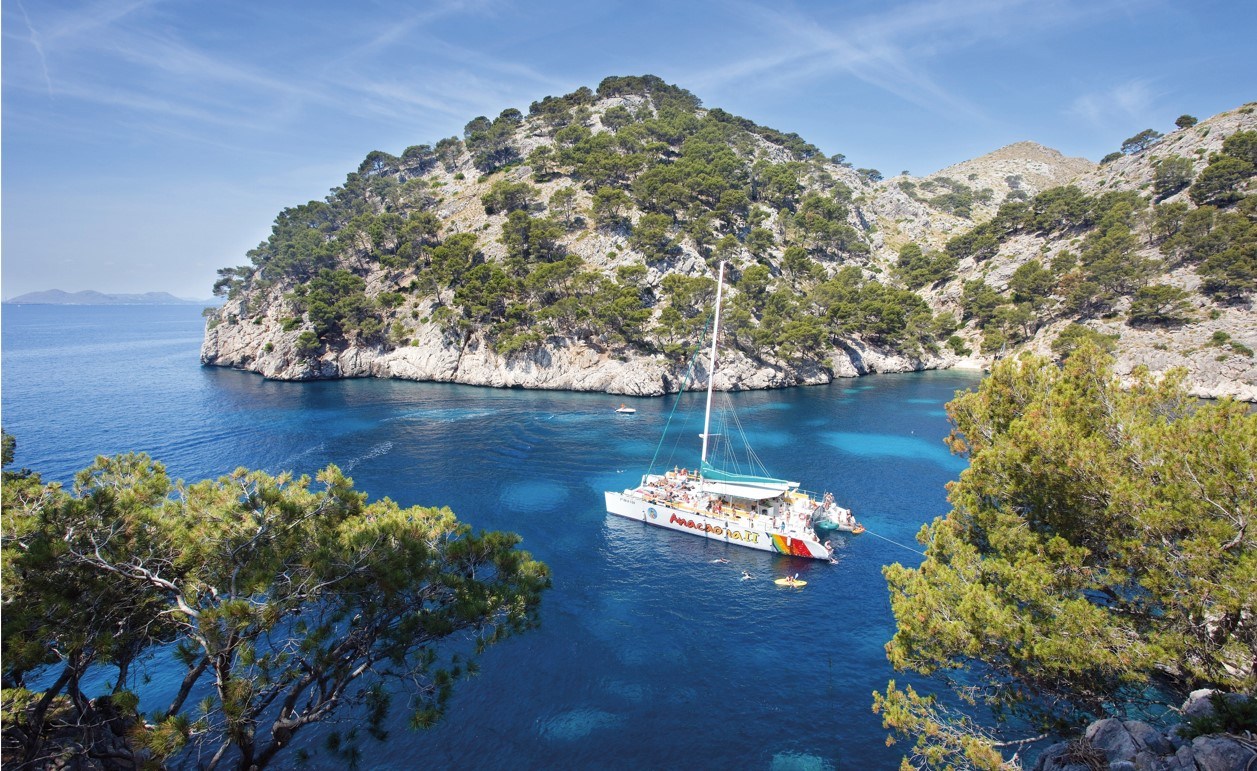 canoeing
Catamaran tours, glass bottom boats, boats and much more
As well as boat trips, you can also find on that banner above, access to all kinds of activities in Mallorca, such as horse riding activities, organised sightseeing tours, guided walks and trips to visit some of Mallorca's most exciting attractions, such as Mallorca's famous caves, water parks and theme parks. If you need any help or advice about things to do in Mallorca during your visit to the island, you can also send us a whatsapp and we will be happy to help.
---
We hope this article has helped you to plan your visit to Cala Torta. If you have already visited it, did you like it? Do you have any recommendations? Leave us your comment. If you liked the post, share it on your social networks,…
---
Plan your holidays in Mallorca