Cala Marmols Beach in Mallorca: Discover a Hidden Cove
Cala Marmols Beach (also known as Caló des Marmols) – Marble Cove – is a quiet and solitary place to relax and enjoy the natural beauty of Mallorca's coastal landscape. It is one of the few isolated and remote beaches left on Mallorca, so if you are looking for true paradise away from civilization and of impressive beauty, then Cala Marmols should definitely be on your beaches to visit in Mallorca list.
About this article
This article has been written by the team of experts in excursions and tours at
Click-Mallorca
. We are a specialized travel agency in Mallorca dedicated to leisure activities; tours and excursions; and other things to do in Mallorca.
We live on the island and we have over 15 years' experience creating and offering excursions. We know the island inside out, and we are dedicated to producing helpful and interesting articles for our holidaymakers coming to Mallorca.
Get ready to discover Cala Marmols Beach, an extraordinary and unique place, surrounded by cliffs and free of urbanisation. An oasis of crystal clear water in the middle of nature with a sandy and pebbly beach.
Why Visit Cala Marmols Beach?
Cala Marmols is a truly magical place that belongs to the municipality of Santanyí and is located between Cala Santanyí and Cap de Ses Salines, in the southeast of Mallorca. The beach of Cala Marmols is about 45 meters wide and about 30 meters deep, and is protected by 20-meter high marble cliffs. The beach, nestled deep in the cove's bay, is difficult to access, thus preserving Cala Marmols as a secluded and idyllic spot for sunbathing.
Uncrowded beach due to its difficult access
Visiting Cala Marmols is like discovering a hidden treasure among the beaches of Mallorca. The cove, with white sand and crystal clear waters invites you to relax and enjoy the beauty of one of Mallorca's prettiest places. There are no hotels, towns or shops nearby, making it an ideal location for those seeking tranquility and peace.
The few bathers who do arrive at this lonely and undeveloped beach usually arrive by boat, while others walk the 5.5km distance from the lighthouse in Cap de ses Salines, the south tip of Mallorca, or from Cala Almunia. It is not a difficult hike, but can feel strenuous in the summer heat. The pleasure of throwing your towel down on the sand and launching yourself into the pale blue waters with your snorkel mask, however, makes the effort so worth it. At the end of this article we will explain exactly how to reach Cala Marmols on foot.
Things to do in Cala Marmols:
Cala Marmols is a virgin beach away from Mallorca's touristic hotspots, making it the perfect spot for sunbathing and swimming away from the crowds.
What is a Virgin Beach?
A cove or a beach is referred to as a virgin beach (as is the case of Cala Marmols) if it is not accessible by car. This means that to get to the beach in question you have to either arrive by sea and drop your anchor off the shore and swim to the beach, or you have to walk to the beach from the closest access point. Many virgin coves and virgin beaches have little or no facilities, as they are not usually as popular as more accessible beaches (which is quite often the draw for those looking to sunbathe away from the crowds).
Cala Marmol Beach is the typical virgin cove, with no drivable access and no beach bar or facilities. So if you plan to visit the cove, keep in mind that, since there are no services, you have to bring your own food and drinks. Make sure you bring plenty of water. And above all be respectful of the environment and do not leave your waste.
In Cala Marmols you can spend a quiet day on the beach, which is like a natural pool, snorkel and relax away from the hustle and bustle of other more easily accessible beaches.
Here you have a video of Cala Marmols to give you an idea of the views and what it is like.
For those who don't fancy the 5km trek to Cala Marmols Beach, here are some recommendations of less strenuous and rather unique ways to get there via the sea:
If you want to get to Cala Marmols by boat and at the same time explore the wonderful coast of the Santanyí area, we recommend a two-hour boat trip to Cala Figuera and Cala Marmols. On this excursion you discover the port of Cala Figuera, Es Pontàs, Cala Llombards, Es Caló des Moro, S'Almunia and Cala Marmols itself.
You can also take a Kayak excursion around Cala Santanyí, Es Pontàs, Es Caló des Macs and Cala Llombards. This excursion does not reach Cala Marmols but allows you to enjoy some spectacular places in the area from the sea.
Things to do around Cala Marmols:
There are quite a lot of things to do in the Santanyí area, and even in the area very close to Cala Marmols Beach. Don't miss the Es Trenc Salt mine (or the Salinas d'es Trenc) declared a Natural Area of Special Landscape and Rural Interest. and see how the flor de sal is harvested in the traditional way. In the salt flats there are more than 200 species of birds, including flamingos. The spectacular reddish salt pans can be visited on a guided tour.
You can also take a look around the Ses Salines Lighthouse, which is located in Cabo de Ses Salines, at the southernmost tip of Mallorca. The landscape of the lighthouse is sober and solitary and can be reached after a 20-minute walk from the road where the car park is. The views of the sea from the lighthouse are spectacular and you will be able to see the Cabrera Archipelago.
If you find yourself in the area at dinner time, you can eat a meal in one of the restaurants of Colonia de Sant Jordi, which belongs to the municipality of Ses Salines. Colonia de Sant Jordi is an old fishing village with a good range of restaurants where you can eat fresh fish.
We also recommend you make a stop at the Formatges Burguera cheese factory. You can visit the facilities and learn about the cheese-making process or simply stop at the store they have in the factory to buy the cheeses they produce.
How to get to Cala Marmols Beach?
Cala Marmols can be reached by walking along the coast from one of two different starting points:
From the Ses Salines Lighthouse it is a 5km walk.
Or from Cala Almunia it is 6km.
Keep in mind that you have to walk back again and therefore it is a round trip of 10km or 12km.
To get to Cala Marmols from the Ses Salines Lighthouse, you leave your car on the shoulder at the end of the road, near the lighthouse. From here you will follow a path that will take you to the lighthouse and then, on the left, you will see the beginning of the coastal path that will take you to Cala Marmols. It is not signposted but it is not difficult to find as, on one side you have the coast and on the other, the fence that delimits the entrance to a farm.
To get there from Cala Almunia there is a signposted path that will lead you straight to Cala Marmols.
Both routes border the coast and it is important to remember that there is no shade. Be sure to take suncream, a hat and plenty of water, and make sure you wear comfortable shoes. It is not a very suitable route for small children.
Where to Stay in Cala Marmols?
If you are thinking of spending a few days or a weekend in the area of Cala Marmols, it is important to bear in mind that there are no hotels or accommodations on the beach of Cala Marmols. This means that you will not be able to stay directly on the beach. You should also keep in mind that camping is not allowed on the beach.
If you are looking for accommodation near Cala Marmols, we recommend that you take a look at the hotels in Ses Salines. In this area you will find a wide variety of accommodation options, many of them rural, which will allow you to enjoy a stay surrounded by nature. Also, Ses Salines is located a short distance from Cala Marmols, so you can easily reach the beach from there. Below you will find the hotels available in the Ses Salines area.
We also recommend two very special hotels in Colonia de Sant Jordi, the first is the Hotel Honucai, which has an excellent location and a terrace with very good cocktails. Another hotel that we really like is the Hotel Es Marqués, located literally in the sea with incredible views from all the rooms.
Discover More Things to do in Mallorca
There are many great things to do in Mallorca. If you are reading this article, then you are clearly a person that wants to discover more of Mallorca off-the-beaten-track and explore the island's true beauty outside the tourist resorts.
One of our top recommendations of things to do in Mallorca for beach lovers are boat trips which, in summertime, depart from all over the island, taking passengers to little-known coves and beaches and for snorkeling in the clearest blue water imaginable. There are boat trips with many people, with few people; full day trips, half day trips; snorkeling excursions; catamaran tours; and private boat trips. There is also something for all budgets. Click on the banner below for more information.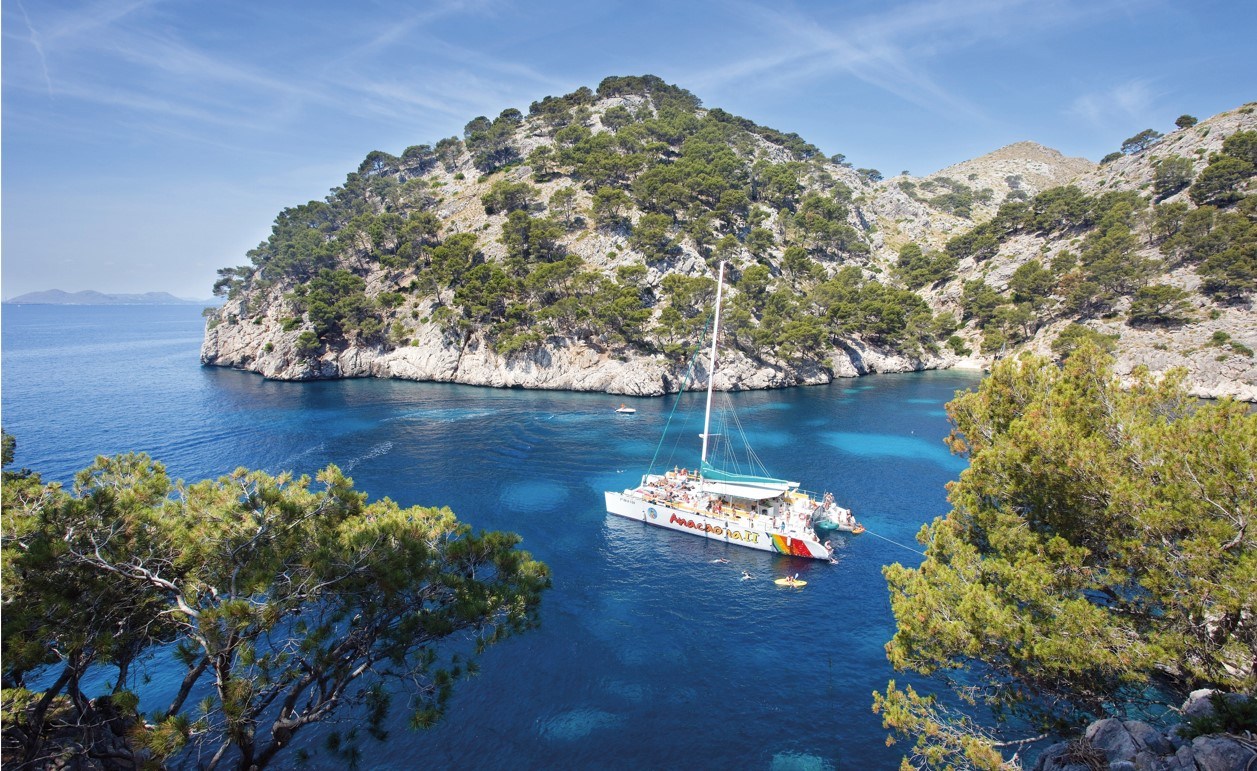 canoeing
Catamaran tours, glass bottom boats, boats and much more
As well as boat trips, you can also find on that banner above, access to all kinds of activities in Mallorca, such as horse riding activities, organised sightseeing tours, guided walks and trips to visit some of Mallorca's most exciting attractions, such as Mallorca's famous caves, water parks and theme parks. If you need any help or advice about things to do in Mallorca during your visit to the island, you can also send us a whatsapp and we will be happy to help.
---
We hope this article has helped you to plan your visit to Cala Mármols. If you have already visited it, did you like it? do you have any recommendations? Leave us your comment. If you liked the post, share it on your social networks…
---
Plan your holidays in Mallorca