Glass Bottom Boats Mallorca: Our Top Five
You can't miss a trip on a glass bottom boat in Mallorca on your holidays! Your holiday is not complete without it. With underwater vision you will discover the beauty and richness of the island's seabed, on one of our glass bottom boat tours that depart daily from many different ports on Mallorca's coast in summer.
Just imagine sailing around the coastline on a fun activity with your children and being able to view the seabed and the fish swimming alongside you. It is an amazing sight: the children remain glued to the glass, in awe. And the adults too!
Why opt for a trip on a glass bottom boat in Mallorca?
There are many reasons to choose a glass bottom boat excursion, especially if you are travelling with family and have children of different ages – the main reason is because it will please them all! You will give them (and yourself) a unique experience on a boat ride quite different from the traditional ones, and offer an unusual and exciting perspective of the aquatic environment.
Stunning underwater views: Glass bottom boats allow passengers to view the underwater world without the need to dive or even get in the water. This is because the depths of the sea are viewed through glass panels in the bottom of the boat. That's why they are often also known as "submarine vision" boats.
Duration: Glass bottom boat rides in Mallorca are ideal for those who don't have much experience on a boat and who want to do something fun for just a few hours. After all, not everyone knows if they will suffer with seasickness or if the children will feel queasy. The trips offered on a glass bottom boat normally have a short duration of just a few hours around the bay.
Suitable for all ages: Glass bottom boat tours are suitable for all ages, and are a fun and safe way to explore the underwater world. This is an important thing for parents of small children to remember: the stops made for swimming are often made in the open sea and not at a beach, so you won't be able to touch the bottom.
Price: Of all the options for boat trips in Mallorca, the glass bottom boat is the cheapest type of boat trip, making it ideal for all the family.
Don't worry: if you don't know what a glass bottom boat is (though the name should give you some indication!) we explain it in great detail at the bottom of this article.
About this article
This article has been written by the team of experts in excursions and tours at
Click-Mallorca
. We are a specialized travel agency in Mallorca dedicated to leisure activities; tours and excursions; and other things to do in Mallorca.
We live on the island and we have over 15 years' experience creating and offering excursions. We know the island inside out, and we are dedicated to producing helpful and interesting articles for our holidaymakers coming to Mallorca.
The Best Glass Bottom Boat Trips in Mallorca
Practically from every port or tourist resort in Mallorca in summer, there are endless options of boat trips; although not all of them with underwater vision or glass bottom. Here are our top five choices, and you will see that in each one there is a link, where you can book on the web and find more detailed information, such as prices, starting point, duration, route and days.
1. Alcudia Glass Bottom Boat Trip
The glass bottom boat ride in Alcudia is extremely popular in summer and there are departures several times throughout the day. The boat trip lasts 2.5 hours, and includes a stop for swimming and stunning views of the wonderful Es Coll Baix Beach.
The boat trip departs from the Port of Alcudia in the north of Mallorca and follows the coastline of Alcudia Bay, until reaching one of the most beautiful and otherwise unreachable, coves in the area, Es Coll Baix. The boat stops at Es Coll Baix for around 20 minutes and you can swim from the boat or go to the lowest deck and try to spot the sealife through the viewing panels.
The excursion sails three times daily from May to October.
2. Submarine Vision Boat Trip in Santa Ponsa
Our next proposal is all the way at the other side of the island and is a glass-bottom boat ride from Santa Ponsa to the Malgrats Islands nature reserve, which also includes a swim stop to enjoy snorkeling.
This glass bottom boat tour starts in Camp de Mar, Paguera or Santa Ponsa. From there you visit the Malgrats Island nature reserve, where you can admire the impressive landscape of this area in the southwest of Mallorca. As you will be sailing into a nature reserve, you will have more chance of spotting different types of fish, octopuses, jellyfish and starfish through the glass part of the boat. The tour also includes a stop for snorkeling and swimming.
3. Glass Bottom Boat Trip from Palma Nova and Magaluf
Palma Nova and Magaluf are two very popular tourist resorts in Mallorca in the summer: the beaches are packed with holiday-makers trying to get a tan; the two resorts have grown so big that they have all but fused together; and there are more pubs, bars, restaurants and shops than any other tourist area in Mallorca. We have the perfect solution to get away from the crowded beach for a couple of hours: a trip on the Britannia Jet glass bottom boat trip from Palma Nova and Magaluf.
The Britannia Jet glass bottom boat is one of the pioneer excursions in underwater vision on the Mallorcan coast. The company has several boats equipped with Underwater Vision, and that have three decks. During the underwater viewing time, the boat approaches the coast and, at low speed and continues along the coastline. You can observe the large number of species that inhabit the seabed of this area of the rocky coast.
4. Glass Bottom Boat in Cala Millor
In the eastern part of the island, we find the popular tourist resorts of Cala Millor, Cala Bona, Cala Ratjada, Sa Coma and plenty more. There is a glass bottom boat trip from this area which lasts about 2-3 hours, and leaves from different piers on the coast, from Cala Ratjada to Porto Cristo, covering the entire coastline. This is ideal for anyone staying anywhere on the east coast.
During the boat trip you can see part of the island's coastline, and you can see the rocky seabed through the windows in the bottom of the boat. Whenever possible, depending on the weather and sea conditions, they make a short stop for a swim. One of the chosen areas is Cala Morlanda where the colour of the water is that postcard-perfect Meditarranean turquoise.
5. Starfish Boat in Cala Dor
The Starfish boat trip departs from the harbour in Cala Dor and, through the transparent bottom, you will be able to admire the underwater fauna and flora. You will sail past some of the most beautiful coves in the eastern part of the island on this excursion and you will find that the views from the top deck are as just as good as those from the lower deck. It is a catamaran-style boat and has large windows on the floats, which are below sea level, to observe the seabed like an aquarium. As in the other options, it also offers a stop for swimming.
As you can see, a glass bottom boat trip in Mallorca is a highly recommended activity, especially in summer, and if you go with children they will enjoy it very much.
More Boat Trips in Mallorca
At Click-Mallorca we have a wide variety of boat trips and catamaran trips, with departures from all over the island. In addition to glass bottom boat tours, you will be able to find catamaran excursions, days out on a sailing boat, trips on a typical Mallorcan llaut, sunset tours, dolphin-watching outings… and much more.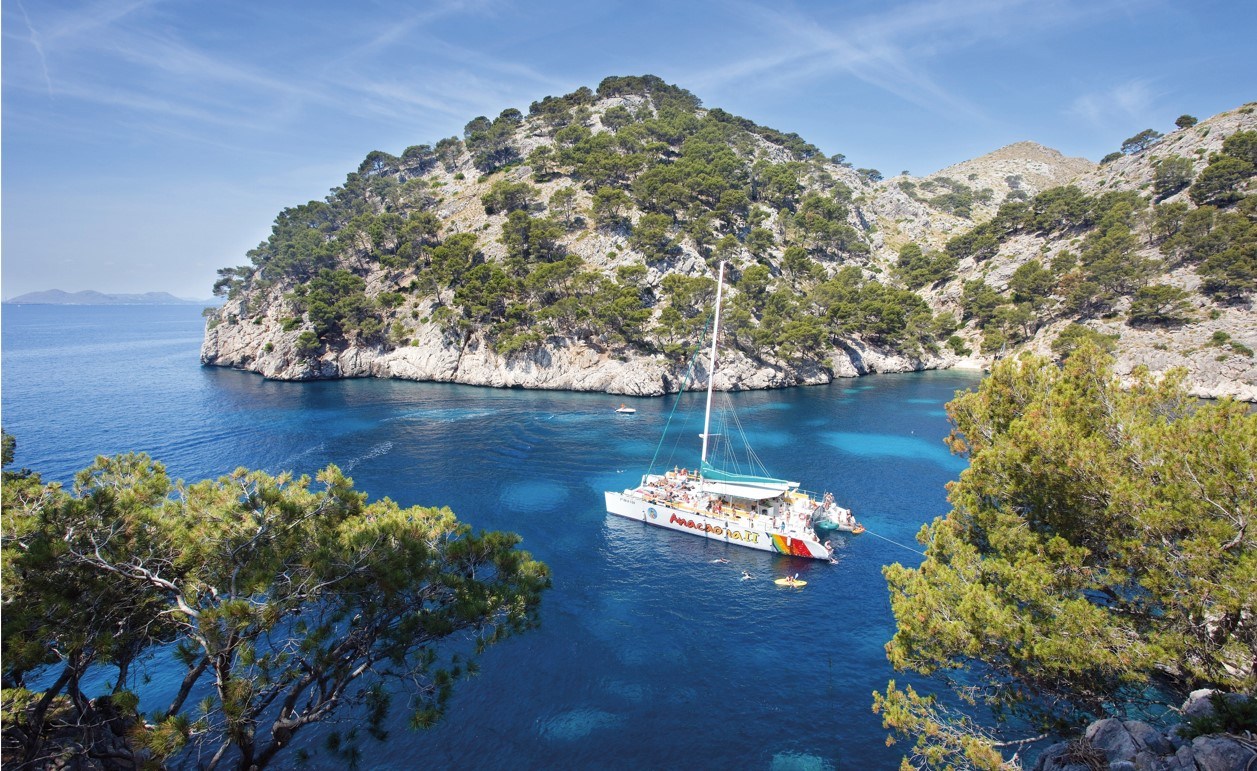 canoeing
Catamaran tours, glass bottom boats, boats and much more
If you click on the banner above you will be able to see the different boat excursions on offer in Mallorca. Then you can select the one you most like the look of and you will be able to see photos, videos, prices, information and read reviews before booking.
What is a Glass Bottom Boat?
Back in the 1960s, when Mallorca started to be a sought-after tourist destination for holiday-makers, and boat trips began to be popular, the boats were nothing like the modern vessels we find today – and nor were the piers, jetties or infrastructure at the harbours. Back then, boat trips were made on small or medium-sized wooden boats, that were nothing more than repurposed fishing boats, of which some still remain today (and interestingly enough, are the most demanded excursions for people looking for a charming and nostalgic outing). Then the tourists began to arrive in their droves and, larger boats, with greater capacity were needed for pleasureboat excursions. These boats were evolving, becoming more modern, and introducing more exciting features, such as underwater vision.
Glass bottom boats in Mallorca are specially designed and built to enjoy underwater vision, which offers a perfect view of the seabed. The vessels are semi-submersibles, built entirely with marine aluminum in shipyards with extensive experience in the construction of this type of boat. It is in their semi-submersible hulls where they have the underwater vision zone, in which there are sometimes seats, to facilitate enjoyment.
With these boats, in most cases, short excursions are made, 3-4 hours maximum, and they always sail close to the coast. Normally a few hours of navigation and some stops to swim are included. Undoubtedly, it is a very popular activity for families with children, due to its duration, price and the fact that it has underwater vision, which attracts a lot of children's attention.
Perhaps the only drawback is that the seabed of Mallorca is not as spectacular as that of the Caribbean, which is what comes to mind when talking about the seabed. In Mallorca we don't have corals or tropical fish, but rather a background with Posedonia, rocks and fish that are not so "colourful", but that doesn't mean that it's not beautiful.
---
We hope this article has helped you plan your next glass bottom boat trip in Mallorca. Leave us your comment and let us know. If you liked the post, share it on your social networks…
---
Plan your holidays in Mallorca