Alcanada in Mallorca: A Beach, a Lighthouse and Many Things To Do
Alcanada in the north of Mallorca is a place that you cannot miss if you want a fabulous beach and great views. What's more, if you time your visit right, you can practically have the whole beach to yourself. It is a gem of a place, where there is much to discover and see. It's an area frequented by just locals and some tourists that are in the know and, even though the beach is located on the Bay of Alcudia, Alcanada seems a million miles away from the typical hoards and crowds of summer.
About this article
This article has been written by the team of experts in excursions and tours at
Click-Mallorca
. We are a specialized travel agency in Mallorca dedicated to leisure activities; tours and excursions; and other things to do in Mallorca.
We live on the island and we have over 15 years' experience creating and offering excursions. We know the island inside out, and we are dedicated to producing helpful and interesting articles for our holidaymakers coming to Mallorca.
These are just a few of the things to do in Alcanada:
You can "walk" through the sea to the old Alcanada Lighthouse from 1864, which is found on its own islet.
Discover a beautiful and isolated cove a short walk from the main Alcanada Beach.
Relax on Aucanda's wonderful beach, and contemplate the excellent views of Alcudia Bay and beyond.
Explore the coast and surroundings by kayak.
Below, we will explain in more detail the reasons to visit Alcanada; all the things to do there; and the best way to get to Alcanada.
Alcanada Beach
Undoubtedly, Alcanada Beach is one of the main attractions when visiting the municipality of Alcudia. It is not as well knowns as other famous beaches in Mallorca (such as Cala Pi, Es Trenc or Cala Varques) but it is a beach that has a very special charm and that is why it is so popular with the local people.
Alcanada Beach is about 700 meters long and 200 wide. It has many pine trees that provide good shade, ideal on some of the hot summer days. At the beginning of the beach, there is an area with wooden benches and picnic tables. This area gets very popular on weekends when many residents on the island set themselves up for the whole day with their families for a full day out with games, picnic and beach fun. They bring their chairs, tables, hammocks and their food. Who can blame them?!
Alcanada Beach is not sandy, but rather is made up of stones and pebbles and, near the shore, there is a presence of Posidonia (wrongly called "seaweed"). The beach is still comfortable for sunbathing and, a pile of Posidonia under your towel makes for an excellent cushion.
What is Posidonia?
Neptune grass or Mediterranean tapeweed, is a seagrass species that is endemic to the Mediterranean Sea. In Mallorca we are very lucky to find this on some of our beaches, as it is a protected species and is found in very few parts of the world. It is very useful on an island as it protects the beaches and slows down erosion. It forms large underwater meadows that are an important part of the ecosystem. Many people visit the area of Alcanada by boat and there are very strict guidelines about where they can drop their anchor to ensure that the Posidonia is not damaged. The Posidonia has a very high carbon absorption capacity, being able to soak up 15 times more carbon dioxide every year than a similar sized piece of the Amazon rainforest.
Can you swim at Alcanada Beach?
Like many of the beaches on Alcudia Bay, Alcanada Beach is perfect for swimming from, thanks to the great temperature of the sea in summertime and thanks to its shallow bed. The shallow waters make it an ideal beach to take children swimming.
If you plan to swim at Alcanada Beach, bring shoes that you can wear in the water as, though seabed near the shore is predominantly sandy, as you move further from the shore, there are rocks.
There are no sunbeds, parasols or lifeguard services at Alcanada Beach. Nor is there a beach bar. For many local people, that helps to maintain Aucanda's special charm. There is a good paved footpath running behind the beach, ideal for walking for those who do not wish to sunbathe on this part of the beach.
Dogs at Alcanada Beach
At the end of the main stretch of Alcanada Beach, from opposite the lighthouse and then further around the bay, there is a dog-friendly beach. If you live in Mallorca and have a dog, you will know that there are not many beaches where your four-legged friend is allowed to go. Alcanada is the exception.
Perhaps it is not correct to say beach for dogs, because it is rather a stretch of coast where dogs are allowed. There is no sand, but rocks, and a bed of Posidonia. Your dog will have a great time bounding over the rocks and the Posidonia, running, paddling in the shallow water…
Things to do in Alcanada:
We have prepared a whole series of suggestions of activities and things to do in Alcanada, besides just lying on the beach and swimming (though we wouldn't judge you for doing just that!).
Snorkeling
The entire area off the coast of Alcanada Beach is rocky. This is great for snorkeling. All those rocks are the perfect place to find a multitude of fish, and maybe even octopuses. In the sandy areas there is also a lot to discover, look carefully and you will find starfish.
But what we like most about snorkeling in Alcanada is finding some big rock formations where you can stand up, and more than half of your body comes out of the surface of the water. Expert tip: wear water shoes, because there are sea urchins and sharp rocks.
Rent a Kayak
One of the best activities you can enjoy in Alcanada is to rent a kayak, either before or after enjoying the beach. We recommend that you first skirt the coast to get used to paddling the kayak. You can see the beach from the sea and then reach the Alcanada Lighthouse on its own islet. Then paddle around the islet and continue to go explore the most virgin side of the coast in the area, where there are hidden corners and some beautiful coves. Be sure to make some stops for swimming and snorkeling at the different places you discover. With the kayak rental, they provide you with snorkeling material.
canoeing
Explore coves, the lighthouse and hidden corners
Walking Routes
It is true that many of those who search for information about Alcanada do so thinking about the summer and its beach. But if you go in cooler times, and if you like hiking, there are different routes that leave from Alcanada:
Hike to Sa Cova Tancada (or Closed Cave): This is a short but hardcore hike for the truly adventurous and should only be undertaken by experienced hikers.
Follow the walking trail to the Coll Baix Beach.
If you want to to a longer hiking route, you can walk to the Atalaya of Alcudia from Alcanada.
On all of the above trails, you need good footwear and plenty of water, as there are no shops or services en route. If you prefer a short and easy walk, then simply follow the path the runs alongside Aucanda's beach. You can follow it for as long as you wish and then turn around and head back. You will see coves, views of the bay of Alcudia and old bunkers.
See Alcanada on a boat trip from Alcudia
Although it is not exactly an activity in Alucanada, a boat trip from Puerto de Alcudia (just 3 kilometers away) can be a good plan if you want to see this beach. From Puerto de Alcudia there is a great variety of boat trips, and on all of them you can see Alcanada from the sea:
A five-hour catamaran excursion with food, coves and snorkeling
A two-hour boat trip to Coll Baix
A boat trip to Formentor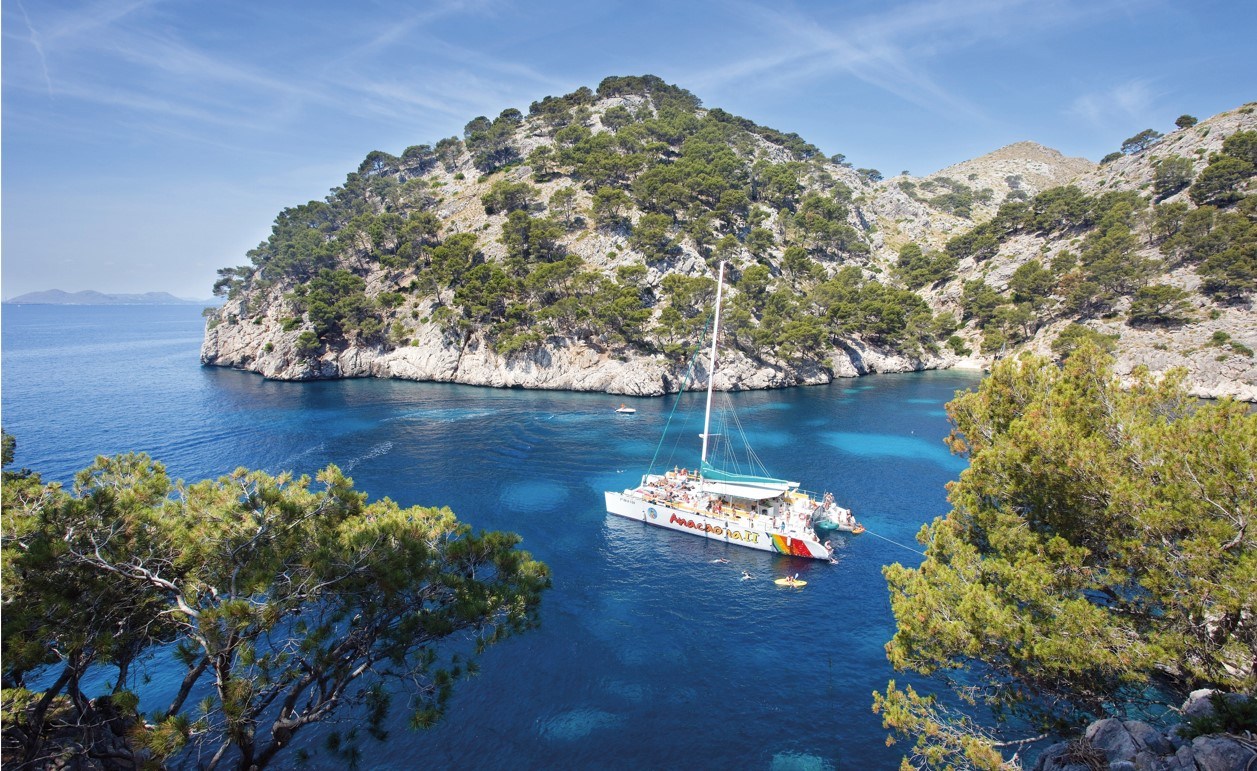 canoeing
Catamaran tours, glass bottom boats, boats and much more
See the Sunrise
Who does not like to see the sunrise? Well, those who don't like to get up early probably! But it is well worth it.
The bay of Alcudia is an excellent place to watch the sunrise in Mallorca. Facing north-east, there couldn't be a better location from where to watch the sunrise. In fact, one of our most popular click-mallorca excursions is the sunrise and dolphin-watching excursion.
If dolphins are not your thing, and you simply want to see the sunrise, here is a photo of how the sun appears in Alcanada:
Explore Coves
If the main beach at Alcanada is not enough, and you are one of those who like to see and enjoy as many coves as possible, this is a great idea for you.
At the end of the paved walkway, when you get opposite the lighthouse, follow the coast to the left and, about 100 meters later, a small path starts. The path skirts the edge of the Alcanada Golf Course and you will happen upon different coves and small, secluded nooks where you can swim or simply relax. They are very quiet places, where you will hardly find people.
Some of these coves are popular among nudists. If you are one of them, we also recommend you see our list of nudist beaches in Mallorca.
Alcanada Lighthouse
Alcanada Lighthouse is one of the places that will call your attention the most when visiting this area. It is located on a small islet very close to the beach, and it was inaugurated in 1861. Now it is automated, but lighthouse keepers lived here a long time ago, and we even remember when there was a bar on the islet. In fact, if you take a tour of the lighthouse and explore, you will be able to see the old houses of the lighthouse keepers, a wood-burning oven and the rooms that used to be for the animals.
It goes without saying that the view from Alcanada Lighthouse is spectacular, with the bay of Alcudia and, in the background (on sunny days), the silhouette of the Island of Menorca. Take the opportunity to walk around the lighthouse, and you will find old military bunkers and machine gun nests hidden in the undergrowth.
The Aucanada Lighthouse also has a small beach, a mixture of sand and pebbles, which is very charming. Even if it's a busy day on Aucanada Beach, you'll find that the beach on the islet by the lighthouse is very quite. Its surroundings are ideal for snorkeling.
Surely after reading all this, you are wondering how to get to the Alcanada Lighthouse? After all, it is on an islet! Well, now we are going to tell you a secret:
You can walk through the sea to the lighthouse from the beach. If the correct route is followed, the water never fully covers you. At most, it reaches chest height. You simply have to start walking from the small stone jetty at the end of the promenade on Alcanada beach. Then instead of going straight, you should make a little curve to the right. We leave you a photo:
Where to eat in Alcanada?
As mentioned before, there is nowhere to eat at Alcanada Beach. But perhaps for lunch or dinner you would like to eat at a nice restaurant. The small urbanization of Alcanada has a few and these are the best:
La Terraza de Alcanada
Alcanada Golf Club
Alcanada 35 Restaurante
Alcanada 35 Restaurante is the furthest restaurant from the beach (about 800 meters), where they offer a varied menu with all kinds of starters, meat, fish and paellas. It has very good ratings that highlight the service, the food and the value for money. It's a good idea to book in advance in high season and at the weekend.
The Alcanada Golf Club has a restaurant with a spectacular terrace overlooking the sea. At midday they offer a set menu with 3 courses, water and wine for €28. Although it may seem pricey for a menu del día, the food is of quality, and is accompanied by a good wine. Not to mention the million dollar view! It is also possible to eat à la carte.
La Terraza de Alcanada is one of the best-known and most popular restaurants in the Alcanada area, and perhaps even in Alcudia, with a large presence of foreigners and tourists in summer. It has both a restaurant and a bistro, and its terrace overlooks the sea. It's a romantic place for a couple's meal in the evening.
What you will not find in Alcanada is a beach bar. You can take food with you when you go to the beach and, next to the hotel Seasun Far, there is a supermarket.
---
We hope that this guide to Alcanada, its lighthouse and its beach will be useful for planning your visit. We have put all our effort and considerable time into creating it. For this reason, we thank you for sharing it on your social networks, and others will be able to discover this beautiful corner of our island.
And remember that if you want to do any activities or excursions in Mallorca, take a look at our website:
---
Plan your holidays in Mallorca