The Best Time to Visit Mallorca
Many people ask when is the best time to visit Mallorca. But the answer depends on what you want to do in Mallorca! In this article we have advice for everyone.
As you already know, Mallorca receives thousands (millions, in fact) of visitors in the summertime, when people want sun, sea and sand. But for many, the best time to visit Mallorca might very well be during the island's low season instead.
About this article
This article has been written by the team of experts in excursions and tours at
Click-Mallorca
. We are a specialized travel agency in Mallorca dedicated to leisure activities; tours and excursions; and other things to do in Mallorca.
We live on the island and we have over 15 years' experience creating and offering excursions. We know the island inside out, and we are dedicated to producing helpful and interesting articles for our holidaymakers coming to Mallorca.
Mallorca is well known as a summer sea and sand destination, and as a Mediterranean party island. But Mallorca has hidden coves to explore; one of the biggest cities in Spain; castles and ruins; splendid countryside and rural villages; plus the UNESCO protected Serra de Tramuntana Mountain range, which is one of the biggest draws for out-of-season visitors. All this, plus important sporting events; local festivals and celebrations; and gastronomic events.
Here we will explain to you the things people often want to do in Mallorca and the best time to visit to be able to do them.
Weather in Mallorca
Many people base what they think is the best time to visit Mallorca on the weather. The weather is a very important factor for a lot of people, especially those planning their "summer holidays".
Mallorca is lucky to enjoy mild temperatures all year round, with highest daytime temperatures exceeding 38 degrees in the very hottest summer months and the lowest night time temperatures barely dropping below 6 degrees in the coldest nights in winter.
The hottest months of the year are June, July, August and September when the midday sun can cause the temperature to hit over 40 degrees and you rarely need a jacket or cardigan in the evenings. These are also the months that the island is busiest, with hotels full to bursting and roads saturated with rental cars.
The coldest time tends to hit the island after Christmas, with January, February and March being the coldest and wettest months of the year. It is quite normal to see snow on the tops of the highest mountains of the Serra de Tramuntana in these months.
Spring and autumn are very pleasant in Mallorca weatherwise, with an ideal temperature that is mild enough to be outside in the fresh air, but not too hot to prevent one from doing things that are impossible in summer, like hiking or sport, or for those of us that live here, gardening and home maintenance.
High Season vs Low Season
The difference between high season and low season in Mallorca is immense – especially in tourist resorts, where it doesn't even feel like the same place in summer compared to winter. When we talk about high season in Mallorca, we are talking about the summer months: the tourist season starts around Easter and ends at the end of October. June, July, August and September are the busiest months for tourism. Low season is from Easter to the end of May and the month of October. Between November and March there isn't really anything classed as tourist season in Mallorca but it is still possible to visit during these months.
Many visitors to Mallorca have no choice about whether they visit in high season or low season, as they are bound by school and work holidays, but if you do have the choice about when to visit Mallorca, you should consider high season vs low season.
High Season Pros:
The positive aspects of visiting Mallorca in high season are the following:
Weather (if you like it hot): You can pretty much guarantee great weather in Mallorca's high season. This means you can swim in the sea, sunbathe, take part in boat trips and join other water activities. You can stroll around in the evening in short sleeves without the need for a cardigan or jacket.
Choice of restaurants, bars and nightlife: Everything is operating in high season and you can dine at any one of the island's restaurants or drink at any bar, pub or club, unlike in low season, when many businesses close.
Choice of hotels: similar to restaurants, you will find all of Mallorca's hotels open (and possibly booked up) in high season, many of which close in low season.
Water sports: the best time to visit Mallorca is high season if you like water sports or water activities, because everything is running at this time: banana boats, parasailing, jet ski, kayaking, stand up paddle, kite surfing, adrenaline speedboat trips and much more.
High Season Cons:
There are negative aspects of visiting Mallorca in high season, which for some, outweigh the pros:
Prices: As if Mallorca wasn't pricy enough, the prices can soar in high season, and everything adds up to make for a potentially expensive holiday. Some prices that fluctuate depending on demand are: car hire prices; hotel prices; airport transfer prices; even some supermarkets charge more for certain things depending on demand.
Weather: if you didn't see the heat as a pro, then you must see it as a con. Not everyone likes the intense heat we get on the island in summertime and it can be just too much for families travelling with children, the elderly or people wishing to participate in sporting events. With the heat comes sunburn, sun stroke, dehydration and (the worst) mosquitoes!
Over-crowding: Mallorca gets seriously overcrowded during high season. It's difficult to understand just how much, but let us try to put it into perspective: there are just over one million inhabitants on the island of Mallorca, but in 2019 the Balearic Islands recieved 16.5 million visitors – and most come in high season! This means restaurants and hotels are full, the beach is packed, the bus to the local market sails past without stopping because it is so full and parking is a nightmare.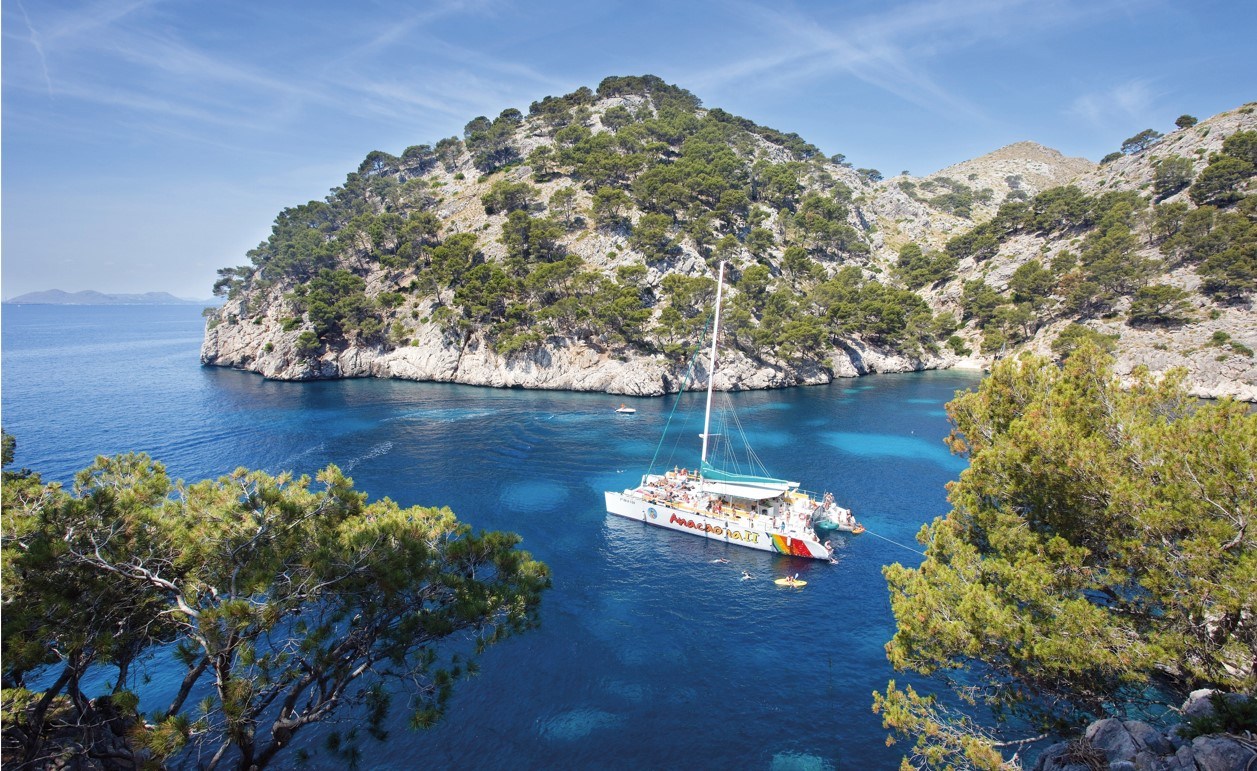 canoeing
Catamaran tours, glass bottom boats, boats and much more
Low Season Pros:
The pros to visiting Mallorca in low season or even in no season (the winter months) are similar to the cons of visiting in high season:
Prices: suddenly no longer full, hotel offers are everywhere and the holiday suddenly becomes a lot cheaper than it would have been in high season. As well as lower accommodation prices, there is often more choice for the traveller, who might have found their first choice of hotel fully booked in high season. As well as accommodation, airlines often have great flight offers in low season to sell all the seats on the plane.
Pleasant weather: unless you are very unlucky, you will always find mild, comfortable weather in Mallorca. In low season, it is sometimes still possible to sunbathe, and the weather is perfect for hiking and cycling.
Peaceful island: you can find a parking space, you can find a space at the beach and you can get a sunbed by the pool – what's not to love? You can get a table at the restaurant you wanted to dine at and you can actually walk down the street on market day!
Low Season Cons:
Things are closed: Depending on which month you visit Mallorca in, you may find things closed. In low season in spring and in October, you may find theme parks and water parks closed but most other attractions open. But if you visit between November and March, you will find business boarded up, like hotels, restaurants, rent-a-cars and tourist offices. Unless you want to stay in a city, then accommodation is harder to come by.
Unpredictable weather: You could be in for a week of rain or cold in low season. And when it rains in Mallorca, it pours. On the other hand you could find glorious weather.
Activities are not operating: boat trips become less frequent and stop altogether in winter. The same can be said for tours to local beauty spots, such as Formentor, Soller or Sa Calobra. Something that does operate all year round are the excellent horse riding activities around the island. See below:
Beaches
If you love beaches, you have to remember there is also a best time to visit Mallorca and a not so optimum time depending on which beaches you intend to visit and what you want to do at the beach.
First of all, click here to discover the best beaches in Mallorca… but then come back to continue reading about when is the best time to visit.
Being an island in the Mediterranean, you are spoilt for choice for beaches in Mallorca. From wide sandy bays with beaches of fine white sand stretching for miles, to remote hidden coves that you can only reach on foot or by boat. The great news is that there is something for everyone. And the even better news is that you can visit Mallorca's beaches all year round – not necessarily for sunbathing, but for other activities.
Best time to visit Mallorca for sunbathing at the beach:
The summer is long in Mallorca and you can top up your tan all year round if you find a sheltered spot. However, the best time to visit Mallorca if you want to sunbathe at the beach is in summer, so that you can enjoy the hottest weather. Careful though, because many visitors find it too hot in Mallorca to sunbathe in July and August. May, June, September and October are ideal sunbathing months.
If you do decide to come to Mallorca to sunbathe on our beaches during the hottest months, then you will be here in high season. That means that you will have to choose your beach carefully if you want to actually find a spot to put your towel down on the sand! One of our favourite beaches to visit in high season is Aucanada Beach because it is right by a big tourist resort (Alcudia) and yet it is more frequented by locals than by holiday-makers, meaning that it doesn't get too crowded.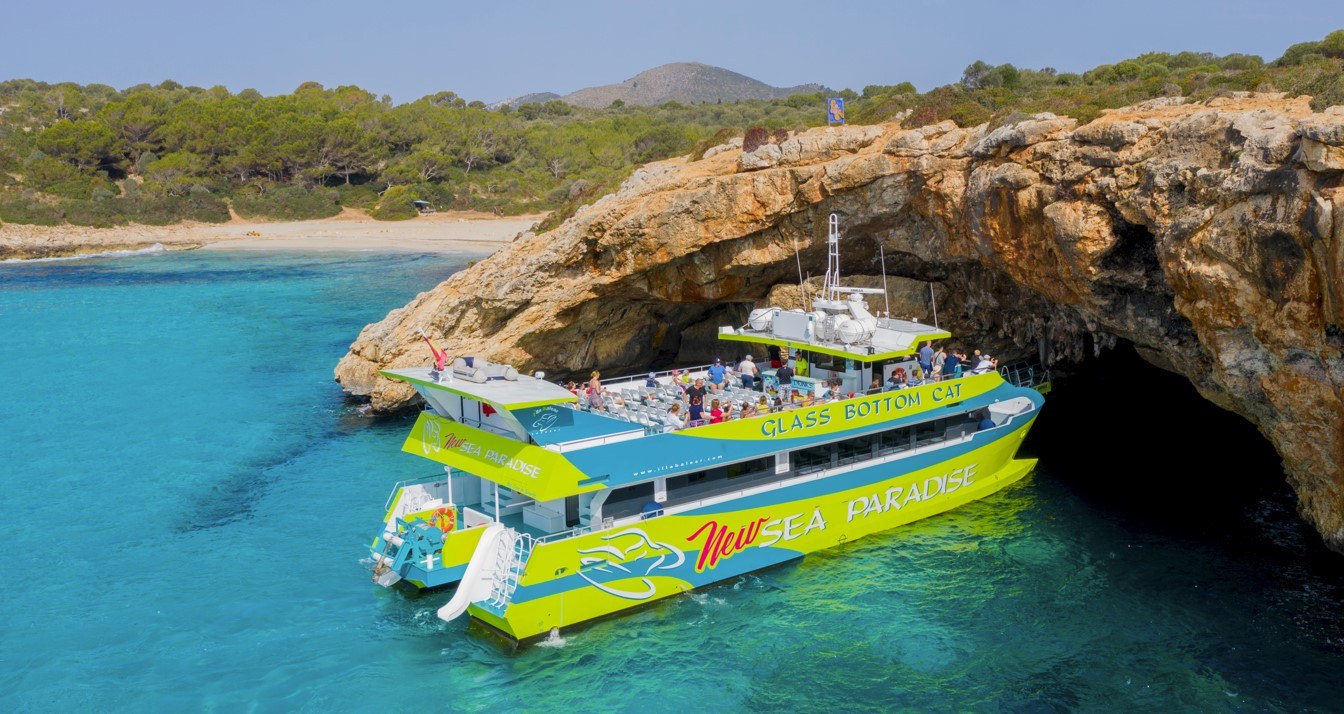 canoeing
Boat trip to Cala Varques
Discover some of the best coves in Mallorca from the sea
Best time to visit Mallorca for exploring new beaches:
Not everyone goes to the beach to sunbathe or swim. There are some amazing walks that take you around the coastline, interconnecting several beaches in one day, meaning you can walk, stop, enjoy the views, have a picnic… This kind of beach exploration is far better in winter than in summer: you will find fewer people; and the weather will be kinder for walking.
Best time to visit Mallorca for water activities or swimming:
If you want to get in the sea and spend any amount of time swimming, then you will certainly be more comfortable in the summer months. The water is the perfect temperature for swimming and water activities in July, August and September. During high season, on the bigger beaches where there are many hotels, there are all kinds of water activities on offer, such as banana boat, parasailing and jet ski. You will find these kind of services on big beaches such as Magaluf, Palma Nova, Santa Ponsa, Alcudia, Puerto Pollensa and Cala Ratjada.
Best time to visit Mallorca to take your dog to the beach:
If your dog loves splashing in the waves, rolling in the sand and bounding over the sand dunes, then you absolutely MUST take him to the beach in Mallorca. There are several dog-friendly beaches in Mallorca, where your furry friend can have new and exciting adventures BUT this is strictly restricted to low season. You may not take your dog to the beach at all between May and October, so make sure you visit between November and April if you are bringing your dog on holiday.
Hiking and Outdoor Activities
If you are planning to visit Mallorca so that you can explore the countryside or the mountains on walking tours or hikes, then the best time to visit is between October and April when the weather is cooler and these kind of actvities are more pleasant.
It is a joy to hike in the Serra de Tramuntana Mountains in the winter time when there are few people and the weather is just right. In winter there are many clear, bright and sunny days in Mallorca and the views you will have on your hikes will be superb.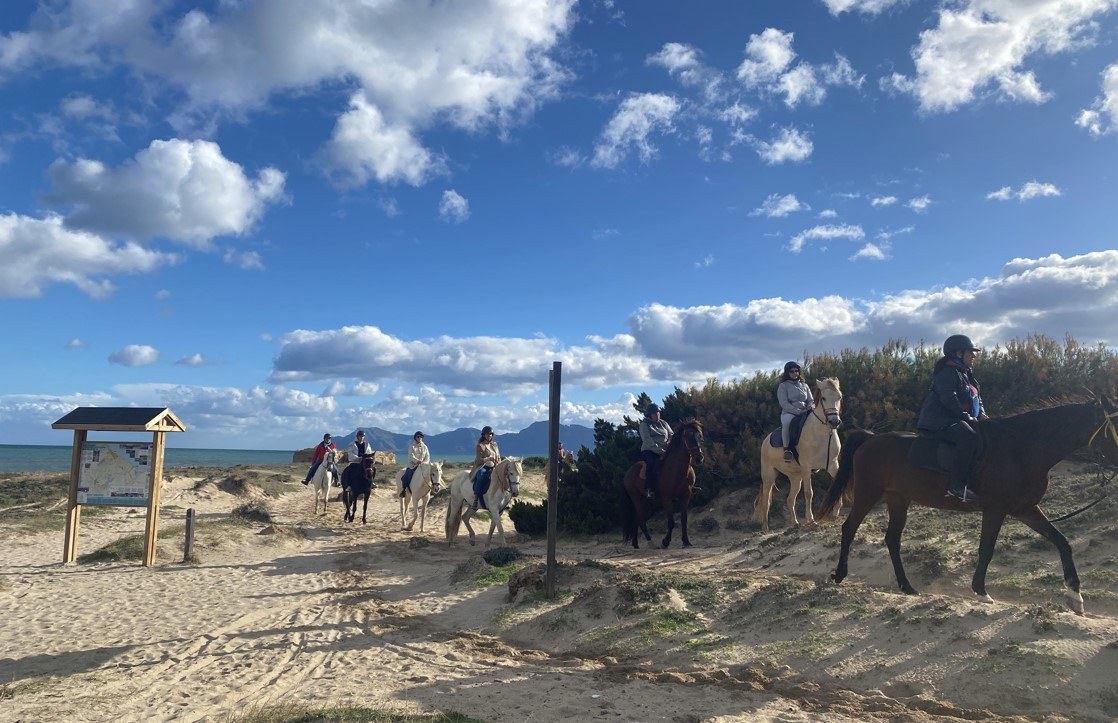 canoeing
Horse riding, pony treking and riding clubs in Mallorca
Read this article for ideas about the best hikes in Mallorca.
Perhaps your preferred outdoor activity is cycling, rather than hiking. Mallorca is a huge destination for cycling teams who come from Northern Europe in the winter months when the weather in their own country is too cold, but in Mallorca is just perfect. This goes for competitive professionals, long distance cyclists and mountain bikers.
Festivals and Events
If you want to visit Mallorca for a particular event, then you will have to visit on the day of that event! Yeah, ok, you already knew that, we're just messing.
Some local festivals or events that people make a special visit to Mallorca for are:
Three Kings Parades in January: When in many cultures Christmas is all done and wrapped up, in Mallorca (and Spain in general) the celebrations are in full swing with the three kings processions where the "kings" (local people who audition for the part each year) arrive on boats to all the island's ports and parade all around town on elaborate floats throwing out sweets and candies to all those watching. After the procession, the local children return home to find that the kings have been to their house while they were out and have left their Christmas presents!
Sant Antoni fiesta in January: This festival is huge in the towns of Sa Pobla and Muro, where Sant Antoni and El Dimoni (Saint Anthony and the devil) battle it out in the main town square and then everyone celebrates with barbecues and espinagadas (pastries made traditionally with eel).
Almond Blossom viewing in February: In February Mallorca's seven million alomond trees burst into bloom, filling the countryside with joyful white blossom that looks like snow from a distance. There are even special tours for viewing the almond blossom that are just available for the short time that the trees are in bloom.
Binissalem wine festival in September: Binissalem is where most of Mallorca's wine is produced and there is a massive harvest festival during the whole of the last week of September. There's a fun run through the vineyards, activities for children and a big party in the town hall with stalls, dancing and wine tasting.
Dijous Bo in November: All the towns and villages of Mallorca have their own local fiesta in which there are stalls, dancing, activities and exhibitions. Dijous Bo (good Thursday) is the biggest of them all and it belongs to Inca, the town in the middle of the island. All the streets are lined with stalls and activities; the restaurants take part with special menus; and there are food trucks and fairground rides throughout the town.
Cultural Attractions
Finally, if you are visiting Mallorca to discover its historical monuments, such as its castles, Palma Cathedral or museums, the great news is that you can book your holiday for whenever you feel like it. All these things can be visited in summer or winter. And all are well worth a visit too, but you can't get round them all. Here are some of our favourites of Mallorca's historic monuments:
Bellver Castle: The Castillo del Bellver has a dark history, which you can learn about during the visit to the castle and its museum. One of the best things about Bellver Castle is its fantastic location atop a hill just at the edge of the city, from where the views of the port, the city, the cathedral and the surroundings are vast.
Palma Cathedral: No visit to Mallorca is complete without visiting Palma Cathedral. Dominating the seafront and the port of Palma, the cathedral is one of the most interesting in Spain, with its moorish roots and eclectic architecture by artists such as Gaudi and Miquel Barcelo.
Capdepera Castle: Head out east to spend a day in Capdepera, which you can combine with lunch and a stroll in Arta or beach time at Cala Ratjada. Capdepera Castle is one of the best preserved defence fortresses on the island, where you can walk around the ramparts and see exhibitions about old local trades.
Pollentia Ruins: Long before Alcudia existed, the Romans founded the City of Pollentia in 123bc which, for them, was the capital of Mallorca. Today these ruins, complete with amphitheatre, in the old town of Alcudia are the best preserved Roman ruins in the Balearic Islands, which archaeology students come from all over the world to study.
The list of things to see in Mallorca is long. What's at the top of your list?
---
Whatever it is that you would like to do or see in Mallorca, we hope that we have been able to help you to decide when is the best time to visit for you or your family. The most important thing is not when you visit Mallorca, but that you DO visit Mallorca!
And we certainly look forward to seeing you.
---
Plan your holidays in Mallorca