Circular Walks in Mallorca: 12 Easy Hikes
It feels like there are a million and one hiking routes in Mallorca, so how do you know which one to choose? Don't worry: we have narrowed it down to the best circular walks in Mallorca, and we have opted for walks on the easier end of the spectrum – but don't be fooled: there's still a challenge or two in there! Our walking and hiking experts at Click-Mallorca have selected these 12 circular walks based on the following criteria:
Well marked routes
Routes that do not require much physical effort, because they are simple and comfortable to follow
Walks you can do with children
Routes that are short duration, short distance and circular
About this article
This article has been written by the team of experts in excursions and tours at
Click-Mallorca
. We are a specialized travel agency in Mallorca dedicated to leisure activities; tours and excursions; and other things to do in Mallorca.
We live on the island and we have over 15 years' experience creating and offering excursions. We know the island inside out, and we are dedicated to producing helpful and interesting articles for our holidaymakers coming to Mallorca.
We have included a variety of routes, as not everyone has the same preferences. There are those who prefer only mountains, there are those who like to see the sea, others prefer routes with few people… Of course, in the last routes that we offer you, towards the end of this article, we have raised the level of difficulty a bit, either in duration or terrain.
Soller and Biniaraix Circular Walk
The Soller Valley is one of the main hiking spots in Mallorca: hardly surprising considering its pure natural beauty, with fields of olive trees and orange trees, quaint hamlets and villages and magnificent views out over the Mediterranean – all nestled in the Serra de Tramuntana Mountain range.
Biniaraix is one of those beautiful places in the Soller Valley: numerous walks start there, one of the most recommended being that of the Biniaraix Ravine. In fact, we include this route in our selection of the best hiking routes in Mallorca.
The circular walk that we propose today leaves from Soller Town and the entire walk takes around one and a half hours, although there are options to make it longer should you wish: for example, you could double the length of time and include Fornalutx; plus, with the amount of stop offs and viewpoints, you could easily make a day of it. But in keeping with the theme of easy circluar walks in Mallorca, our proposal is to simply set off from Soller and walk through the Binibassi Estate and the beautiful town of Biniaraix. You can enjoy a peaceful landscape, with old houses, mountains, lemon and olive trees. At the end, you can take the opportunity to take a walk through Soller.
Binibassí is a typical Mallorcan Estate that belongs to Fornalutx. Like all the names in Mallorca that have the prefix Bini, the name is of Arabic origin. The estate is built on the same site where there used to be a Muslim farmhouse called Benibassim. There is a defensive tower from the 16th century which is still preserved.
La Reserva Park, Puig de Galatzo
If you are looking for a circular walking route in Mallorca to do with children, look no further. La Reserva del Puig de Galatzo is ideal for children, we love this option. And the circular itinerary of about 3 kilometers inside the park is very easy to hike, taking you through the forest.
During the walk you will see a great variety of vegetation, this variety is due to its abrupt landscape, since it varies from 200 meters above sea level to 1,026 meters from Puig de Galatzó Hill. In addition to plants, the reserve is home to different animals, such as: brown bears, emus, fallow deer, genets, wild donkeys, goats, peacocks, geese and countless species of ducks in an environment of caves and waterfalls.
All the animals here are rescues. Many have lived in poor conditions, have been mistreated or suffer from other problems, meaning that unfortunately they cannot fend for themselves in the wild and therefore cannot live in total freedom. La Reserva del Puig de Galatzo Park is a place where they can enjoy a second chance and enjoy a peaceful life – for many, it was that or be sacrificed.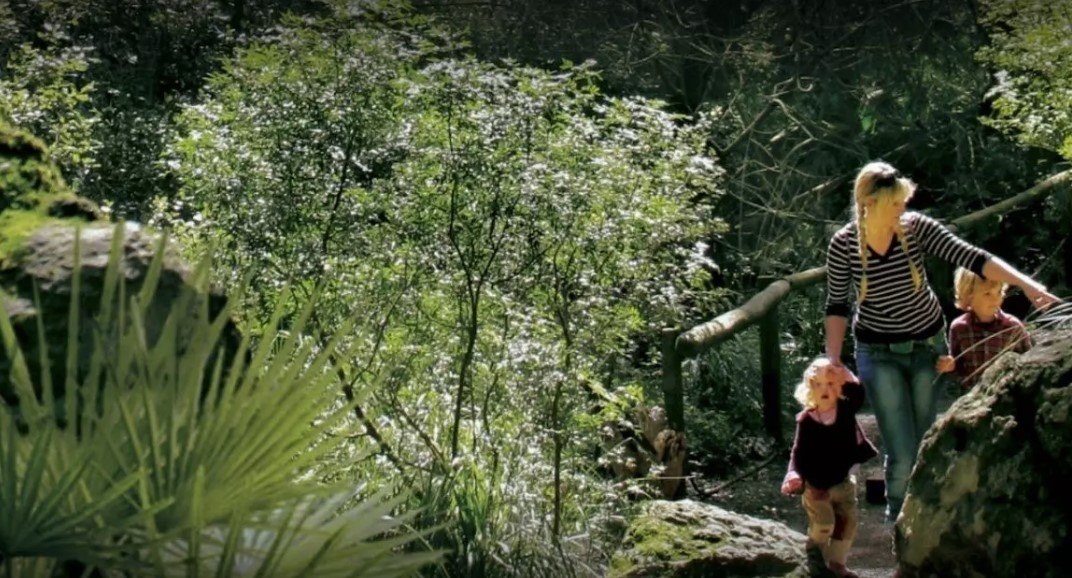 canoeing
Enjoy a day in the nature park area


The walk is along old paths of charcoal burners, in a terrain of slight ascents and descents, and consists of 3.5 km passing by waterfalls of extraordinary beauty, and spotting various animals. After a walk of approximately an hour and a half, you will find a rest area where there are tables to eat and a bar service. And in summer a pool area.
Lluc Monastery
A walk in the area of the Sanctuary of Lluc could not be missing from our list of circular walks in Mallorca. This is one of the classic and most popular areas for walking, which takes us to the religious center of the island. Lluc is in a beautiful valley 400 meters high, surrounded by mountains and trails.
The route that we propose does not take you to any of the high mountains near Lluc, such as Puig Tomir or Puig de Galileu. On the contrary, it is a circular walk, with just a slight climb. The route leaves from the Monastery of Lluc towards the sports field, and from there you will see wooden sign posts pointing out the direction of Camell. The Camell is a karstic stone rock that time has shaped to resemble a camel. From there you can follow the indications to the Comet des Morts, an old prehistoric cave, and by that time you will be making your way back round towards Lluc Monastery where you started.
Ancient History at Son Real
The Son Real Estate is a property located near Can Picafort. Part of the estate was acquired by the Balearic Government in 2002 due to its ecological and archaeological importance and has since been a public heritage site with free entry for visitors. They created an information center in some of the old buildings, as well as different easy hiking routes ranging in length from 0.5 km to 3.6 km (one way) on mostly well maintained gravel paths. When you arrive at Son Real you will see informative signs of the four walking trails that can be done. All the itineraries are perfectly indicated, and on the information panels there are maps of the route. There are routes that can be followed on a bike and there is a route especially for those enjoying the coast on horseback.
We propose a circular route combining the different itineraries to reach the Son Real Refuge. From there, observe the old watchtowers, and continue along the coast. You will reach the Punta des Fenicis necropolis, and from there you can return to Son Real.
Circular Walk in Santa Eugenia
Santa Eugenia is in the Raiguer area of Mallorca and there are many hiking trails, which is something that not many know. In this case, the trail that we propose is an extremely easy and entertaining route that can be completed in just two hours.
From the church of Santa Eugenia we will go to the Lourdes Cave, a very special place with an interesting history. From there, we will go to the Ses Olleries llogaret, and from there along a path to the top of Puig de Santa Eugenia, 243 meters high. From there you can see an extraordinary view of the Pla de Mallorca. Once at the top, we will begin the descent towards a "submarine" or "UFO" (yes, yes, you will see what it is when you do the excursion!) and then return to the starting point.
Son Jaumell Watchtower
Our next Mallorca circular walk takes us to the area of Cala Ratjada. From the beach of Cala Agulla we suggest an excursion to the old defensive watchtower of Son Jaumell. It is a route of barely 6 kilometers, and can be done in about two hours.
The first part of the walk will show you the beautiful beaches in the area, such as Cala Agulla itself and Cala Moltó, with its crystal clear waters. Then you'll walk through a pine wood, and then begin the ascent to the remains of the old defensive watchtower of Son Jaumell. Continuing down the hill on the other side towards Cala Mesquida, you will see that there are lovely views from the path, which takes you to just before the beach at Cala Mesquida. From there you walk towards Coll de Sa Marina to return to the starting point of the excursion at Cala Agulla.
Circular Walk in Valldemossa
There is a beautiful and easy circular hiking route through Valldemossa, under the shade of magnificent holm oak forests. Part of the route is an old charcoal burners path, where you will find remains of their houses and "rotllos de sitja" where they made charcoal.
This circular route is about 6.5 kilometers long, with some unevenness, but without too much difficulty. It can even be done at sunset in summer, since almost the entire route has shade. You will need around three hours to complete the whole route.
Circular Walk in Deia
A very simple circular walk that you can do as a family, as it is ideal with children, and that will not take you more than two hours, is this unbelievably picturesque walk in the Tramuntana Mountains. The route begins in the town of Deia, and is very well signposted. The route is around 5km long and there are some hills.
It is a short hike that you can do all year round, and in summer you can take the opportunity to stop for a swim in Cala Deia. At the end of the walk, make sure you save time to visit the town because there are many things to see and visit in Deia. It is a charming town, and it is a pleasure to walk through its streets. We recommend you go up to the church, from where there is one of the best views of the surrounding area and out to sea.
Cuber Reservoir
We are 800 meters high, at the foot of Puig Major, the highest mountain in Mallorca. With such information, one may think that easy routes can hardly be found in this area. But yes, there are! Here we have the Cuber reservoir.
It is a circular route, and is almost perfectly flat – despite being at such an altitude in the mountains. This makes it fit perfectly in our list of easy and circular walks in Mallorca, and it is also suitable for families. The trail always follows the edge of the reservoir and is very easy to follow.
The first part of the route, from the entrance to the reservoir area to the dam, is a paved road, and the rest is a dirt track. Next door we have the recreational area of the Font des Noguer, with benches and wooden tables, where you can enjoy a picnic at the end of the excursion.
The route covers a distance of 4.5 kilometers, and can be done in 90 minutes.
Semi-Urban Walk in Alcudia
Walks don't always have to be in the countryside. We like variety, and so offer a few different suggestions. In this case, we go to one of the most beautiful towns in Mallorca: Alcudia. We propose a varied route, which begins with a walk around the walls of Alcudia and takes in town and coast.
Get down from the walls close to the Plaza de Toros (bull ring), and from there, walk towards the coast, to the More Vermell Hotel. There you will find a beautiful and small beach with excellent views over to the next bay: the bay of Pollensa.
Following the coastline along a small path, and with beautiful views of the Bay of Pollensa, you will discover many beauty spots. You will see an old fisherman's house, an old stone quarry, views of Cap Formentor and the Alcudia watchtower. All these charming and rustic spots are a million miles away from the hustle and bustle of the tourist resort of Port de Alcudia and yet it's just a ten minute drive away.
And so, we will discover two beautiful beaches in Alcudia: Sant Pere and Sant Joan. You could easily make a whole day's excursion with this walk and spend time swimming and sunbathing at these beaches. After the beaches, return to the asphalt, and at the Bodega del Sol restaurant, head back towards Alcudia.
Take a Walk in the Albufera Natural Park
The Albufera Natural Park in Playa de Muro is very close to Alcudia and is the largest and most important wetland area in Mallorca, with 16,500 hectares. On this occasion we propose something "different": do the route by bike, and opt for the 14km itinerary.
This circular route begins at the entrance of the natural park. The itinerary is very well indicated, and during the route there are several information panels with the itinerary (it is route number 3). During the excursion you will be able to find viewpoints, observation towers, irrigation canals, bridges, cultivated fields and streams. A very varied route. If you don't fancy cycling, you can follow one of the walking trails through the Albufera Park instead. If you visit in summer, be sure to take a hat as there is not much shade.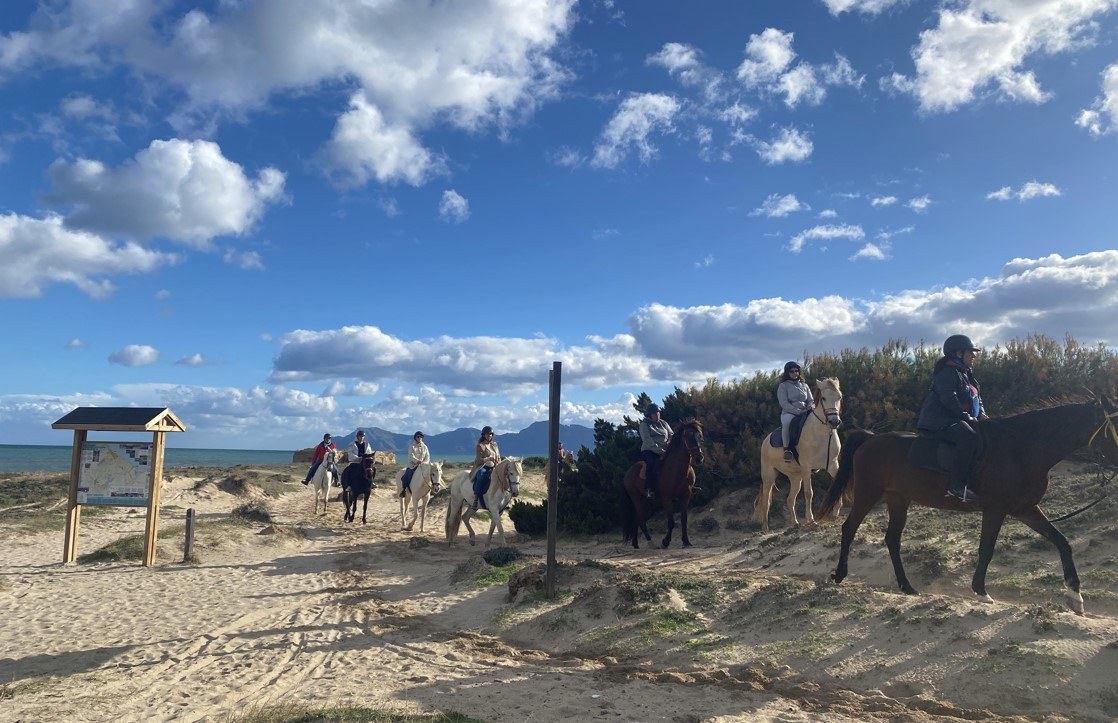 canoeing
Horse riding, pony treking and riding clubs in Mallorca
A good idea to combine the last two routes in the Alcudia area is with a horseback ride in the afternoon. In the banner above we give you some great ideas. Or if horse riding doesn't fit with your plans for walking, it is something you can consider doing another day.
La Moleta de Binifaldo
We are almost finished with our proposals for circular walks and easy excursions in Mallorca. And if we have started with short routes, in this case, we opt for a slightly longer route. It is 10 kilometers long, but is very flat.
The route can be done all year round, as it runs through leafy forests, and being 400 meters high, it is always cool. The walk starts at the Son Amer refuge, a beautiful viewpoint near the Lluc Monastery. There, you will already see a panel with the route to follow. Throughout the route there are signs, and the route that skirts La Moleta de Binifaldo is very easy to follow, running half of the path along the GR 221 trail and it is difficult to get lost and get off the path. The ascent to the Moleta de Binifaldó is the most challenging part, and here the track gets quite rocky, but it is easy to avoid the climb by following the route around the hill instead.
---
We hope this article has helped you to plan your next circular walk in Mallorca. If you have already done some hiking in Mallorca, did you like it? do you have any recommendations? Leave us your comment. If you liked the post, share it on your social networks…
---
Plan your holidays in Mallorca