Sustainable Tourism in Mallorca: Activities
Sustainable tourism in Mallorca is relatively easy to achieve nowadays, with a wide variety of options for visitors to the island to choose responsible tourism and enjoy eco-friendly activities throughout the year.
At click-mallorca we are aware of the need to promote sustainable tourism that protects the heritage and natural resources of Mallorca. For this reason we are adopting an ecotourism approach and we are trying to encourage our partners to do the same. That's why we want to promote activities and tours with as small a carbon footprint as possible, to show that tourism can be more respectful of the environment. Below, we give you some ideas of green activities in nature while protecting the island's natural resources.
About this article
At
Click-Mallorca
the subject of sustainable tourism is one that is very close to our hearts. That is because we are from the island and we love the island. We want to preserve our natural beauty spots and conserve our special ecosystem.
We have over 15 years' experience creating and offering excursions. We know the island inside out, and we are dedicated to producing helpful and interesting articles for our holidaymakers coming to Mallorca.
The Best Sustainable Tourism Activities in Mallorca
The protection of the island is in our hands and we must all do our bit to achieve it. At click-mallorca we work with this objective in mind and we know that many of our clients and collaborators share our vision. Today it is possible to organize trips or events for groups that respect the environment in Mallorca.
Our proposals for sustainable tourism activities in Mallorca cover a wide variety of options, both for exploring the interior of the island and for enjoying its beaches.
We offer guided excursions through the natural landscapes of Mallorca: in its magnificent mountains, where you can enjoy the rich biodiversity of the island; visits to wineries that produce organic wine, and where you can discover traditional local gastronomy; kayak tours; and even an excursion on an electric catamaran. As well as all this, we offer a selection of responsible bike tours and beach activities.
canoeing
Boat trips, horse riding, bus tours, attractions tickets and much more
In summary, our sustainable tourism proposal in Mallorca includes a wide variety of activities both inland and on the beach that seek to promote a tourist experience that is respectful of the environment and local culture.
We explain all the activities in more detail below.
Mallorca off-the-beaten-track Guided Bike Tour
On this 3.5-hour guided bicycle tour of Alcudia, you'll discover areas away from the tourist hub. You'll be riding on country lanes and back roads, away from traffic. First we will visit the old town of Alcudia, where your guide will explain the different points of interest. Then, cycling out of town we head towards the coast to cross to the Bay of Pollensa. You will have the opportunity to cycle along a beautiful stretch of coastline while your guide talks to you about the local nature and the uniqueness of this beach and its posidonia.
On this sustainable bike tour, you will discover the Albufereta wetland, a protected natural area full of wildlife and tranquility, where you can go up to the viewing platforms to enjoy the views of the marsh area and the Bay of Pollensa. Then, cycling along the rural roads you will have pretty views of the countryside and the sea. You will also get to make a stop at a rustic farm dedicated to local agriculture where they will serve you a fresh juice and you will taste a salad created using ingredients grown right there on the farm. Finally, we will return to the starting point at a relaxed pace.
This bicycle tour is a great introduction to the rural side of Mallorca that many don't get to experience. The tour takes place in small groups, providing a friendly and informal excursion, which is ideal for those who want to travel responsibly and are concious of the effects of their carbon footprint.
Visit to a winery with tasting of organic wines and KM0 products
Have you heard the term KM0 (kilometer zero) before? In Mallorca, this is the term we use to describe food products that have not had to travel to get to their destination, where they will be served. It means "locally sourced", "farm-to-fork", "farm-to-table"… or perhaps you have a different phrase where you live.
We take you on a wine-tasting experience at a Mallorcan winery where you will have the opportunity to delve into the world of the island's wines. It is an activity in which you will visit the winery, the vineyards and a typical Mallorcan estate that has been preserved as if time had not passed.

The visit to the winery will also allow you to discover the grape varieties of Mallorcan wines, and learn first-hand about the entire winemaking process at this particular bodega.
With this wine cellar experience you will taste a selection of four Mallorcan wines accompanied by a tasting of four typical appetizers of local gastronomy: coca de trampó, panades, bread with sobrassada and cremadillos. All of these products are made locally or even grown on the property.
During the tasting we will discover the details of the color of the wine, its aromas, how it ages and many more interesting facts. If the weather is good, we will do the wine tasting in the outdoor gardens, a really special place in the winery. You will also have the opportunity to explore the grounds and see how the farming and agriculture side of things ties in with the tourism side of things, giving you the perfect chance to enjoy sustainable tourism in Mallorca and meet some of the people that are trying to make a difference and reduce their carbon footprint.
Excursion on an Electric Catamaran
This electric solar catamaran tour in Mallorca is a completely new concept and is a massive win for ecological tourism. A sustainable and environmentally friendly experience that will allow you to distance yourself from mass tourism while you travel along the coastline without polluting.
The excursion begins in the Port of Palma and, from there you'll sail around the bay, with views of the Cathedral and the city walls. Leaving the city area, you'll head to the peaceful Cala Vella area and make two stops for swimming: Cap Rocat and Cala Vella. In this second cove we anchor for almost two hours and you can snorkel, stand up paddle, swim to shore or relax on the catamaran.
Throughout the excursion you will have drinks included in the price, as well as a buffet that is served after anchoring in Cala Vella.
Kayak Tour
You won't find a more ecological activity than joining a kayak tour and, at click-mallorca, we have a route from Alcanada Beach where you can explore the gorgeous coastline and get close to nature. You can paddle your kayak to an islet where there is an old lighthouse, park the kayak and explore the islet, where there are hidden bunkers.
Behind Alcanada Beach you will discover small coves where you can take the opportunity to snorkel and, if you continue along the coast, you will find sea caves and cliffs.
This kayaking proposal is an activity that focuses on respect and sustainability of the environment. As well as this, you will have the opportunity to discover one of Mallorca's most important natural areas. It is an excellent option for those who want to enjoy nature in an active and responsible way.
Horse Riding on the Beach
We propose another sustainable activity, this time with animals. It is a three-hour horse riding route along the beach, with qualified guides and trained horses for all kinds of riders: beginners, experts and children.
Before starting the route, you will choose your horse and the guide will give you some recommendations and advice so that you can enjoy the ride to the fullest.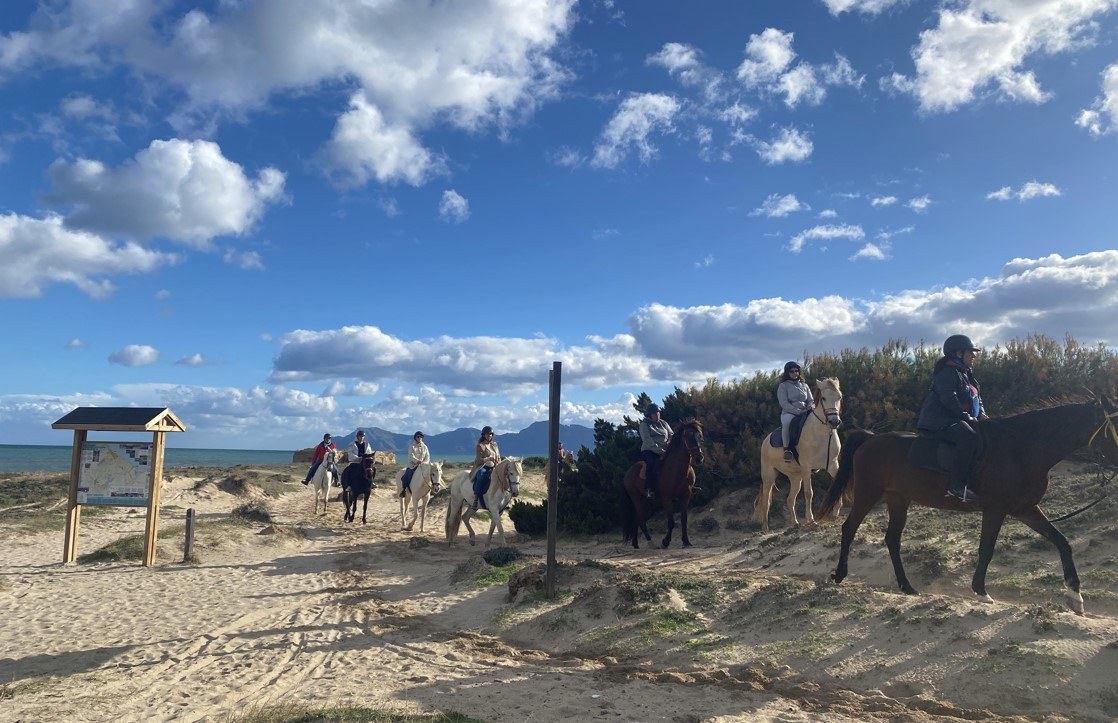 canoeing
Horse riding, pony treking and riding clubs in Mallorca
The three-hour tour takes place along the beach, first passing through a pine forest and along trails near the Son Bauló stream, until you reach the beach where you can enjoy the views of the sea while you ride. With the wind in your hair, you will reach Son Serra de Marina from where there are magnificent views of the whole bay.
Mallorcan wine and cheese tasting
If your passion is gastronomy and you like to discover local products from the places you visit, you will love this tasting of wines and cheeses selected by experts. In this tasting you will try four wines from indigenous varieties and four artisanal cheeses, made from goat's, sheep's and cow's milk. An ideal tasting for those who enjoy the pleasure of drinking wine and eating cheese, two ingredients that pair perfectly. We mentioned KM0 earlier in this post and, with this sustainable tourism activity, you will be tasting products that are exclusively made in the Balearic Islands (you won't find a wine from La Rioja or a cheese from France!).
This is not a professional wine tasting; it is simply a way to have a good time, tasting and getting to know the rich gastronomy of Mallorca with likeminded people.The explanations about the wine and cheeses that we will give you are not technical about the production, but rather are related to curious details and the history of each product, because each of the products we have chosen has something fascinating.
In the tasting activity, we will pair a fine white wine with an artisan goat cheese from Pollensa, a second white wine made with red grapes that we will accompany with a cow's cheese from Campos. The third wine that we will try will be a rosé wine with a red sheep cheese and, finally, a red wine from a variety from Mallorca that has almost disappeared that we will taste with an artisanal goat cheese with carob ash.
The tasting also includes bread with extra virgin olive oil from Mallorca.
Hiking in Mallorca with a visit to a Bodega
Hiking through the Sierra de Tramuntana is an unforgettable experience for lovers of nature. On this sustainable excursion, in a small group of up to nine people, you will discover one of the best routes that can be done in Mallorca. You will visit charming historical villages, a hidden beach and also a winery in Banyalbufar.
This excursion leaves from the center of Palma by public bus that takes us to the old Camí del Correu route that was once the only way to get between Esporles and Banyalbufar, where you will enjoy the vegetation and panoramic views of the sea and the mountains.
The hike will take us to Banyalbufar, a small town in the mountains with only 200 inhabitants, from which we will enjoy incredible views of the Tramuntana Mountains and the Mediterranean Sea. A good chance to see a local village and learn about the Moorish times and the farming terraces that were built there.
Then we will make our way down to Banyalbufar Beach, a secluded pebble beach, where we will take a break and enjoy a picnic of Mallorcan gastronomic specialties.
Then you will have a choice: time to relax on the beach or visit a local wine cellar in Banyalbufar, which uses Malvasía grapes, which are only normally cultivated in this corner of the island.
Olive Oil Tasting
On the outskirts of Valldemossa, located in a privileged enclave in the mountains on the way to Deià, is the Son Moragues estate. A 14th century farm that has 100 hectares of olive groves with more than 10,000 centenary olive trees and a production of exquisite olive oil that has recently been recovered.
The production of olive oil from Son Moragues is organic and its oils have the designation of origin "Oli de Mallorca". On the farm they have an oil tasting activity for small groups of 2 to 6 people, in which an expert explains how the olive oil is produced organically and shows you the characteristics that a good olive oil should have.
On this activity you will have the opportunity to taste the oils produced on the Son Moragues farm in an exceptional setting.
Glamping
Glamping has become fashionable in recent years and there are companies that offer this comfortable camping experience in a sustainable way. With The Glamping you can enjoy the eco-glamping experience of camping in the middle of the forest in sustainable organic cotton tents equipped with handmade furniture and LED lighting.
This responsible tourism experience offers you the chance to spend the night, eat and walk outdoors in special corners of Mallorca that will allow you to connect with nature and enjoy a unique immersive experience, while causing a minimal impact on the environment.
Click-Mallorca.com
We want to tell you that we, as a company, also try do our bit. We are the result of digital transformation and, for this reason, we do not generate waste as we don't have an office, and we do not emit CO2 by not using transport to get around. We issue digital tickets for all our excursions and tours, with the consequent savings on paper and we organize most of our excursions in shared transport, thus minimizing the environmental impact. If you have any thoughts or suggestions on this matter, we would love to hear them and, whenever possible, implement them.
We hope you have found this article about sustainable tourism in Mallorca useful and we hope we have inspired you to try something different. Please feel free to leave us a comment with your thoughts, and if you have enjoyed the article, remember to share it with your friends.
Plan your holidays in Mallorca