Easter in Mallorca: Ideas and Things to do
Easter is getting very close and our experts in excursions and activities in Mallorca want to help you take full advantage of the holiday. That's why we have compiled some suggestions and activities to do at Easter in Mallorca.
Below is an index with our suggestions for excursions and activities at Easter in Mallorca, which we will gradually expand and update. Click on the activity that interests you to find out its details, or read the entire article so you don't miss anything.
Trekking Routes in Mallorca at Easter
Easter in Mallorca offers the opportunity to enjoy longer days with more daylight hours and better weather. A good plan is to go hiking as a couple, with friends or with family. A hiking trail is an excellent opportunity to be in contact with nature.
The options of hiking routes in Mallorca are endless, and it all depends on your level of ability, the people accompanying you and how much time you would like to spend hiking. Our top choices are hikes at Puig des Teix, Puig de Galatzo or even lesser-known hills such as Puig de Son Fe in Alcudia. As we are talking about things to do at Easter, we can assume that you have plenty of time and are off work, therefore you can enjoy a good, long hike or you can take your time on one of the easier ones with children.
Which are the best things to do with children over Easter?
Easter is a time when children have school holidays, the weather is normally mild and families have time to do things together. Here are a few suggestions…
Horse Riding
Horse riding excursions and activities in Mallorca are a great option for families with children of all ages, because it is something fun, exciting, different and, what child doesn't love animals? Some of the best horse riding activities around Easter time are:
Our new horse riding option for this 2022 is a pretty excursion with forest and beach in Can Picafort. No experience is necessary, and you will go with with professional monitors. More info here: horseback riding in Can Picafort.
A one-hour horse ride with a visit to the animal farm: it is ideal for families with children. If you are looking to surprise the little ones, they will love it. No experience is necessary, you will ride in a group with monitors and then you can all visit the animal farm together.
A three-hour excursion on horseback through forests and the beach: ideal for people looking to do something different this Easter. In small groups you go on trails, through forests and along the beach from Son Baulo to Son Serra de Marina.
Theme Parks with special offers and discounts
When the Easter holidays arrive, many amusement and theme parks in Mallorca open their doors, and they can be a perfect activity for children at Easter. Among the options available during the Easter holidays we have:
Enjoy Mallorca's Beaches
At Easter, the weather in Mallorca is not yet the best for swimming, but sometimes we enjoy high enough temperatures for at least a getaway to the beach to sunbathe a little and enjoy the seashore, taking advantage of the fact that the island is still relatively quiet on the tourist front. From click-mallorca.com we advise you to go to one of the beaches with large sandbanks, because the options are more varied, and they are not limited to just swimming and sunbathing. You can also take walks along the beach or have a drink at one of the beach bars. Some of the beaches in Mallorca that we recommend:
Playa de Port de Alcudia
Playa de Cala Millor
Playa de Palma
Another option is to enjoy some of the beautiful coves of Mallorca, and combine it with a hiking trail. Some suggestions are the beach of those of Coll Baix, Cala Murta, Cala Magraner or Cala Petita.
Boat Tours in Mallorca
A day at sea is an excellent option, and at Easter some boat trips and excursions are already offered in Mallorca with different routes and pretty itineraries. Among the options available for Easter we have the following (if you click on the name of each activity, you have more details):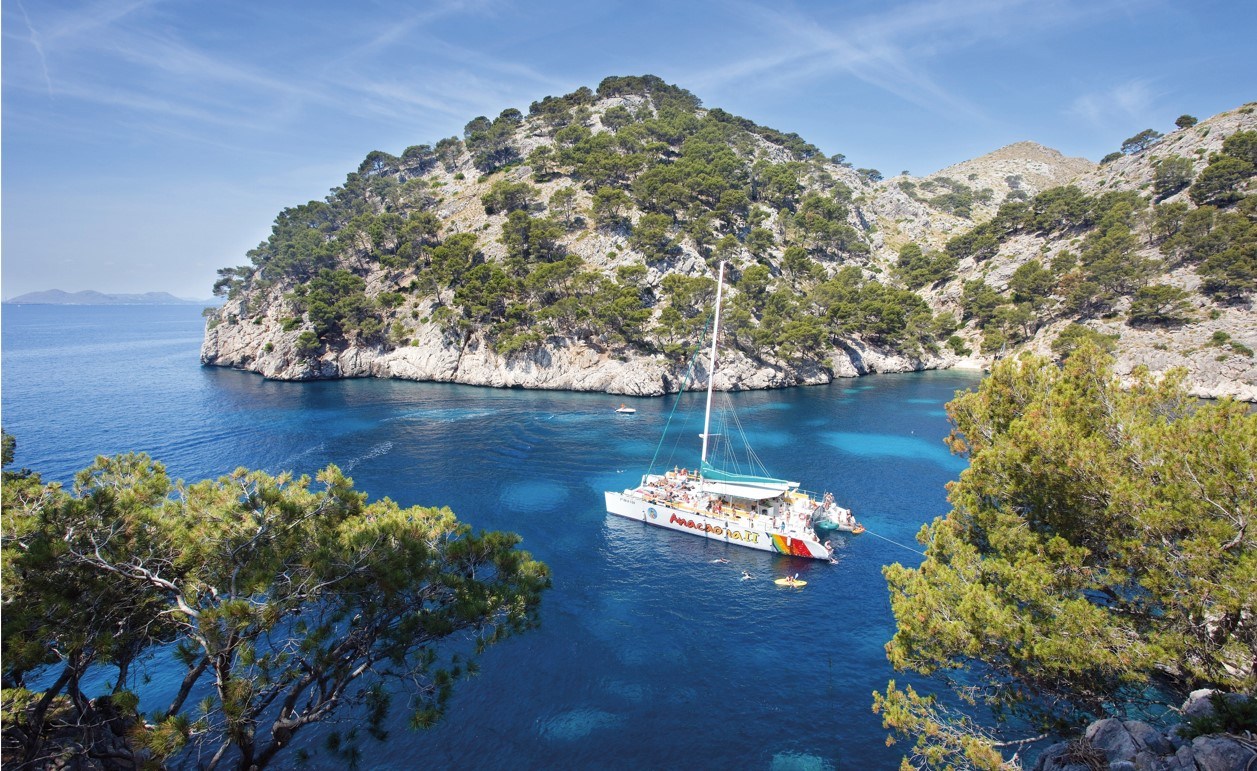 canoeing
Catamaran tours, glass bottom boats, boats and much more
It is true that in 2022 there are not as many options for boat trips as in other years, since many of the boat companies in Mallorca have decided to wait until later to start their activity.
Mallorca Caves Open at Easter
Mallorca has authentic treasures underground, and during these holidays it can be a perfect visit. Of caves in Mallorca there are more than 200 alternatives, although only five caves are open to the public for visits. The Caves open to the public in Mallorca for this Easter are the following four. Click on the name of each Mallorca cave fr more information about how to visit:
It is important that you check the opening days, since many plan to open only on weekends and bank holidays.
Activities at Easter in Mallorca to do Something Special
We have had some complicated and difficult years with the Covid, the restrictions, not being able to travel… That is why the Easter holidays are an ideal time to disconnect, be with the family, have time to relax… In fact, we've had a lot of inquiries from readers looking to do something special and unique for the Easter holidays, asking us for advice. We bring you two suggestions for unique and special activities in Mallorca during Easter:
Take a 30-minute helicopter flight through the Sierra de Tramuntana. You will see the most beautiful area of the mountains from the air, over Valldemossa, Deia, Sa Foradada, Soller… unique views that you will always remember. Info: Tickets for helicopter flights in Mallorca
A hot air balloon ride at dawn. Riding in a hot air balloon is the dream of many, and you can do it while enjoying the spectacular sunrise in Mallorca. From the hand of expert pilots who have been European champions. Info: Tickets for hot air balloon ride in Mallorca
Hotel Offers for Easter:
There are many hotels that have special offers for these dates over Easter, for the simple fact that it is still low season and they would like to fill as many rooms as possible. By spending some time doing a search on Google, you will surely find a bargain for Easter that suits your needs and at a good price in a hotel in Mallorca. An ideal option not only for residents of Mallorca, but also for those who are looking for a good excuse to come on holiday to Mallorca.
Check out the following hotels that usually have offers over Easter:
Hotel in Playa de Alcudia: The Aparthotel Alcudia Garden always has good deals for the Easter holidays with packages that include activities at the hotel and full board.
Hotel Horizonte in Palma: They always have very good offers for these dates. Your hotel has one of the best views in Palma, and is ideal for discovering the city. For information and booking: Tel. 971 400 661 Email: horizonte@amic-hotels.com
Discover the "Casas Santas"
The "holy houses" are unique monuments in which the religious images are displayed during the Easter period when there are no masses. Apparently it is a very old tradition linked to Holy Week and has its origin in the moment in which the procession deposited the Holy Host in an urn that is known as a monument, although in Palma the Mallorcan term "Casa Santa" is used.
Touring the old town of Palma to visit these holy houses in the different churches, parishes and convents can be an alternative plan over Easter, which allows us to learn more about this tradition. Some recommendations: Santa Eulalia church, La Seu, Santa Clara convent, Santa Magdalena, San Miguel Church…
Visit Mallorca's Museums At Easter
In Mallorca we have a very interesting selection of museums. Below we present a selection of some lesser known museums whose visit we recommend at Easter:
Manacor History Museum: Just before the start of Easter Week, this musuem has announced that it will become the first Balearic museum with an accessibility plan, and that they hope to have it completed in 3 years. The museum consists of the Torre dels Enagistes (its main headquarters), the Molí den Fraret (where the ethnographic complex is located) and the Son Peretó and s'Hospitalet Vell sites. They are organizing free guided tours, and we recommend calling 971843065 to sign up.
Museu de Mallorca: Located in the centre of Palma, it is a museum that is unknown to many. Now every Thursday they organize guided tours at 5:00 p.m., which are free and with limited capacity. And from March 21, family visits every Sunday at 12:00. You can call to book: 971177838.
Museo de Arte Sacro de Mallorca: located in the Episcopal Palace of Palma, next to the Cathedral. About a year ago it was completely remodeled, and it houses unique pieces such as the Jewish Rimmomins, works by Gaudí and medieval altarpieces.
An Excursion to Lluc at Easter
Lluc is one of the most special and sacred places in Mallorca, and another of our proposals for activities for Easter. There are many things to see and do in Lluc, such as visiting its church, listening to the Blauets sing or taking a walk around the Sanctuary. In addition, the Sanctuary always organizes special activities at Easter, such as markets, visits… that you can find on the Facebook page of the Lluc Sanctuary.
Then you can take a short excursion around the area, for example to the Cometa des Morts or to the famous Camell rock. They are ideal excursions to do as a family, both for their duration and for the level of difficulty (easy) they have.
Free Tours you can do in Mallorca
We have more free time over Easter thanks to work holidays and school holidays so we have time to really discover and get to know the island. Here are some ways that you can do so for free:
Free Tour in the Jewish Quarter of Palma: Sign up to tour the Jewish quarter of Palma on this free tour with a local guide. You will discover the history of the origin of the Jewish quarter of Palma, anecdotes of the life of the Jewish community in the call, of its conversion and much more in hours that will fly by. ONLY IN SPANISH.
Free Tour in Palma: We all know Palma and its main monuments, but not everyone knows curiosities and details of those buildings, which will surely surprise you. A unique opportunity to get to know the city.
Free Tour Palma by night: One of our favourites, in which you learn about the legends and mysteries of Palma at night. ONLY IN SPANISH.
For those who are unfamiliar with them, free tours are walking routes guided by a tour guide in which there is no fixed price, but each person gives a tip at the end of the free tour, based on what they consider. We have selected three free tours that will allow you to discover some of the most emblematic places in Palma and one of the most beautiful towns in Mallorca. By clicking on each name of the tour, you can see more information and reserve your place online.
canoeing
Boat trips, horse riding, bus tours, attractions tickets and much more
---
When are the Easter Holidays in 2022 in Mallorca?
Holy Week 2022 begins on "Palm Sunday", April 10 with 'Easter Sunday' to culminate a week later, on April 17. School holidays are extended until Tuesday, April 19:
– Palm Sunday 10th April
– Maundy Thursday 14th April
– Good Friday 15th April
To conclude our suggestions and activities for Easter in Mallorca, two of the most popular activities:
Easter Processions
One of the images of Easter in Spain are the processions that have their origin in the resurrection of the Holy Christ, being a tradition from medieval times, and that bring together all brotherhoods in the towns and cities of Mallorca year after year. Palm Sunday kicks off the festivities, which officially end the following Sunday, Easter Sunday. During this week, every town in Mallorca has its processions, and in some towns there are the Davallaments (the descent of Christ from the cross), which take place on Good Friday.
The most interesting processions are those of the capital of the island, in Palma, as they have a greater number of brotherhoods, in fact on Maundy Thursday about four thousand people could participate in the processional parades. But those of Alcudia and Pollensa also stand out, to cite two other examples.
Fira del Ram
As Easter gets closer, the Fira del Ram fairground appears and is set up in the Son Castello industrial estate in the Son Fusteret area.
In 2022, the fairground will be open from February 25 to April 24. There will be more than 160 booths and rides, with prices between €2.50 and €4. The stallholders will distribute 2×1 ballots to be used during the week, when there are fewer people.
To get to the Fira del Ram, there are several options. You can get there by car, and park in the parking lot next to the fair. It can be reached by EMT line 10 or by metro, getting off at the Son Fusteret stop.
The timetable of the Easter fair is:
Monday to Thursday: 16:30 – 23:30
Fridays and the eve of a bank holiday: 16:30 – 01:00
Saturday: 11:00 – 01:00
Sundays and bank holidays: 11:00 – 23:30
---
Plan your holidays in Mallorca