Easter in Mallorca: Ideas and Things to do
Easter in Mallorca is a wonderful time to experience the island. Now Easter is getting very close and our experts in excursions and activities in Mallorca want to help you take full advantage of your holiday. That's why we have compiled some suggestions and activities to do at Easter in Mallorca.
Below is an index with our suggestions for excursions and activities at Easter in Mallorca, which we will gradually expand and update. Click on the activity that interests you to find out its details, or read the entire article so you don't miss anything. You will find that we have chosen a great range of Easter activities for visitors to the island as well as Mallorca residents, such as what the local people eat at Easter, how they celebrate in family and about the important and processions which take place through the towns and villages.
Weather in Easter in Mallorca
Probably the first questions that comes to you when planning your holiday in Mallorca in Easter is: how is the weather? The weather in Mallorca in Easter can vary depending on the year, but typically the island experiences mild to warm temperatures during this time of year. The average high temperature in April, when Easter typically falls, is around 22°C (72°F) and the average low temperature is around 12°C (54°F).
Mallorca can experience some rain during this time of year, but it is generally considered a good time to visit Mallorca as the weather is usually mild and pleasant. The island also benefits from a good amount of sun hours, so it's a good time for outdoor activities, and for people who enjoy mild temperatures. However, it's always recommended to check the forecast closer to the time of your visit, as weather can be unpredictable.
Easter Parades and Processions in Mallorca
One of the images of Easter in Spain are the processions that have their origin in the resurrection of the Holy Christ, being a tradition from medieval times, and that bring together all brotherhoods in the towns and cities of Mallorca year after year. Palm Sunday kicks off the festivities, which officially end the following Sunday, Easter Sunday.
During the Easter season, Mallorca comes alive with a series of religious events and processions known as Semana Santa. These processions, which take place throughout the week leading up to Easter Sunday, are an important cultural and religious tradition on the island and are not to be missed. Visitors can expect to see large groups of people dressed in robes and carrying religious statues and crosses, walking through the streets in a solemn, contemplative manner. The processions are accompanied by music, typically by a marching band, and are a sight to behold. The Easter processions in Spain are considered to be an important cultural and religious event and are attended by thousands of people every year. Spain is one of the few countries that still puts so much heart into this historic traditional Catholic ritual and, for many visitors, it is a new experience.
During this week, every town in Mallorca has its processions and, in some towns, there are the Davallaments (the descent of Christ from the cross), which take place on Good Friday. This is something you are unlikely to see outside of Spain, so do make the effort to attend if you are in Mallorca over Easter.
The most interesting processions are those of the capital of the island, in Palma, as they have a greater number of brotherhoods. In fact on Maundy Thursday about four thousand people could participate in the processional parades. But those of Alcudia and Pollensa also stand out, to cite two other examples.
These are some of the best Semana Santa processions in Mallorca:
Maundy Thursday (known as Jueves Santo): procession of Sant Crist de la Sang (Holy Christ of the Blood) in Palma. It is one of the most colourful and popular processions, promoted by the Brotherhood of the Sang, and has been held every Maundy Thursday since the beginning of the 15th century.
Good Friday ( known as Viernes Santo): Davallament de la Creu in Pollensa. One of the most spectacular processions, at dusk on the steps of Calvary in Pollensa Old Town. This is a tremendous setting, even on a normal day at any time of the year it is well worth trekking up the Calvary steps in Pollensa to the chapel at the top where you can enjoy wonderful views of the surrounding area.
Good Friday ( known as Viernes Santo): Via Crucis by the steps of Palma Cathedral. Since 1985, the representation of the Via Crucis (the Way of the Cross) has been celebrated, a theatrical work based on the sonnets of Llorenç Moyà, poet and renowned narrator of Binissalem.
During Holy Week in Mallorca, Easter Monday is synonymous with "Pancaritats". Its origin is the Middle Ages, and on that day, the Juries of the city and kingdom of Mallorca carried out, in the church of the Temple of Palma, a distribution of bread to the poor, from which the name pancaridad (bread) comes. with charity).
In addition to the processions, there are many other things to do and see on Mallorca during Easter, including visiting historical sites, exploring local markets, and enjoying the island's delicious cuisine. It's a great time to visit Mallorca, to enjoy the blend of tradition, culture and devotion.
Fira del Ram: Easter Fair
Easter in Mallorca starts with the "Fira del Ram". The Fira del Ram fairground appears and is set up in the Son Castello industrial estate in the Son Fusteret area.
In 2023, the fairground will be open from February 25 to April 24. There will be more than 160 booths and rides, with prices between €2.50 and €4. The stallholders will distribute 2×1 ballots to be used during the week, when there are fewer people.
To get to the Fira del Ram, there are several options. You can get there by car, and park in the parking lot next to the fair. It can be reached by EMT line 10 or by metro, getting off at the Son Fusteret stop.
The timetable of the Easter fair is:
Monday to Thursday: 16:30 – 23:30
Fridays and the eve of a bank holiday: 16:30 – 01:00
Saturday: 11:00 – 01:00
Sundays and bank holidays: 11:00 – 23:30
Trekking Routes in Mallorca at Easter
Easter in Mallorca offers the opportunity to enjoy longer days with more daylight hours and better weather. A good plan is to go hiking as a couple, with friends or with family. A hiking trail is an excellent opportunity to be in contact with nature.
The options of hiking trails in Mallorca are endless, and it all depends on your level of ability, the people accompanying you and how much time you would like to spend hiking. Our top choices are hikes at Puig des Teix, Puig de Galatzo or even lesser-known hills such as Puig de Son Fe in Alcudia. As we are talking about things to do at Easter, we can assume that you have plenty of time and are off work, therefore you can enjoy a good, long hike or you can take your time on one of the easier ones with children.
Which are the best things to do with children over Easter?
Easter is a time when children have school holidays, the weather is normally mild and families have time to do things together. Here are a few suggestions…
Horse Riding
Horse riding excursions in Mallorca are a great option for families with children of all ages, because it is something fun, exciting, different and, what child doesn't love animals? Some of the best horse riding activities around Easter time are:
Our new horse riding option for this 2023 is a pretty excursion with forest and beach in Can Picafort. No experience is necessary, and you will go with with professional monitors. More info here: horseback riding in Can Picafort.
A one-hour horse ride with a visit to the animal farm: it is ideal for families with children. If you are looking to surprise the little ones, they will love it. No experience is necessary, you will ride in a group with monitors and then you can all visit the animal farm together.
A three-hour excursion on horseback through forests and the beach: ideal for people looking to do something different this Easter. In small groups you go on trails, through forests and along the beach from Son Baulo to Son Serra de Marina.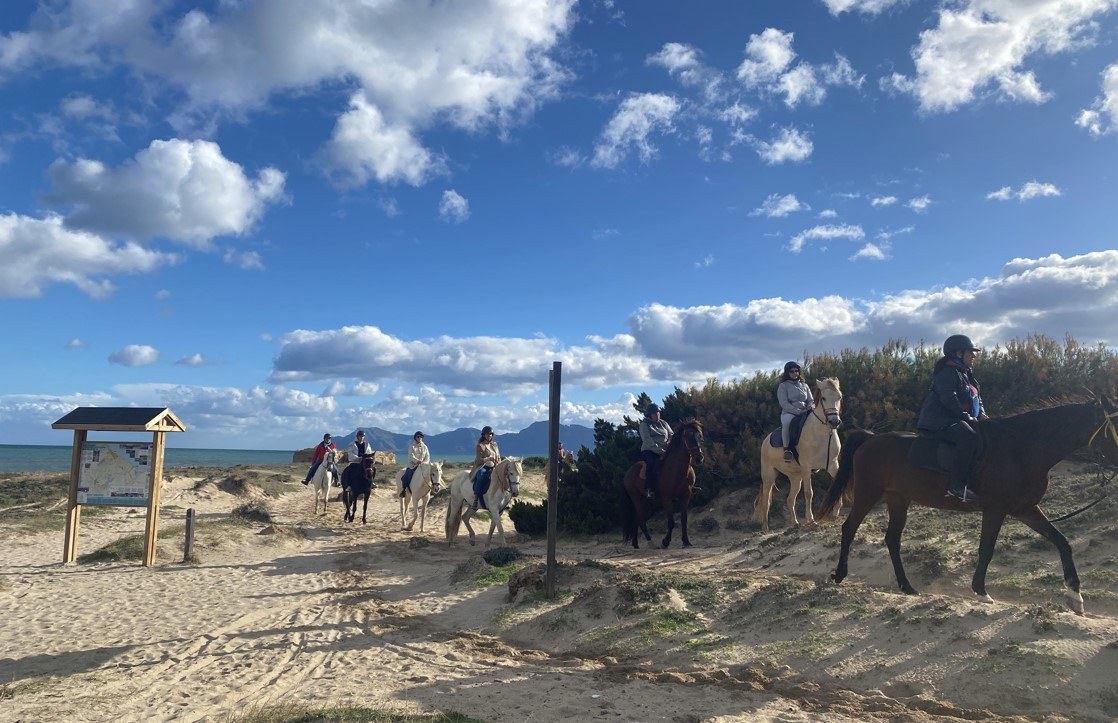 Theme Parks with special offers and discounts
When the Easter holidays arrive, many amusement and theme parks in Mallorca open their doors, and they can be a perfect activity for children at Easter. Among the options available during the Easter holidays we have:
Enjoy Mallorca's Beaches
At Easter, the weather in Mallorca is not yet the best for swimming, but sometimes we enjoy high enough temperatures for at least a getaway to the beach to sunbathe a little and enjoy the seashore, taking advantage of the fact that the island is still relatively quiet on the tourist front. From click-mallorca.com we advise you to go to one of the beaches with large sandbanks, because the options are more varied, and they are not limited to just swimming and sunbathing. You can also take walks along the beach or have a drink at one of the beach bars. Some of the beaches in Mallorca that we recommend:
Playa de Port de Alcudia
Playa de Cala Millor
Playa de Palma
Another option is to enjoy some of the beautiful coves of Mallorca, and combine it with a hiking trail. Some suggestions are the beach of those of Coll Baix, Cala Murta, Cala Magraner or Cala Petita.
Taste the traditional Easter food delicacies
Mallorca, like many other regions in Spain, has a rich culinary tradition, and Easter is no exception. Easter in Mallorca is a time to gorge oneself on local and typical delicacies, many of which are not seen at other times of the year. There are many pastries, meals and desserts that are typical for Easter throughout Spain, but each region also tends to have its own, so if you are in Mallorca at Easter, there is a good chance that you will taste things that, not only are not known in your own country, but which are not even available in the rest of Spain.
Some traditional foods that are typically enjoyed on the island during this time of year include:
Mona de Pascua: A Mona de Pascua is the closest we get to an international Easter egg and yet couldn't be more different! This is a traditional pastry eaten at Easter, that is similar to a cake. It is usually round and is decorated with eggs (actual eggs from a hen, not chocolate eggs!) And is often given as a gift to friends and family.
Frito de Cordero: This is a savoury dish bursting with flavour that is truly exclusive to Mallorca. Frito de Cordero is made by Mallorcan grandmas all over the island on Easter Saturday ready for when the whole family comes over on Sunday to devour it. It is made from potatoes and lambs' liver (and often other offal from the same animal) cut painstakingly into tiny squares and then stir-fried with fresh fennel, plenty of chilli and garlic and sometimes peas and/or artichoke, as well as an abundance of olive oil. Although typical for Easter, this is a dish that is so popular that it is eaten all year round.
Panades: Panades (or empanadas) are a traditional Mallorcan savoury pastry made with dough filled with meat, fish or vegetables. The typical combination at Easter is carn amb pesols (meat with peas). The household cooks of each family in Mallorca arrange a special day over Easter to get together and make the panades for the whole holiday. These are not just panades that will be eaten in the household, but also to be given as treasured gifts to friends or neighbours, as each family has their own recipe passed down over generations. The pastry of the panades are officially made with a dough made from flour, water, and salt, but any Mallorcan grandmother will tell you that what makes them it succulent is the fact that half the water used for the pastry is normally substituted for olive oil.
Rosaris de Pascua: An Easter Rosary in Mallorca is a special Easter delight for children all over the island (although they have been pushed out somewhat in recent years with the arrival of the Easter egg). This necklace, called a sugared rosary or candy rosary, is a necklace of sweets, treats and delights, such as chocolates and caramels, and (more traditionally) pieces of dried fruit. Nowadays the local schools have the children make the rosaris as part of their Easter education, ensuring that the tradition will not be lost completely to Easter eggs for the next generation.
In Mallorca during Easter many convents in Palma offer traditional cakes, panades and other delicacies, homemade by the nuns. It is worth to check it and visit one of them.
Boat Tours in Mallorca
A day at sea is an excellent option, and at Easter some boat trips and excursions are already offered in Mallorca with different routes and pretty itineraries. Among the options available for Easter we have the following (if you click on the name of each activity, you have more details):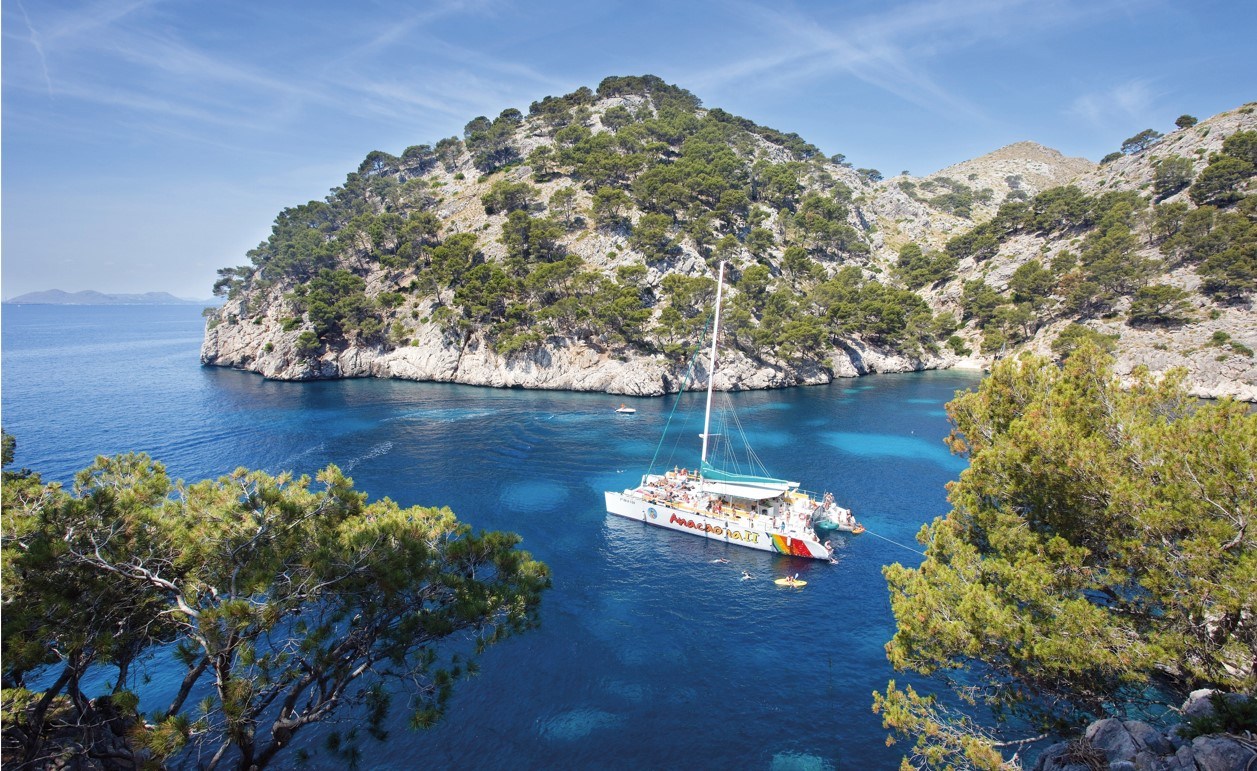 canoeing
Catamaran tours, glass bottom boats, boats and much more
It is true that in 2023 there are not as many options for boat trips as in other years, since many of the boat companies in Mallorca have decided to wait until later to start their activity. Click on the banner above, use the filter option, and you will have some great ideas for boat trips in Easter.
Mallorca Caves Open at Easter
Mallorca has authentic treasures underground, and during these holidays it can be a perfect visit. Of caves in Mallorca there are more than 200 alternatives, although only five caves are open to the public for visits. The Caves open to the public in Mallorca for this Easter are the following four. Click on the name of each Mallorca cave fr more information about how to visit:
The caves on the island are filled with stunning formations of stalactites and stalagmites, and offer a glimpse into the geological history of the island. Caves are not a common sight in many places, and visiting one in Mallorca can offer a unique and memorable experience.
Activities at Easter in Mallorca to do Something Special
Easter holidays are an ideal time to disconnect, be with the family, have time to relax… In fact, we've had a lot of inquiries from readers looking to do something special and unique for the Easter holidays, asking us for advice.
We bring you two suggestions for unique and special activities in Mallorca during Easter:
Take a 30-minute helicopter flight through the Sierra de Tramuntana. You will see the most beautiful area of the mountains from the air, over Valldemossa, Deia, Sa Foradada, Soller… unique views that you will always remember. Info: Tickets for helicopter flights in Mallorca
A hot air balloon ride at dawn. Riding in a hot air balloon is the dream of many, and you can do it while enjoying the spectacular sunrise in Mallorca. From the hand of expert pilots who have been European champions. Info: Tickets for hot air balloon ride in Mallorca
Discover the "Casas Santas"
One of the more unusual things to do in Palma de Mallorca at Easter, the "holy houses" are unique monuments in which the religious images are displayed during the Easter period when there are no masses. Apparently it is a very old tradition linked to Holy Week and has its origin in the moment in which the procession deposited the Holy Host in an urn that is known as a monument, although in Palma the Mallorcan term "Casa Santa" is used.
Touring the old town of Palma to visit these holy houses in the different churches, parishes and convents can be an alternative plan over Easter, which allows us to learn more about this tradition. Some recommendations: Santa Eulalia church, La Seu, Santa Clara convent, Santa Magdalena, San Miguel Church…
Visit Mallorca's Museums At Easter
In Mallorca we have a very interesting selection of museums. Below we present a selection of some lesser known museums whose visit we recommend at Easter:
Manacor History Museum: Just before the start of Easter Week, this musuem has announced that it will become the first Balearic museum with an accessibility plan, and that they hope to have it completed in 3 years. The museum consists of the Torre dels Enagistes (its main headquarters), the Molí den Fraret (where the ethnographic complex is located) and the Son Peretó and s'Hospitalet Vell sites. They are organizing free guided tours, and we recommend calling 971843065 to sign up.
Museu de Mallorca: Located in the centre of Palma, it is a museum that is unknown to many. Now every Thursday they organize guided tours at 5:00 p.m., which are free and with limited capacity. And from March 21, family visits every Sunday at 12:00. You can call to book: 971177838.
Museo de Arte Sacro de Mallorca: located in the Episcopal Palace of Palma, next to the Cathedral. About a year ago it was completely remodeled, and it houses unique pieces such as the Jewish Rimmomins, works by Gaudí and medieval altarpieces.
An Excursion to Lluc at Easter
Lluc is one of the most special and sacred places in Mallorca, and another of our proposals for activities for Easter. There are many things to see and do in Lluc, such as visiting its church, listening to the Blauets sing or taking a walk around the Sanctuary. In addition, the Sanctuary always organizes special activities at Easter, such as markets, visits… that you can find on the Facebook page of the Lluc Sanctuary.
Then you can take a short excursion around the area, for example to the Cometa des Morts or to the famous Camell rock. They are ideal excursions to do as a family, both for their duration and for the level of difficulty (easy) they have.
Other activities and things to do in Easter
We have more free time over Easter thanks to work holidays and school holidays than at other times of the year, so we have time to really discover and get to know the island. In this article we have given you plenty of Easter-related sugguestions, ideas and things to do in Mallorca and we really hope to have inspired you to get out and discover the local history and culture at this important time of year. But sometimes, what families really want is to enjoy something together that they don't necessarily have time to do normally, such as a boat trip, a visit to a park or attraction or something off the beaten track. If you have time over Easter and want to enjoy an activity with your friends, family or partner, click on the link below to see what is on offer in Mallorca at this time of year.
canoeing
Boat trips, horse riding, bus tours, attractions tickets and much more
---
When is Easter in Mallorca in 2023 in Mallorca?
Easter in Mallorca in 2023 begins on Sunday, April 2 with 'Palm Sunday' to culminate a week later, on April 9. School holidays are extended until Tuesday, April 11:
– Palm Sunday April 2
– Holy Thursday April 6
– Good Friday April 7
---
Plan your holidays in Mallorca