Things to do and see in Mallorca in March
March is an interesting month to visit Mallorca as there are already many things to do and visit, even though the tourist season has not yet started. This means that you will be able to enjoy the island with fewer tourists and more affordable prices. If you are wondering what to do in March in Mallorca, you are in the right place. In this article, we will show you some of the best activities and places that you can visit during this month. From walking through beautiful landscapes to enjoying unique cultural events.
About this article
This article has been written by the team of experts in excursions and tours at
Click-Mallorca
. We are a specialized travel agency in Mallorca dedicated to leisure activities; tours and excursions; and other things to do in Mallorca.
We live on the island and we have over 15 years' experience creating and offering excursions. We know the island inside out, and we are dedicated to producing helpful and interesting articles for our holidaymakers coming to Mallorca.
Tours and Things to Do in March
Take a FREE guided walk in Palma
In March, we resume the free guided tours around Palma for residents and tourists who come on vacation to the island.
Our Free tour in Palma Old Town is a great way to explore and learn about Palma de Mallorca. The tour consists of a free two-hour guided walking tour around the principal monuments of the city and the old town, with an expert guide who will surprise you with interesting anecdotes too. You will begin at the Plaza de España and from there will head towards the monumental area and stroll around Palma Cathedral, Almudaina Palace and Plaza Cort among other places. At each stop on the route, your guide will give you fun details and interesting information about the monuments, making it a great option for all ages.
Discover here more walking tours in Mallorca.
Visit Mallorca's Caves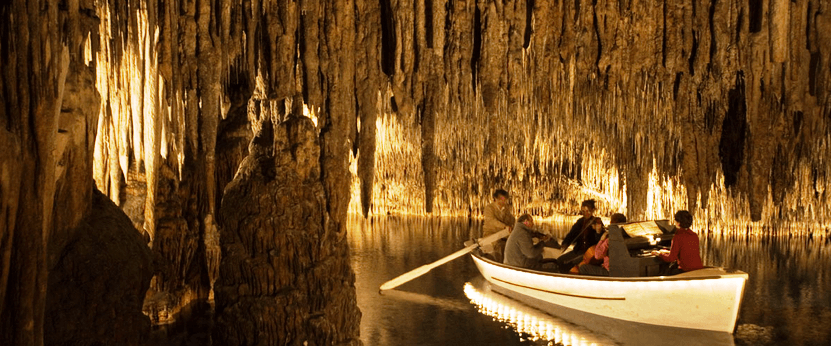 canoeing
Tours and Tickets to the caves in Mallorca at the best prices

Another thing to do in Mallorca in March is to visit one of the many awesome caves in Mallorca. All the caves in Mallorca are now open to the public, and we propose two excellent options:
Campanet Caves: open every day. With our online tickets you can visit at your leisure following an itinerary inside the caves. The visits are made in very small groups and follow a 600m walking route inside. You will see different rooms or "chambers" with evocative names such as: Romantic Chamber, Palm Tree Chamber, or Chapel of the Virgin Mary, in which you will see the impressive landscape of stalactites and stalagmites.
Hams Caves: open from Wednesday to Sunday. They are an excellent alternative to the Cuevas del Drach in Porto Cristo. The Caves of Hams visit is divided into different parts, starting with a brand new light projection inside one of the caves, continuing with a tour around these large and impressive caves and then the grand finale is a show of music by the Venice Lake.
Visit a Dinosaur Park in Mallorca
Something else that is open in March is Mallorca's newest theme park: Dinosaurland. This is an amazing park to visit if you have children (and even if you do not) and want to have fun and learn at the same time. Marvel as you walk around this openair museum with life-size dinosaurs that even move and make sounds!
Dinosaurland is actually right next to the Caves of Hams that we have just mentioned above, so you could make a whole day of it and visit the caves, the Dinosaurland and have a Dino Burger for lunch at the new restaurant in between the two attractions. What more can you ask for?! You can get your combined ticket for both attractions here: Dinosaurland and Caves of Hams Ticket.
Ride the Soller Train
Have you heard of the tren de Soller (Soller train)? It is an electric train with old wooden carriages that takes you on a magnificent ride back in time. The line goes between Palma and Soller, following a marvellous route through the city centre of Palma and then through the countryside and then heads up to the Serra de Tramuntana Mountain range where it then takes you through exciting tunnels and shows you amazing views.
The Soller train dates from 1912, and everything about the train is original. In March, you can book this tour for a complete itinerary through the mountains and including time in Puerto de Soller and a boat ride: The best of Mallorca tour: Soller and La Calobra.
Horse Riding in Mallorca
An excursion or route on horseback in the countryside or along the beach, surrounded by nature, is another excellent way to spend a pleasant time in March in Mallorca. The activities are in small groups, and there are different options:
One-hour horse ride.
Two-hour horse ride.
Two-hour horse riding route through woods and along the beach.
Exclusive horse riding activity on Andalusian horses.
Click on the banner below for details about all these tours and activities. And remember: no experience is necessary.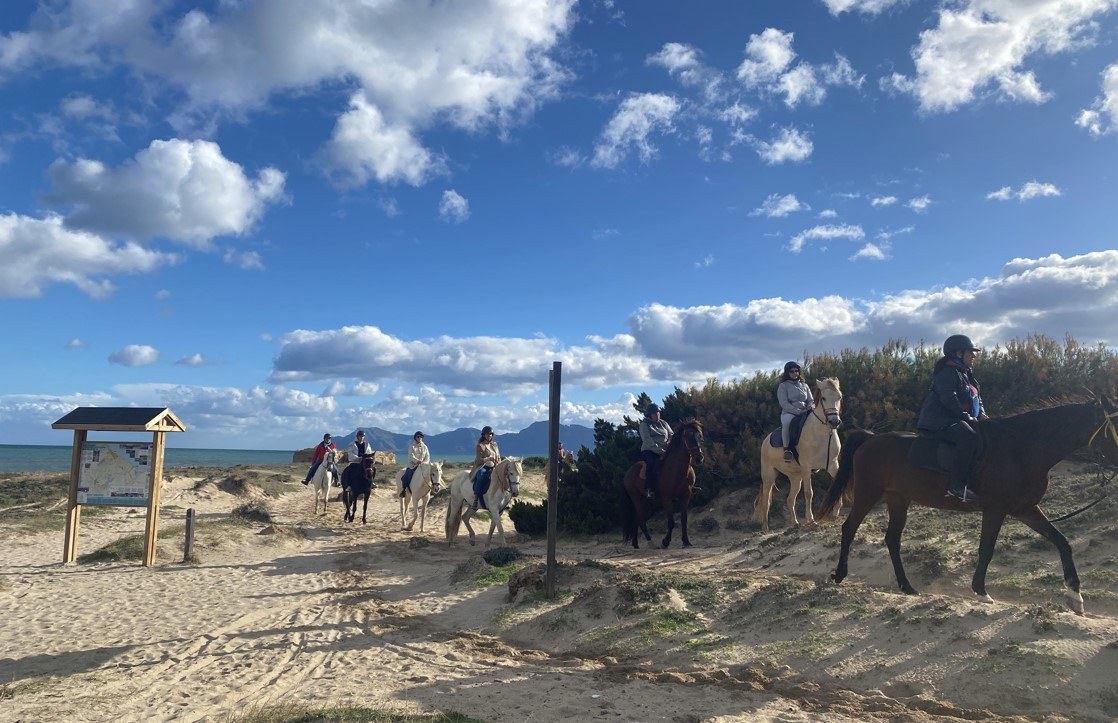 canoeing
Horse riding, pony treking and riding clubs in Mallorca
Hiking in the Serra de Tramuntana Mountains
March is an ideal month for walking and hiking in Mallorca, as the climate is mild and pleasant. Some popular routes include the walk to the top of Puig de Galatzó, the Camí de s'Arxiduc in the Sierra de Tramuntana and the coastal path from Cala Deià to Cala Llucalcari.
On this occasion we propose a walk to the top of the Puig de Galileu from Son Massip, though if you click on the link above, you will find many great hikes.
Puig de Galileu from Son Massip
A very special route in the Sierra de Tramuntana is the one that goes to Puig de Galileu from Son Massip. It is an easy hike of only 8 kilometers with a drop of 630 meters that allows you to enjoy impressive views from the summit, from where you can see the Puig de Massanella and Puig Major peaks. The route passes two old snow houses dating from the 17th century, which is where snow was stored in order to sell it in the form of blocks of ice.
The Son Massip urbanization is located in the municipality of Escorca, at km 22.8 of the MA10 road. You can park at the entrance of the urbanization and take the paved path until you reach a barrier that you have to cross and that is where the path begins. It is the GR-221 route and it is well-signposted.
Enjoy the local gastronomy
Mallorca's gastronomy is a delight for lovers of good food. It is rich in flavors and traditions that reflect the influence of various cultures that have passed through the island throughout history. Its cuisine is characterized by using fresh, high-quality ingredients, with a wide variety of fish, shellfish, meat, vegetables and fruits that are combined to create unique and delicious Mediterranean dishes.
One of the most emblematic dishes of Mallorcan gastronomy is pa amb oli, a simple but delicious dish that consists of a slice of brown bread with olive oil, tomato and salt. Various toppings can be added, such as cured cheese or serrano ham. Another very popular dish is tumbet, a kind of ratatouille with aubergines, potatoes and peppers, which is usually accompanied with meat or fish.
Sobrasada is another star product of Mallorcan gastronomy, a cured sausage made with pork, paprika and other ingredients that is usually spread on bread or used as an ingredient in other dishes.
If you want to try a traditional Mallorcan food in a restaurant with affordable prices, we recommend the Cal Dimoni restaurant, in Algaida. In Cal Dimoni, in addition to eating under the sobrassadas that hang from the ceiling, you can enjoy meat cooked over a wood fire, snails, sopes Mallorquines or arroz brut. Another Mallorcan restaurant that specialises in local cuisine and is worth a visit is the Marina restaurant in Sa Pobla.
And, above all, you cannot leave Mallorca without trying the ensaimada! This is a spiral shaped pastry which can come in many different flavors: angel hair, cream, white or dark chocolate, custard, and even sobrasada! The ensaimada can be accompanied by sweet Hierbas, a typical liquor from the Balearic Islands.
Local Fiestas in Mallorca in March
Mallorca's fiestas and fairs are very popular events on the island, attracting tourists and locals alike. These festivities often include parades, live music, traditional dances, food and drink stalls, and numerous attractions for the whole family. Mallorca is known for its numerous fairs and festivals and we suggest three that take place in March.
Fira del Ram
The Fira del Ram is one of the most important events in Mallorca. It is a fun-fair, which is held annually at the Son Fusteret Industrial Estate, in Palma de Mallorca, and is one of the city's biggest attractions during spring. The Fira del Ram starts at the end of February or beginning of March and lasts several weeks. The whole area is converted into a true amusement park with dozens of rides and thrilling attractions, food and drink stalls, raffles and all kinds of entertainment for all ages.
In 2023 it will be open every day from February 24 to April 16.
Fira del Cavall
The Fira del Cavall in Palmanyola is an annual event that attracts horse lovers from all over the world. This fair is one of the most important of its kind in the region and offers a unique opportunity for visitors to experience the culture and history of horses on the island.
During the fair, various activities are held to entertain and educate attendees. You can see horse riding and horse racing exhibitions, as well as demonstrations of dressage and training techniques. In addition, there are a large number of stalls where you can buy horse-related products such as saddles, boots, equestrian clothing and other items.
Día de las Baleares
The Day of the Balearic Islands is celebrated on March 1 of each year and is a regional festival in the Balearic Islands. This date commemorates the signing of the Statute of Autonomy of the Balearic Islands in 1983, which established the self-government of the community and recognized its unique identity and culture. The Day of the Balearic Islands is a holiday throughout the community, and cultural, sports and musical activities are held on the different islands. It is also a day to reflect on the history and heritage of the Balearic Islands, as well as to honor its diversity and cultural richness.
During the Day of the Balearic Islands, some of the most important monuments in Palma offer guided tours or open days. This allows visitors to see some of the places that are not normally accessible to the general public. These are some of the monuments that offer guided tours: Bellver Castle, Parliament of the Balearic Islands, Consulate of the Sea and La Lonja, Consell de Mallorca Palace, Almudaina Palace and San Carlos Castle.
Go to the beach!
If you are thinking of visiting the island in March, you'll be pleased to know that you can already enjoy the beach. The water temperature is cool in March, but the beaches are less crowded than during the summer months. In addition, the air temperature is pleasant, with an average of 17 degrees during the daytime, which makes it ideal for sunbathing and enjoying outdoor activities.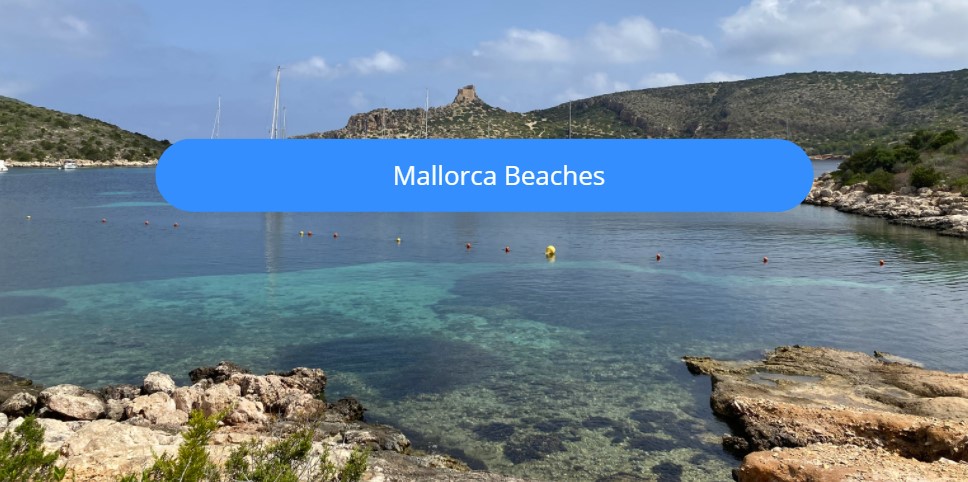 Mallorca offers a wide variety of options for beach lovers in March, from large bays with long beaches of fine, white sand, to small hidden coves on the coast. In our guide to beaches and coves in Mallorca you will find many recommendations.
Up up and away in Mallorca in March
Did you know that Mallorca is a popular destination for those looking for a unique excursion experience in the air? In March, there are a variety of options available, from hot air balloon rides to helicopter flights and even a light aircraft flight over the mountains. Hot air balloon rides are particularly popular, as they offer a breathtaking panoramic view of the island.
Visitors to the island can now discover the island from a whole new perspective, soaring over mountains, beaches and cities, enjoying a whole new perseption of Mallorca. Hot air balloon rides are perfect for those looking for a relaxing experience, as the flights are calm and quiet, allowing passengers to enjoy the views without distractions.
On the other hand, helicopter flights and light aircraft flights in Mallorca are perfect for those looking for an exciting flight experience. These flights offer a panoramic view of the island from a higher and faster perspective than a hot air balloon ride. Travelers can fly over the sea, mountains and cities, and can experience the thrill of flying in a light aircraft or helicopter, possibly for the first time in their lives, making for a unique and unforgettable experience.
More below about these activities:
How is the weather in March in Mallorca?
March is a month of transition in Mallorca, when the island begins to come out of winter and prepare for the heat of summer. During this month, temperatures begin to gradually rise, although you can still experience variable weather with occasional showers. The average temperature during the day in March ranges from 14 to 18 degrees Celsius, but higher temperatures can be recorded on sunny days. Night time temperatures are milder than in February.
Although the weather is not yet warm enough to swim in the sea, sunny days are perfect for enjoying the beach and taking walks along the coast. The water temperature is usually around 14 degrees Celsius in this month, so only the bravest dare to take a dip in the sea.
Regarding daylight hours, in March the sun rises early, around 7 in the morning, and sets around 7 in the evening. Nights in March can be cool, so a light jacket or sweater is recommended if planning to head out after dark.
As for clothing, it is recommended to bring light clothing for the day, but also some warm clothing for cooler nights. In addition, it is advisable to bring an umbrella or waterproof jacket in case of rain. Layers are best so that if you are out and about, you can remove or add clothing as needed.
In summary, March in Mallorca is a month that is unpredictable weatherwise – some years it is hot and some years it is cool. Nevertheless, there is plenty of sunshine to be had in March, so we recommend you book that flight and start packing!
---
What do you think of these suggestions of what to do in March in Mallorca? Do you sign up? If you liked the article, do not forget to share it on your social networks.
---
Plan your holidays in Mallorca